12 years out, the iTunes Music Store is still genius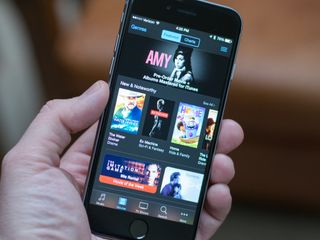 The iTunes Store has changed a lot in the last 12 years. Let's take a Mac Classic time machine back to 2003 and travel through the Store's ups, downs, and revolutionary moves.
In the beginning
In 2003, the latest-and-greatest OS X version was 10.2 Jaguar, Apple had sold only 700,000 iPods to date, and getting music on to the iPod required buying a CD and ripping it into iTunes. Apple had a whole ad campaign around the process:
(Don't look directly at the Flower Power iMac!)
Of course, users buying and ripping a CD to their computer was the best-case scenario: In reality, more and more savvy consumers were turning to the Internet to source their music without paying for it. As music piracy grew, record labels scrambled to find ways to combat it.
A few music download services sprung up, but on April 28, 2003, Apple CEO Steve Jobs got on stage and changed the game.
At this point, iTunes had been around for a little over two years. The jukebox app—as Apple labeled it at the time—was still Mac-only, but could already burn CDs, create smart playlists, and (of course) sync flawlessly with the iPod. And before revealing his biggest announcement, Jobs unveiled iTunes 4, which added AAC playback support, Rendezvous (now Bonjour) library sharing and album art support.
Jobs's big news of the day, however, wasn't the third-generation iPod. It was the iTunes Music Store.
"The Internet was made for music delivery," said Jobs, but he went to on explain that the current situation was littered with problems. Things like unreliable downloads, poor encoding, and busted metadata made for a poor experience. Furthermore, he said, "It's stealing. It's bad karma."
image credit: Guidebook Gallery
Apple's solution was legal and flexible. At 99 cents a pop, users could purchase from iTunes's initial offering of 200,000 tracks, each encoded at 128 kbps in the AAC format. With 30-second previews and one-click purchasing, the iTunes Music Store was designed to be a quick, easy, and affordable alternative to pirating MP3s from the Internet. Apple could deliver fast, consistent downloads of clean, accurate tracks all while—as Jobs chuckled—avoiding messing with karma.
Basic unalienable rights
Like in most of his compelling keynotes, Jobs went on to describe the competition: PressPlay & Rhapsody had users, he said, but there were issues only Apple could solve. Jobs insisted that people wanted a broad set of rights when it came to what they could do with their purchased files.
Apple's initial rights demands shaped features that iTunes users would be familiar with for the next decade: Music could be synced to an unlimited number of iPods and played on up to three licensed computers. (This would later be improved to 5 machines before the DRM-free era.) You could burn your playlists for personal use, and purchased tracks could be used to enhance iMovie and iDVD projects.
And to ensure these rights—and to round out its growing collection of tracks—Apple had cut deals with all five major record labels.
The subscription myth
Beyond the personal rights issues, Jobs insisted that the business models used elsewhere were wrong: Besides companies charging fees to unlock basic features, his core issue was with the subscription model.
"Subscriptions are the wrong path," Jobs said, arguing that people had always bought music on media. From the days of flipping through LPs at the record store to scanning CDs at the mall, when you bought music, it was yours. Users, Jobs said, didn't want to rent their music.
This turned out to be true for nearly a decade: The iTunes Music Store exploded over the next ten years. It came to Windows just a few months after being announced, and quickly became the online retailer of music for millions of people. Apple added TV shows and movies to the store, and with iOS devices, the company's ever-growing catalog was available on the go for the first time. By February 2013 (opens in new tab), Apple had sold 25 billion songs worldwide.
But as impressive as that number was, it wasn't to last. Subscription services based on the very premise Jobs dismissed in 2003 began to make serious ground, in part because of growing song catalogs and smart song collections. Music sales slipped, and in the eyes of many users, iTunes was a thing they once used. Instead of paying for a single track off an album, consumer tastes shifted, with many preferring an all-you-can-eat approach to music.
Apple had a decision to make: Was it time to take on the streaming business?
The Apple Music years
In May 2014, Apple announced it was purchasing Beats, (opens in new tab) bringing the company's hardware business and streaming service in-house.
At this point, Beats was ahead of Apple in some key areas. While Cupertino's white earbuds were once iconic, the brand had lost ground in recent years. Here's a quote from Apple's announcement:
While the Beats acquisition did buy Apple influence in certain markets, the company could have clearly built a streaming service without spending $3 billion. However, the talent and curation chops behind Beats Audio were huge assets — more valuable, I'd argue — than the technology itself. Jimmy Iovine and Dr. Dre are geniuses in the music industry, and armed with Apple's cash, technology and influence, are unstoppable.
With Apple Music, the company has fully embraced the music subscription business. The iTunes Music Store is a fall-back. "Like this album?" Apple Music asks. "Stream away! And, oh yes, we have it for sale over here behind the curtain."
That's not to say purchasing music is going away, but clearly the market has shifted. For most users, services like Apple Music are more attractive when it comes to price and discovery. While it remains to be seen which model is more profitable for Apple, my feeling is that people will pay $10/month for streaming far quicker than they would for a single album on iTunes.
Looking to the future
In hindsight, the iTunes Music Store was an incredible move by Apple. It added great value to the iPod and put the company squarely in the music business. Now, 12 years after revolutionizing music purchases, Apple's in place to take the reins of the music consumption business back. I bet it's going to do just that.
In almost every iPod and iTunes event over the last 15 years, the company's executives has said how much they care about music. That statement has felt weaker in recent years as iTunes and the iPod have faded, but now, the company's back on top. While there are growing pains, Apple Music is clearly the superior streaming service on the market, and it's backed by a huge purchasable library, excellent hardware in the iPhone and iPad and is being built by a group of people who care deeply about music. If that's not a winning recipe, I'm not sure what is.
Get the best of iMore in in your inbox, every day!
Stephen Hackett is the co-founder of the Relay FM podcast network. He's written about Apple for seven years at 512 Pixels, and has more vintage Macs than family members living in his Memphis, TN home.
...and iTunes is still the most popular piece of shit software package ever with no hope for it to ever improve. When your sheep, you don't care.

I can't type that much, so how about you typing what's right with it? Posted via the iMore App for Android

Depends whether you're using the Mac or Windows version. I have no issues with the Mac version, the Windows version is worse than awful.

Oh, I'm pretty sure the sheep care very much. Sent from the iMore App

"Your" so much smarter than us sheep Sent from the iMore App

iTunes is fantastic. Great music library management software. Feature rich and allows me to manage complex playlists and get my music on multiple devices effortlessly. Love it.

Am I crazy? I swear the iTunes Music Store was originally, if only briefly, called the Apple Music Store. I remember an issue of MacWorld (the printed magazine) had an ad for the Apple Music Store. I was in Afghanistan at the time, but it was a US magazine I bought from the PX. I vaguely remember reading something online - Gizmodo? - that reported the Beatles estate was pissed bc their label is named Apple Corp., after which Apple Computers changed the name to iTunes Music Library.

I still do not want to rent music.

Apple has done a fantastic job in music. They have had a steady and consistent evolution over the years and generally made all the right choices. Compare to Microsoft who started I a similar place with Windows Media Player but when big time for DRM, changed the name numerous times and left previous generations of OS with stranded music stores (Zune). Love the new Apple Music evolution.

Upvote me if you have albums currently preordered, and still buy music from iTunes because you understand how valuable an actual file on your hard drive/external is!

I order music from Amazon or Bandcamp. It's either cheaper, or let's me pay an artist more. And Amazon will ship you the CD, but also let you download the file at the time of purchase. Best of both worlds. Posted via the iMore App for Android

I generally like what I've seen of Apple Music during the free trial, but I don't know whether I'll pay for a subscription when it runs out. First of all, it's rather expensive for me when I'm paying for several other services such as Netflix and Hulu. But the bigger problem is that I'm having rather large issues with the iCloud Music Library, which is pretty much necessary in order to use Apple Music. Hopefully they fix most of the major bugs during the three months of the trial period. But even with Apple Music I keep going back to listening to my Top Rated smart playlist on shuffle, and I still enjoy buying music from my favorite artists on the iTunes Store. Sent from the iMore App
Thank you for signing up to iMore. You will receive a verification email shortly.
There was a problem. Please refresh the page and try again.