3D 4 Medical leverages the iPad Pro to help doctors explain injuries to patients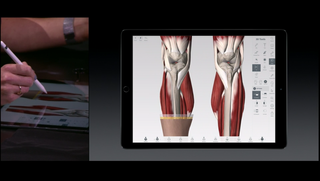 Apple is working with some big names to bring several interesting third-party apps to the iPad Pro, including one called 3D 4 Medical. The app leverages the graphical power of the iPad Pro to help doctors educate patients by showing them a picture of their injury on 3D models.
With 3D 4 Medical, doctors can zoom in on detailed anatomical models to show animated bones, muscles, and skin together. They can cut through layers of anatomy to simulate surgical procedures, show preset views of precise injuries, and even model the effects of arthritis by inserting bone spurs with the Apple Pen. Doctors can also annotate and draw directly on the model, and share it with a patient's iPad with a recording of the consultation.
Be sure to follow along with our liveblog for much more from today's iPhone event.
Despite all the new products announcement in excitement this morning, as an Apple fan I am sure iMore.com wouldn't missed out three strangers ladies on the stage. Among the two, I think the physician one stole the looks, the accents and her smartness during her presentation on 3D 4 Medical. Who is she?
Get the best of iMore in in your inbox, every day!
Thank you for signing up to iMore. You will receive a verification email shortly.
There was a problem. Please refresh the page and try again.