3D-printed accessories you can make for your Nintendo Switch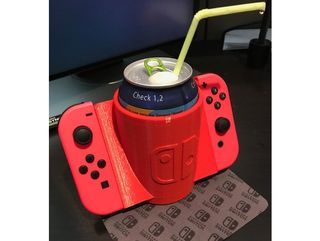 You <3 your Nintendo Switch, but you know what really sucks about the console? The lack of cool attachments, accessories, and gear you can buy to turn your Switch into, well, whatever you want it to be!
From cup holders to charging stands to a DIY projector dock, there are plenty of things you can 3D-print for your Nintendo Switch: you just need to think outside of the box!
Here are some 3D-printed accessories you can make for your Switch.
Joy-Con grip and game case
If you're someone who likes to travel with your Switch, but you absolutely hate having separate compartments and bags for your games and gear, then it might be worth it to print yourself a Joy-Con grip and game case!
This particular 3D print combines the convenience of a Joy-Con grip for easy travel and a decent amount of storage. You can keep up to eight Switch games stored safely in the Joy-Con grip.
Clip-on shield
What's worse than forgetting your Switch at home? Remembering your Switch and then fighting the sun because of that deadly, deadly screen glare.
If you're someone who is always shielding their screen or squinting through your gameplay, then printing a clip-on shield for your Nintendo Switch is a stellar accessory to keep on hand!
Mario hat stand
What screams Nintendo more than Mario's iconic red cap? A stand for your Nintendo Switch in the shape of Mario's iconic red cap!
This easy-to-make 3D design is perfect for perching your Switch on for gameplay at home or on the go.
DIY Projector
While this 3D printing endeavour is a little bit more challenging that some others on this list, it's totally worth trying out if you want to take your gameplay to the next level.
Joy-Con drink holder
You know what the worst part of gaming is? The fact that you need to pause and put down your controller in order to take a sip of your drink…
But with the Joy-Con drink holder, all of your gaming/drinking worries are a think of the past!
Car mount
If you're someone who loves to play your Switch on the go, or maybe you have a family road trip coming up and you're prepping your Switch for its first vacation, then having a secure place to game is a must.
Regardless of how you play on the go, a car mount is an excellent accessory to keep on hand in the event of a long, long drive!
What are your top 3D-printed Nintendo Switch accessories?
Is there a particular 3D-print design you've created lately that you're positive the world needs to know about ASAP?
Maybe you've come across a printed 3D accessory online that you know should be on our list?
Let me know what your top picks are in the comments below and I'll be sure to check 'em out (and print them out, too!)
Master your iPhone in minutes
iMore offers spot-on advice and guidance from our team of experts, with decades of Apple device experience to lean on. Learn more with iMore!
Cella writes for iMore on social and photography. She's a true crime enthusiast, bestselling horror author, lipstick collector, buzzkill, and Sicilian. Follow her on Twitter and Instagram: @hellorousseau