3D Touch allows for new interactions on the iPhone 6s and 6s Plus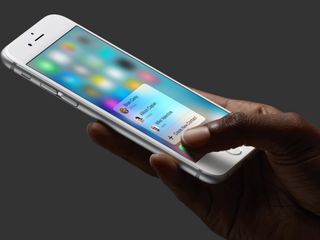 One of the big new features of the new iPhone 6s and 6s Plus is the addition of what Apple calls 3D Touch. This is an evolution of Force Touch that features prominently on the Apple Watch, allowing all-new interactions with the apps on your screen.
Apple showed off a range of new interactions that 3D Touch enables, including the ability to tap and hold for app shortcuts in the launcher, along with the ability to press hard on images in messages to show them in full size or open new menu options. Users can also press hard on the screen to "peek" at things like emails and messages without diving in, and tactile feedback will help keep you in the loop on your interactions.
Apple also showed off exactly how 3D Touch works in several popular apps. In the Mail app for example, you can press on to an email to get a preview of the message, and when you let go, you can go back to your inbox without marking it as read. In Messages, if you get a time and date, you can press on it to get a preview in calendar. Similarly, you can press on a URL to get a preview of the webpage.
In Camera, you can launch straight into selfie mode, while pressing on the last photo will give you a larger preview. Maps will allow you to drop a pin, or press on a location for extra information like a phone number. Users can also press on the edge of their screen to multitask, while pressing and swiping will switch back to your previous app.
Finally, several third-party apps were shown off, like Dropbox, which will let you view recent docs or upload photos with a firm press, and Facebook, which will take you straight to the status update screen or photo upload screen. Instagram has also integrated 3D Touch in some cool ways, allowing you to go straight to a new post, or preview images and video in profiles. And games weren't left out either, with Warhammer 40K Freeblade allowing players to press hard to zoom in and out when aiming a mech, or pressing harder to switch to a heavy weapon.
Somehow those basterds at Apple got their hands on Samsung's 2016 innovations!! NOOOOOOOOOOOOOOO!!!!!!!

Will the APIs for these new 3D Touch features be made available to third-party app devs?

Enough with the overuse of all the adjectives!!!
Bueatiful, amazing, profound beautiful, beautiful, amazing. I already know what the iphone 10 will be!!! It will be "the most ADVANCED iPHONE, Apple has ever built!!!!"

Sorry, forgot to mention "Incredible".
Stunning!
Truly beautiful! The Phil guy is out of control with all the adjectives.

Also known as "right-click." What an innovation! :-)

Oh here's negative Nancy again... Sent from the iMore App

Hey I put a smiley in there. :-/ You ever think it's *you* that are the negative drag on the comments by always posting this same remark after everything I post? Or what your purpose is in following me around and insulting me all the time?

Like the sun rises and sets every day

No one is insulting you my dear. It's just you really are negative an anything you post. Posted via the iMore App for Android

Cool idea but I would have preferred some lock screen features that take advantage of it. Most people I know interact with their messages and emails from that screen more often than not.

I wish they had just gone with "Force Touch" which is what it actually is. "3D Touch" is misleading and silly. It's the same stupid tactic Microsoft used when they decided to call their new VR tech "Holography," when it also just isn't. Words mean something. Using a word to mean something completely different from what it's actual meaning is just for foolish marketing purposes is annoying, and can only lead to confusion.

huawei did it first. couple weeks ago

Yea and Apple did it first last year on their watch and planning to add on the iPhone for months. Huawei literally copied Apple.......
And more like a few days
Posted via the iMore App for Android

I loved it when this feature was called right click or long press

you can't "preview" an email on a mac or pc with just a right click. long press also doesn't apply because, you press harder for a preview, and a little harder to pop into an app. neither can be done by right click or long press.
Get the best of iMore in in your inbox, every day!
Thank you for signing up to iMore. You will receive a verification email shortly.
There was a problem. Please refresh the page and try again.