5 best apps for reading books on your Mac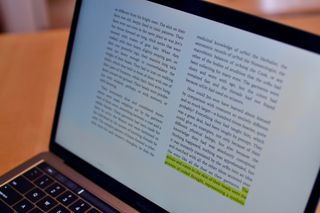 Since the popularity of tablets, and subsequently large-screen smartphones, digital book reading has gone mobile. But, reading on a computer is still a popular past time, and for some, it's the best way to digest the classics, bestsellers, and undiscovered gems. If you have a folder full of eBooks and want to know which reader is perfect for your needs, you'll find what you're looking for right now.
I'd like to take a moment to clarify that this list is for apps that you can download onto your Mac. There are some great e-readers that are web-based, but I've decided not to include them on this list. If you have a favorite web browser e-reader, please feel free to add it to the comments section so others can find out about it.
iBooks
Every Mac comes with iBooks installed. It is perfectly designed to work, not only on your computer but also across all of your mobile devices. So, you can read a chapter or two on your Mac, and pick up on your iPad or iPhone without missing a beat. There is a quick-access button that lets you browse the iBooks Store, where you can download content to iCloud and access on all your supported Apple devices. You can also drag-and-drop PDFs to iTunes from your Mac, so if you've got a great book that isn't in ePub form, you can still read it in iBooks.
As for the features, iBooks on the Mac has most of the same tools and themes as iBooks on iPhone and iPad, like color options, text size and style customizations, highlighting tools, dictionary lookup, notes, sharing, illustration rendering, voice over, and more.
If you are knee-deep in the Apple ecosystem, iBooks is the best e-reader on your Mac. You'll love the ability to sync your eBooks and audiobooks across all of your devices.
Read our iBooks ultimate guide
Kindle
The Kindle reader on Mac is ideal for people that purchase, rent or borrow books from Amazon, which supplies the largest digital book collection. When you sign in to your Amazon account, you can access all Amazon books in your library. You can't browse the Amazon books store from the Kindle app, but when you buy a book on Amazon, it will be added to your collection, which you can access from all your devices, whether they are Apple, Android, or Windows. Amazon supports borrowing books, renting textbooks, sampling books, and more. It is especially beneficial to Prime subscribers. Prime reading offers hundreds of free ebooks, magazines, and more. Kindle Unlimited, which is a subscription-based service, lets you read about a million titles (including magazines and newspapers) for a monthly price.
Kindle on the Mac has plenty of customization features, too. You can change the theme to white, sepia, or black, and adjust the font size and style to tailor your reading experience. You can also add highlights and notes. One of my favorite features is the ability to browse through popular highlights from others that have also read the book.
If you have a collection of ebooks you've purchased from Amazon, or if you are a Prime subscriber, use Kindle for the Mac to read and sync your books across all of your devices.
OverDrive Read
OverDrive is the number one app for borrowing digital content from your local public library. All you need is an active library card and a PIN. Just like borrowing physical books, you can browse your library's entire collection of digital content and check out multiple titles at the same time. When you borrow an ebook or another item, you can download it on your Mac and access it as much as you want during your loan period. When your ebook is due, you don't have to worry about returning it to the library on time, it will automatically be removed from your Mac when your time is up.
The OverDrive Read app on Mac is actually a web browser supported software program, but it's on this list because it is the officially supported app for borrowing books from public libraries.
Although you have to access the OverDrive Read on Mac from a web browser, you can download content for offline reading, listening, or watching. You'll need to bookmark the page so you can access it without an internet connection, but if you remember to download the content while you're online, you can continue reading while offline.
OverDrive Read includes tools for changing the color, adjusting the size and style of font, adding notes, highlighting, and voice over for some titles. It also supports fixed-layout digital books (like comics and magazines) so your favorite illustrated content doesn't look weird on your Mac.
If you want to read digital books, but prefer borrowing from your local library, OverDrive Read is your go-to app for accessing your loans on Mac.
Adobe Digital Editions
Adobe Digital Editions (ADE) is an ePub reader that makes it super easy to read digital books on your Mac without having to drag them into an app or upload them to a cloud server. Once ADE is on your Mac, you can select it as the reader for any ePub file, so you can get started reading right away. I use ADE for ebooks that I get from HumbleBundle. I occasionally use it for ebooks I download from my public library, too. It supports all ePub formats and PDF files.
You can add a bookmark and highlight text. You can also add notes to pages and passages. Searching a book for a specific word or phrase is as easy as using the Find feature on your Mac.
If you download and store a lot of ePub files, and don't want to upload them to iCloud for reading in iBooks, ADE is the next best thing.
BookReader
BookReader is the e-reader for all files. It supports EPUB, MOBI, PRC, AZW, FB2, Microsoft DOC, RTF, RTFd, xHTML, Webarchive and TXT. No matter what type of ebook you have on file, you can read it on BookReader. It only supports DRM-free files, though, so make sure your digital books don't have digital rights protections before you try to use it.
You can store all of your books in one bookshelf for easy access. It also has a few features that make book reading on the Mac a pleasant experience, like realistic page flipping, hypertext support, Text to Speech, and a fully customizable color option. You can make the font, background, and book border any color available on the spectrum.
If you tend to download a lot of different types of eBook files, you'll be happy with the level of support BookReader has. You can download a free, seven-day trial version to decide whether you want to invest further.
Your favorites?
Do you use a specific e-reader as your go-to app on Mac? Let us know what it is in the comments and tell us why it's your favorite.
Lory is a renaissance woman, writing news, reviews, and how-to guides for iMore. She also fancies herself a bit of a rock star in her town and spends too much time reading comic books. If she's not typing away at her keyboard, you can probably find her at Disneyland or watching Star Wars (or both).
The Barns and Noble Nook app is fine too. I don't know why it wasn't included. I mainly use three, iBooks, Kindle and Nook.

Barnes & Noble no longer support a Mac app. Mac can only use Nook for Web in a web browser. I mentioned at the beginning of my post that this list is for apps that you can download onto your Mac. I also mentioned that I'd love to know which browser readers people like, so I'm glad you mentioned it in the comments!

B&N App… for when you move past the Nook. And, man, ADE has *bad* reviews. O.o;

Having used ADE I can verify they are bad for a reason.

Having used iBooks and Kindle I love the Kindle ecosystem EXCEPT for their Mac desktop app. iBooks is much further ahead and the Kindle app for Mac is updated far less often than their mobile or eink reader is that it feels forgotten. That and Amazon's support reps are friendly but generally don't end up accomplishing much.

I'd think that Amazon/Kindle aren't ever going to be very quick on the uptake when updating the Kindle App for Mac/iOS. Especially after Apple made a move to attack Amazon/Kindle/And-The-Entire-ebook-Industry. Apple dug their own hole there when they made an aggressive move in an attempt to control the ebook industry. Now they have to sit in that hole. Amazon/Kindle owns the ebook industry now, and they earned it. iBooks is by far not further ahead. It's flashier, it looks cooler, but that's about it. Functionally, Kindle stomps iBooks.

Books play a particularly important role in my world and most of my reading today is done on iOS devices. For books lacking important images I prefer reading on the Mini 4. For those having many illustrations, such as maps, I use an Air 2. And for large format volumes such as PDF formatted magazines I rely on the iPad Pro 12.9. Although I have a Kindle Voyage, and buy lots of books from Amazon, I almost always read them using the Kindle app on my Mini 4. My favorite ereader apps in order of preference are: Marvin 3
iBooks
Kindle When forced to read on a Mac I usually use a MacBook 12.

Another +1 for the B&N Nook app. Interesting that it wasn't mentioned. Overdrive is great for checking out ebooks from your local library.

What has me flummoxed is that the last two versions of Kindle for MAC have a Text-To-Speech function which I need.
Because I can no longer read for periods longer than five minutes, why is this function disabled? I was thrilled when I heard about it yet it does not work :(

No Calibre? The inbuilt eBook reader is… OK, but the rest of the application is sooo useful I put up with it :0
Thank you for signing up to iMore. You will receive a verification email shortly.
There was a problem. Please refresh the page and try again.