5 Things Every Smart Home Owner Should Have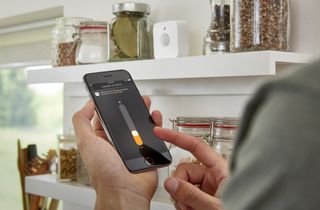 I've been building out my smart home (I'm still not entirely sold on that term) for quite awhile. I've got smart lights, smart plugs, smart motion sensors, smart fans, a smart garage door … I'll save you the time and sum things up: I've got a boat-load of smart gadgetry in my home. And as I've built things out, set up automations, cut back, expanded, swapped out products, upgraded devices, and more, I've come to realize there are a few apps, tools, and products that have made my smart home experience a delight.
Whether this will be your first foray into smart home territory or you're a seasoned home automator who's just itching to expand, I've put together a list of five things every smart home owner should have to make their experience all the more delightful and all the more useful!
1. An app to control your smart home
No one smart-home-product manufacturer has been successful in providing everything you need for your smart home setup. As you start to build out your automated home, you're going to be buying products from different companies and you're going to need a way to tie them all together (as best you can). If you're rocking an iPhone or other iOS device, I recommend limiting your smart-home purchases to HomeKit-enabled accessories, because you'll be able to control all your devices simply and securely with your voice (via Siri) and your iOS device (via HomeKit).
If you're not rocking an iPhone (or just want to buy non-HomeKit-enabled accessories), worry not! There are some apps and services that can help you tie things together.
The Home app for iOS is a fantastic (and simple) way to control all your HomeKit-enabled accessories. You can use the app to install new HomeKit-enabled accessories, monitor your home's status, turn on and off lights, activate scenes, adjust devices in individual rooms, set up automations, view HomeKit-enabled cameras, invite guests to control your HomeKit-enabled accessories, and more.
I won't go into too much detail here on what the Home app can do and how it works because I've already done that! You can learn everything you need to know about HomeKit and the iOS Home app by clicking below:
Not only does Elgato make a fan-friggin'-tastic set of HomeKit-enabled smart home products, the company makes one of the best third-party apps for controlling your HomeKit home.
Where iOS's Home app is a simple way to get going with your smart home, the Eve app lets you monitor and control your home in great detail and with incredible nuance. When I needed to figure out a way to have my lights turn on as soon as a motion sensor was triggered and turn off again after a certain period of time, Elgato's Eve app allowed me to do just that. The app also provides detailed information about power usage, charts contact sensor interactions, motion, and more. It's a full-featured app for a person who wants more out of their HomeKit-enabled smart home.
As promised, the Wink app is one of the apps I mentioned that can help tie various smart home products together regardless of their HomeKit compatibility. Before I had a Wink Hub 2 in my home, I was able to use the Wink app to control my August Smart Lock, Ecobee thermostat, iHome SmartPlug, Nest Cam, and Philips Hue Lights.
The app provides simple, individual control of supported smart home devices as well as smart home scenes (Wink calls them Shortcuts) and automations (Wink calls them Robots). You can set up a Good Night Shortcut, for example that turns off all the lights in your home and turns up the heat on the thermostat. A Robot, on the other hand, would let you set up an automation that, say, turned on the lights in your garage as you arrived home.
You won't get the same level of integration as you can with HomeKit and the iOS Home app, but the Wink app does a pretty good job of bringing together various devices all in one place.
Home Assistant isn't for everyone, but it's one of the most all-encompassing home automation tools I've come across. Running on Python 3, this home automation platform auto-discovers loads of supported devices and gives you access and control as soon as you launch the system.
Home Assistant is an open-source platform that's maintained by what's clearly a very committed, active community; the platform supports more than 600 components (various home automation products and services). Notably, after installing and launching Home Assistant I was able to control my Apple TV from the platform's web interface all from my phone! Some other popular components include Amazon Echo, IFTTT, Ecobee, IKEA's new home automation line, Nest, Sonos, and Plex.
If you're comfortable fiddling with Raspberry Pis or digging around in Terminal, you might give Home Assistant a go — this service aims to bring together any and all of the home automation products you add to your home and it does a doggone good job at it.
2. An in-home voice assistant
Siri is a fine means of controlling your smart home but nothing beats the always-on, hyper-focused devotion of an in-home voice assistant. There's something comforting about knowing you've got a means of control that doesn't need to recharge at the end of the day (or in the middle of the day if you forgot to plug in your phone the night before). These devices are tailor-made to be your virtual, voice-activated assistant and they do a damn fine job of it. I'm sure some will disagree but I hold you're not rocking a true smart home until you can reliably control it with your voice.
While I'm tapping away at the iOS Home app, I listen to my partner (my own personal litmus test for how normal, everyday people use technology) gleefully use Alexa to play music, control our lights and thermostat, and get the daily forecast. Amazon has stepped up in a big way when it comes to the smart home. Where Apple has chosen a rigorous, security-focused approach with HomeKit compatibility, Amazon has made Alexa integration swift and flexible. As a result, Alexa supports a whole host of smart home devices.
If you want to learn more about the Amazon Echo or Amazon's Alexa smart assistant, you can check out all our coverage:
Oh! If you're not keen on giving up Siri control of your smart home devices, there's plenty of overlap between Alexa and Siri; this list has everything you need:
These smart home accessories work with Amazon's Alexa and Apple's HomeKit
Google Home is Google's take on the always-on, in-home smart assistant. It's tied to Google's services, of course, so if you're firmly in the Google Products camp (Gmail, Google Calendar, Android, etc.) Google Home was made for you!
The beautifully designed device features some pretty powerful, nice-sounding speakers that make it a better music-listening device than the Amazon Echo, but it's still got some catching up to do in terms of smart home support. Google semi-regularly adds new smart home integrations, but its list of supported devices pales in comparison to both Apple and Amazon.
That said, the device has some pretty powerful tie-ins with automation-service IFTTT; with a little fiddling you can control smart home products that you'd otherwise be unable to control. Google is skilled at taking user data and doing truly useful things with it; I expect the company will apply some of that same magic in future updates of the Google Home.
3. Smart lighting
I've said it before and here it is again: There's no clearer, cooler way to show off the power of smart home products than smart lighting. Every smart home owner needs to have at least a couple smart bulbs in their home, because there's no better way to sell your smart home obsession to doubters than to magically (not using a light switch) control your lights. Let the haters bask in the glory of your sunset-timed yard lights and pink-hued multicolor bulbs.
Smart lights are also one of the most diverse product categories so there's plenty of room for experimentation: You can have LED strips below your cabinets, color-changing bulbs in your media room, automatic lights in your yard, dimmable recessed lighting in your ceiling — and control all of that with your voice, a mobile device, a smart switch, an automation, etc.
Another reason smart bulbs make the list: Smart bulbs are among the least expensive smart home products you can buy. If you're just getting started, you can quickly build out your smart home without breaking the bank.
Best Low-Cost Lights for Your Smart Home
It's also worth noting smart bulbs — particularly Philips Hue bulbs — are some of the most universally compatible smart home products. When you're trying a new voice assistant, app, or service, you need something with which to test it; chances are your bulbs are going to offer more integrations than your smart lock (and that's a good thing).
4. A hub or HomeKit
Much like the apps I mentioned before, hubs (and HomeKit) can help you tie together products from different smart-home-product manufacturers. It's a pretty crummy experience having to jump from app to app to control your smart home devices; you need an easy way to be the maestro of your smart home no matter whose brand adorns the lights, plugs, fans, and sensors in your home.
HomeKit is a framework created by Apple that lets smart-home-product manufacturers offer centralized, secure control of their devices with Siri and the home app for iOS. Apps — like the Eve app I mentioned before — can also use HomeKit to offer smart home control. While I'm a big fan of HomeKit and Apple's take on smart home control, there are still many products that aren't compatible. That's when you need a hub!
Smart home hubs and HomeKit alternatives
I've put together a list of the best HomeKit alternatives with compatibility information. You can learn a little bit about different smart home hubs and devices and what products they support.
Depending on the size of your smart home and the smart products you've already invested in, you might find yourself needing more than one of the alternatives I've listed — that's OK. There's no right answer (in my opinion, at least) for smart home configuration. Use the products and services that work for you in the way you want them to work. Heck, that's the whole point of having a smart home in the first place!
5. A toolbox (or a hired hand)
There are plenty of smart home products that don't require complicated installation if you'd rather avoid it, but if you really want to supercharge your smart home you're going to need a little DIY magic (or a hired hand).
One of my all-time favorite HomeKit-enabled smart home products is an in-wall dimming kit from Lutron. When I moved into my current home, I ran into an issue where many of the lighting fixtures featured ceiling fans with tiny candelabra bulbs, so I couldn't Philips Hue my way out of the situation. I came across the in-wall Lutron Caséta dimmers and I never looked back. I have them installed all over my house now and actually prefer them to smart bulbs.
Installing them wasn't as easy as screwing in a bulb and flipping on a switch, though. I had to cut power at the breaker, rewire outlets, cut new holes for device boxes, troubleshoot wiring issues, etc. It was a load of fun for me, but it certainly required some research and a trip to the ol' toolbox. If you foresee yourself installing a smart thermostat, smart fans, in-wall smart lighting, a smart sprinkler system, or any other advanced-installation smart products, you're going to want to make sure you have the necessary tools on hand or call in a professional!
Thinking about doing this stuff yourself? Check out this article for a great way to learn how:
DIYZ is a DIY project app with a twist: Video chat with a contractor if you get stuck!
You can also learn how to use your existing lights and fans with HomeKit-enabled products here:
How to add your existing lights and fans to your HomeKit-enabled home
Thoughts?
Are my five things the same as your five things? Do you think something else belongs on the list? I want to hear your thoughts, protestations, affirmations, and smart home situations, so share 'em in the comments below or over on Twitter!
Master your iPhone in minutes
iMore offers spot-on advice and guidance from our team of experts, with decades of Apple device experience to lean on. Learn more with iMore!
Mikah Sargent is Senior Editor at Mobile Nations. When he's not bothering his chihuahuas, Mikah spends entirely too much time and money on HomeKit products. You can follow him on Twitter at @mikahsargent if you're so inclined.