6 Ways Investing in a Smart Home Can Save You Money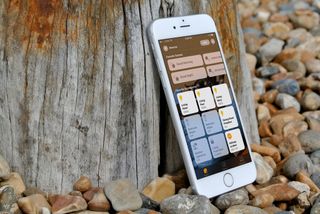 (Image credit: iMore)
Take it from my wallet: Investing in a smart home isn't cheap! You're often spending 30% to 50% more for a smart device than you would for a, uh, dumb device. A single-pole light switch can cost as little as 50¢, while its HomeKit-enabled counterpart can cost more than $40.00 per switch. A run-of-the-mill light bulb runs less than a dollar per bulb; its Philips Hue counterpart starts at $15 per bulb.
While those upfront costs might have you going 😬, you'll probably find yourself saving money in the long run! Next time you're feeling a little guilty for spending money on connected home gadgets, refer back to this list of ways investing in a smart home can save you money.
1. Energy efficient LED lights
If you're buying smart bulbs, you're buying energy-efficent bulbs. LED lighting is the way of the future and for good reason: They last an incredibly long time and they use way less energy than the incandescent bulbs of yesteryear.
According to the U.S. Department of Energy, a 60 watt-equivalent LED bulb uses 75% - 80% less energy than a 60 watt incandescent bulb. It also provides a whopping 25,000 hours of life; the incandescent bulb lasts a measly 1000 hours. Think of it this way: You're spending way more on electricity to power the incandescent bulb than you spent on the bulb itself.
It's also worth noting LED bulbs run cooler than their incandescent counterparts. A house full of incandescent bulbs will start to affect the ambient temperature of the home which could mean paying more to cool your home.
Philips Hue is my go-to solution for HomeKit-enabled, connected bulbs. You can kick off your smart home with the Philips Hue White Starter Kit. It comes with two Philips Hue White bulbs and the Philips Hue Bridge — that's everything you'll need to control your lights with the iOS Home app, Siri, Alexa, and more!
2. Energy efficient thermostats
Investing in a smart thermostat is a smart, cost-saving decision for a couple reasons.
For one, smart thermostats do a better job helping you make proactive decisions about your heating and cooling. Instead of simply serving as a thermometer that flips the switch on your heating or AC, smart thermostats can offer recommendations on when to cut back on heating and cooling your home to save on utility bills. My favorite smart thermostat, the Ecobee3, features remote room sensors that wirelessly communicate temperature and occupancy information to the Ecobee base. The sensors help give context to heating and cooling — if you're not home, why should the heat run and run and run? It's also worth mentioning the Ecobee sensors are HomeKit-enabled devices now so you can use them for other home automations.
Secondly, many energy companies offer rebates and discounts for customers who opt for a smart thermostat. I was just speaking with a friend who said she was able to get a Nest Learning Thermostat completely free through her energy company. I encourage you to check your utility company's website or call their support center to ask if they offer any programs for smart thermostats — you might find a deal like my friend!
3. Remote power management
"Did I leave the lights on in the kitchen?"
Leaving lights, fans, speakers, humidifiers, and more running while you're out of the home is a huge waste of electricity. Even if you opt for LED bulbs, it's just good practice to switch off devices you aren't using. With a connected home, the question, "did I leave the lights on in the kitchen?" gets an instant response — you don't have to wait until you get home. You'll be able to save money and reduce your anxiety in one move!
If you're prone to leaving on potentially dangerous devices like curling irons, lava lamps (are those still a thing?), and compact space heaters, adding remote power management to your home makes even more financial sense! Adding an internet-connected plug between your (possible) fire-starting device and the wall outlet will keep you and your home safe.
I can't stress enough just how great the iDevices Switch is. Not only do you get a compact, internet-connected plug — you also get a multicolor nightlight. It's a 2-in-1 deal that makes the iDevices Switch a superior HomeKit-enabled plug. Of all the HomeKit-enabled plugs I've tested, this switch has been the most reliable. Plus, the unique side plug design makes it less of a wall wart.
4. Energy cost monitoring
Do you know which electronic devices in your home use the most energy? You can probably figure out a rough estimate of what devices are sapping power, but if you want to get detailed with your consumption tracking you should get some smart plugs.
Most smart plugs on the market offer an energy consumption feature that lets you track whatever's plugged into it. I have two iDevices Switches and an Elgato Eve Energy switch in my home. The devices' respective apps allow me to track energy usage over time. I can also get a rough estimate of how much I'm paying for whatever I have plugged in.
Elgato offers a smart plug called the Eve Energy that offers some pretty detailed tracking. The app will show you historical values for projected cost (how much you'll spend by the end of the year based on the data it's collected), total power consumption, and total cost thus far. It'll also show you real-time values for consumption, current, and voltage. Talk about detail!
I've an Eve Energy switch in my garage that powers some work lights I've set up. The Eve Energy's connection method — unlike the iDevices Switch — is exclusively Bluetooth Low Energy. Despite being all the way in my garage, I've never experienced full-blown connection issues, just delayed connections from time to time. It's pretty impressive.
5. Grocery monitoring
Did you know folks are connecting their fridges to the internet these days? While it might sound a little silly at first, you might change your mind once you learn what today's smart fridges can do.
If you've ever gone to the store only to realize you forgot to check if you needed to buy milk, a smart fridge could make that problem a thing of the past. Smart fridge manufacturers are adding internet-connected cameras to fridges that give you a wide-angle view of the situation inside your fridge. You can check on the freshness of your carrots, peep how much milk is left, decide if you need to pick up more beer, etc.
I'll be honest here: I doubt the cost-savings of skipping out on a gallon of milk you don't need will quickly offset the cost of a smart fridge. That said, if you're in the market for a new refrigerator you should definitely take a look at the smart fridges on the market today — get ahead of the curve, 'cause soon they'll be the status quo.
6. Less expensive security solutions
If you've ever looked into one of those subscription-based home security packages you already know this: Those things are doggone expensive. And don't even get me started on the nightmare stories I've heard about folks who wanted to cancel their home security package — sounds worse than trying to cancel a satellite TV subscription.
Forgive the digression, my point is this: Today's connected-home products are a much more cost-effective, stress-free solution to home security. You can remotely monitor your home with security cameras (with many featuring microphones, speakers, and sirens), lock your house remotely with internet-connected locks, and keep an eye on your doors and windows with wireless contact sensors. It's the same group of electronics that you'd get in a home security package without the baggage (and cost) that comes with subscribing to a home security package.
My home security solution includes a Nest Cam (soon to be replaced with a HomeKit-enabled D-Link Omna 180 Cam), an August Smart Lock and Doorbell, and several Elgato Eve Motion sensors. The Nest Cam automatically turns on when both my partner and I are out of the house. We get notifications for movement within specified zones (our front door and our back door) and can check in at any point with streaming video. The August Smart Lock lets me know the door is locked when I'm away from home and the August Video Doorbell sends me motion alerts if folks are walking up to my house. The Elgato Eve Motion sensors are installed in locations in my home that the Nest cam is unable to see. I get notifications for movement on my iPhone. I plan to add some Elgato Eve Door & Window wireless contact sensors to my setup soon.
If you'd like to set up a custom home security solution, you can check out our recommendations at the following links:
How does your connected home help you save?
Do you have connected home products in your home? How do they help you save money?
Master your iPhone in minutes
iMore offers spot-on advice and guidance from our team of experts, with decades of Apple device experience to lean on. Learn more with iMore!
Mikah Sargent is Senior Editor at Mobile Nations. When he's not bothering his chihuahuas, Mikah spends entirely too much time and money on HomeKit products. You can follow him on Twitter at @mikahsargent if you're so inclined.