The Apple A9 processor in the iPhone 6s and 6s Plus is 70% faster than the A8 chip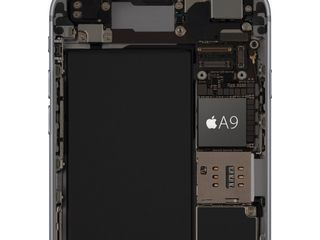 Apple's press event in San Francisco revealed that the company will use the new A9 processor inside the iPhone 6s and iPhone 6s Plus smartphones. Apple says the A9 processor is 70% faster than the older A8 chip.
The A9 is Apple's third-generation 64-bit processor, with a new transistor architecture that is not only faster but more efficient than the A8. In addition to the 70% faster CPU speed, it's also 90% faster for its GPU performance. The A9 also has the new M9 motion coprocessor that's built into the chip and is now always on.
Apple showed off the graphical capabilities of the A9 processor with a demo of the mech-action game Warhammer 40K Freeblade. The game also uses 3D Touch so users can press on the screen to zoom in and out, and press down harder to switch the mech to a heavy weapon loadout, The game uses features like focus blur. along with twice the AI, more textures, more exposure, and support for full-screen lens bloom. The game can have all those features and still run at 60FPS on the A9 chip.
Stay tuned as we continue to cover Apple's latest press event and its announcements.
Get the best of iMore in in your inbox, every day!
I have been writing professionally about technology and gaming news for 14 years.
Now the battery life and price... Posted via the iMore App for Android

And Ram memory Sent from the iMore App

Everything was right on the money for me today, except for that. Usually no mention means it's unchanged, though I hope I'm wrong

Not necessarily.
Do they ever mention RAM in iOS devices?

I don' think they mentioned it for the Air 2 last year which has 2GB and they also don't mention when the RAM is increased in speed usually either.

iMore staff, how much RAM does it have??? Sent from the iMore App

2 gigs of RAM? Sent from the iMore App

That's what we're hoping. Nothing in the spec sheet about it though.

If the A9 is more efficient and faster than the A8 and everyone is happy with their 6 and 6Plus, I'm going to be interested. For me, the core functionality of the phone is still vital since I use it for business primarily. Coming from Android and Windows Phone, I'll gladly deal with a day or two of battery life and mono-tasking (is that really a thing on iOS?) in favor of app force closing on android, or lack of the apps I need altogether on windows phone (which is a superb OS by the way, as phones go).

Ditto my friend. That's how I feel, having used both WP and currently Android. I want those 2GB RAM though to make it happen.

I've never ran into app force closing on my S5. iOS does all kinds of force closing though.

That's pretty subjective at best. I left Samsung years ago so I can't really speak to the S5, but nearly every android I've used is problematic. Case in point; my excellent OnePlus one which force closed the dialer nearly daily for a time. I had to use a third party dialer to get consistent operation. Really takes the wind out of my sails to try and call it "excellent". My new LG G4, seems to get to a point where the system hangs for no reason, I can reboot and on occasion have nothing I can do with it but pull the battery. I'm not interested in resetting my phone every other week to make it work like new, or install app and memory management apps because Android is a mess. If I could get the apps I needed on Microsoft I'd be long gone. Once Apple integrates NFC (or I stop using it), and I consider an Qi workaround for an Apple device I will never come back to android again. For now, I am heavily invested in my LG G4 and Android and will continue to :| and reboot daily.

I have a G4 as well, and I'm having the exact same lag problems that you are, although mine requires maybe weekly reboots rather than daily. I don't know if it's an LG software thing, or a Snapdragon 808 thing, or a core Android thing (although I doubt that because I never had that kind of lag on the other 5.0 and 5.1 devices I've used), but it's a serious mark against an otherwise fantastic phone.

If it's not 2GB I'm out. I'll stick with my flip phone and 35mm film camera.

Ahhh! So excited for the new phone. I'm such an Apple fan (back when the iPod Mini came out, I bought one instead of going to prom, well worth it). I'm also a digital designer and would love to upgrade from my iPhone 5. The faster processor is going to help me when using design apps like Photoshop's new mirroring feature, as well as SKALA. My current phone doesn't have enough storage for updating to IOS 8. P.S: I love the rose gold.
Thank you for signing up to iMore. You will receive a verification email shortly.
There was a problem. Please refresh the page and try again.