What happened to AirPower?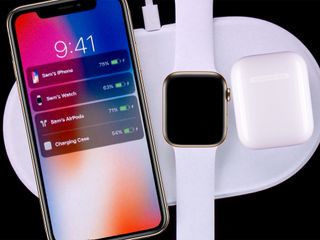 AirPower was announced alongside the iPhone 8, 8 Plus, and iPhone X at Apple's September event… in 2017. It was a preview, not a release, and Apple said it would only be available in 2018. On March 29, 2018. Apple announced it would not, afterall, release AirPower. Here's all the information leading up to the cancelation.
Hit play to watch the video version and subscribe for more!
March 29, 2019: Apple cancels AirPower charging mat, unable to meet quality standards
Apple has officially canceled the AirPower inductive charging mat after failing to meet particular quality standards. The company announced the discontinuation of the project in an emailed statement to TechCrunch:
It's rare for Apple to announce that they are discontinuing a product that it never released. But it seems like a fairly prudent move at this point, as recent rumors had indicated that the company was, in fact, close to releasing the product. Announcing its cancelation at this time puts a stop to those rumors, and keeps customers from holding out for a product that is no longer coming.
February 17, 2019: AirPower yet again rumored for the first half of this year
Kuo Ming-Chi is rounding up his early 2019 predictions and AirPods are on the list. Nothing new or different, just comfortingly more of the same. Via MacRumors:
Getting closer...
February 12, 2018: AirPower finally ready for prime time... maybe?
And... add another spring release rumor to your AirPower bingo board!
From iPhoneHellas.gr:
It's still strange we haven't heard anything from Apple on this, given the delay.
February 11, 2018: AirPower again rumored for the spring... but thicker!
If you haven't succumbed to learned helplessness around AirPower and its many rumors yet zero actual appearances yet, here's one more rumor for the pile.
From MySmartPrice:
Figuring out heat and the coils are just necessary in order to get the product to the point it can ship. Exclusive features from iOS 13, though?
January 12, 2018: AirPower rumored to finally be in production
Joe Rossignol, putting the pieces together for MacRumors:
If it was going into production this soon after the New Year, why wouldn't Apple have released a statement like it did with HomePod, saying it needed a little extra time to get AirPower right and that we'd see it in early 2019?
Could be that it's really not that close to production, or that Apple has decided it's really better off not saying anything at this point until it's just about ready for release.
"Shut up and ship" is a mantra for a reason.
December 31, 2019
Apple has now officially missed the launch window for AirPower according to the announcement it made during the charging pad's September, 2017 introduction. But, hope remains.
Where is AirPower? 🤷‍♂️ All I've been hearing is 'they've finally fixed it', so, if true, it could ship as a product whenever Apple wants. Hopefully alongside the smart battery case for the XS?Where is AirPower? 🤷‍♂️ All I've been hearing is 'they've finally fixed it', so, if true, it could ship as a product whenever Apple wants. Hopefully alongside the smart battery case for the XS?— Steve Troughton-Smith (@stroughtonsmith) December 31, 2018December 31, 2018
Expect it when you see it.
2017: AirPower Year Zero
Recently, when Apple makes a big change, it likes to announce a big halo product to go with it. The best example is AirPods. iPhone 7 might have ditched the headphone jack but it gave us one of the most innovative consumer electronic products we've seen in the last few years. Custom W1 chips — tiny computers that enable instant pairing, switching between linked devices, and rock solid syncing between left and right, no cables needed.
They were announced during the September event in 2016 as coming later that fall. Apple even provided pre-release versions to reviewers to test so they could have the complete iPhone 7 and Apple Watch Series 2 experience. They ended up shipping late by a couple months. Available for order December 16 and in stores by December 20.
AirPower was probably meant to be similar if not the same. iPhone 8, 8 Plus, and iPhone X. They ditched the metal backs for glass and gave us Qi-based inductive charging. Nothing innovative on its own — phones have been charging inductively for a decade — but Apple seemed to want to show not only its commitment to the technology but its commitment to pushing it forward. That was AirPower. Not just an inductive pad or stand capable of charging the new iPhones, but a super-pad capable of charging up to two iPhones, or an iPhone, an Apple Watch 3 or later, and even a pair of AirPods in a new, inductive charging case all their own.
It would change the narrative from Apple finally joining the inductive charging club to Apple being Apple and doing inductive charging in a slicker, cleverer way than anyone previously in the club.
They weren't announced as coming later that year but as coming the following year. Briefly, spring of the following year on one web page. But everywhere else — and eventually an updated version of that page too — simply next year.
2018: AirPower Year One
The Apple Post, February 7, 2018:
Mac Otakara on March 23, 2018:
But spring came and went, and the March event and new 9.7-inch iPad with it. But no AirPower. Summer came and went as well, and WWDC and iOS 12 with it. But still no AirPower.
Mark Gurman, writing for Bloomberg on June 21, 2018:
AirPower still remained on Apple's website, albeit only on the AirPods page and only in reference to the currently unavailable wireless charging case.
Mark Gurman writing for Bloomber on September 10, 2018:
Fall came and went, and the September and October events, new iPhones and iPads galore. But, yeah, still no AirPower.
John Gruber, writing for Daring Fireball on September 15:
On September 16, 2018, Sonny Dickson, previously best known for finding demo units of pre-production iPhone and other devices from the Chinese supply chain, posted what he heard was going on with AirPower:
One September 17, 2018, Binyamin Goldman wrote for Apple Toolbox:
Apple Watch 4 came with a version of the Milanese Loop that could be opened up, seemingly so it could work with AirPower. That was no doubt planned well in advance, though. But with the launch of iPhone XS and iPhone XR, however, AirPower remained on the documentation included in the packaging, something far easier to change far later in release cycle, especially for the typically fastidious Apple.
According to Guilllermo Rambo, writing for 9to5Mac on September 20, it also remained in the code:
On October 23, 2018, Kuo Ming-Chi reported, via MacRumors:
Apple has launched products in December before. AirPods, of course, in 2016, and the Smart Battery Case for iPhone 6s in 2015. But it's certainly not the norm. HomePod, which was announced at WWDC in June of 2017 as coming later that year, then delayed early February 2018 after AirPlay 2 proved more challenging to nail down than initially expected.
2019: AirPower Year Three
If a December launch isn't in the cards for AirPower, and the lack of noise leading up to the last month of the year makes that seem increasingly likely, than early next year, be it February or March is the next likely window.
If the project really is in trouble or even canceled, as rumored, and another project under the same name or for a similar if simpler purpose isn't rapidly ramped up instead, then it be could well be longer.
"Great artists ship." "Apple ships." Is one of the core tenants of the company. But, delays on everything from AirPods to HomePod, and most especially AirPower has put that tenant to the test. That might be why there were no special halo accessories announced alongside this year's iPhone or iPad, New modular Mac Pro teased way back in 2017 not withstanding: Apple has learned the dangers of deviating from its ship-don't-tell strategy, and the pain it can cause them when forecasts don't match finish lines.
Where is AirPower? I'll do you one better: Why is AirPower?
AirPods challenged and changed our expectations when it came to how intangible wireless headphones really could feel. Even at its best, AirPower probably wouldn't have done that for inductive charging. Not the way ubiquity would. Not the way having every table in every coffee shop and restaurant, ever tray in every ride-share and plane, in having inductive charging everywhere would.
And that'll take more than a charger that can handle a wide variety of different devices. That'll take a wide variety of devices that can all be charged the same way.
Get the best of iMore in in your inbox, every day!
Rene Ritchie is one of the most respected Apple analysts in the business, reaching a combined audience of over 40 million readers a month. His YouTube channel, Vector, has over 90 thousand subscribers and 14 million views and his podcasts, including Debug, have been downloaded over 20 million times. He also regularly co-hosts MacBreak Weekly for the TWiT network and co-hosted CES Live! and Talk Mobile. Based in Montreal, Rene is a former director of product marketing, web developer, and graphic designer. He's authored several books and appeared on numerous television and radio segments to discuss Apple and the technology industry. When not working, he likes to cook, grapple, and spend time with his friends and family.
2017: Year 0
2018: Year 1
2019: Year 3 Which was year 2? Great timeline otherwise though.

Small fix: tenets, not tenants.

I think that the text of the article gets transcribed via software from his YouTube video, so some words get misspelled and a cursory review didn't pick up on it.

It's not misspelled, it's the wrong word.

As others have pointed out it may be a bit of a blip to put year 3 after year 1 but otherwise I really like the layout of this article and the research to find all those quotes. I agree that by the time AirPower finally comes out it could be too little too late to have any impact, but I'm curious whether you personally think it will come out at all?

Too late, people have moved on. I waited and waited and waited. I finally bought two of the Belkin exclusive model chargers from the Apple Store in my area. If Apple were having engineering difficulties they could have come clean and told us. Keeping us dangling on the hook for over a year is just plain disingenuous.

I like recycling as much as the next guy, but if you are going to put a post time of 31 Dec 2018, at least change the end of the first paragraph to something other than 'Now it's November 2018 — late November...' If there's nothing new, there's nothing new.

I still much prefer the versatility, and aesthetic of cables.

I'm incredibly curious as to what you find aesthetic about cables.

A nice bundle of cables dressed with waxed lacing cord is a delight to behold. (zip ties are an abomination)

As long as its not 149.00 or more than 100 dollars I will consider it but not really needing it at this point I have wireless chargers all over my house. They are so cheap its a no brainer.

Lol at Apple, they are just one more company over the last few years. No longer the magical Apple. So many missteps over the last few years for company that prides itself to stand out from the crowd. But as usual there are bloggers out there and here defending even their mistakes. Props to articles like Joanna Stern and others who put out articles reporting problems instead of doing PR for Apple.

There isn't really any company, at least in the technology sector, which has stood out to me lately. Smartphones and tablets are getting stale, the most exciting thing out currently are these bendable phones, but they're also ridiculously expensive so not many people are going to be buying one. I want to see Google Glass, a new battery technology to replace Li-ion, truly wireless charging that works without contact at a distance, a touchscreen where you can "feel" the keyboard so I can enjoy typing on a phone again. These are the things we should be seeing, but no company is doing it.

At least Apple will pull a product when finding out it's not ready. Not like the tons of Google services which have been closed after release, or Samsung's exploding phone which obviously never went through testing.

Look at you typing hysterically trying to battle every post that comments on this embarrassment. I'm amazed how you haven't been hired by imore...what kind inconsequential work do you do that allows to be on here so much? (you have a real job, right big boy?)

Just stating facts, some people ignore other companies' mistakes (that are arguably worse).

this article isn't about what you think google's mistakes have been in the past. this article is strictly about Apple's embarrassing ifail announcement about Airpower. its an emebarrasment no matter how much you try to distract and talk about other companies For someone that constantly barks like an abandoned chihuahua about we should stick to what the article is about, you sure show how full of schit you are when its in your favor

You show how full of shⅰt you are whether it's in your favor or not. My comment was factual, I don't know what you're trying to get at, except making stupid insults which shows that you're definitely not the bigger person.

What's really funny is that there are many other dual charger devices out. Funny apple could not do it. And yes. You are frantically typing defending the great apple.

Yes, it is funny that Apple couldn't do it, but there's always a reason for that. Again I'm not defending them here, that's just your interpretation.

"Again I'm not defending them here" April fool's joke right? we all know you're like an external hemorrhoid dangling from Apple and Rene. I wonder if you'll finally detach if i rub hemorrhoid cream on your face

Ha ha ha. Dannyjjk is so far up Rene and Tim's *** you don't know where they end and he begins. My "interpretation" is dead on there buddy. Deny and defend

Just your intepretation, not actually true

Just your intepretation, not actually true.

Again fanbaby, my "interpretation" is 100% true. Whether you want to admit it is an entire other matter.

It's up to me whether I'm defending him or not, not up to you. And I'm not, I've nothing to admit, but I what I can admit is that you have a vivid imagination

Me and countless others on here to I guess. defend and deflect danny boy.

Haha, "countless others", it's just you and the guy who doesn't know how to spell the word experiment

Wow, you reality IS really distorted isn't it. Keep chuggin the kool aid.

Nope, your "countless others" is just 1 person, so "countless" here implies that you can't count to 1, which is slightly worrying. But then again, you have to say kool-aid in every other sentence, so it makes sense.

ha ha ha, it's more than just "experiment" that thinks that bozo. But hey, "who's counting". Speaking of that!

Sorry, it's you, experiment and your imaginary friends

**** that sucks. Looks like Riccio's gonna take the blame for this as he probably should. I'm sure the package design was approved months ahead of time but why put the AirPower on the AirPods packaging if they were having issues with it? Edit: Rene has used profanity in his articles before but d-a-m-n gets censored?

Rene might not be in control of the software being used to censor comments

You're probably right. It sucks that AirPower had to be cancelled as it looked interesting. As a person suffering from Crohn's Disease the Airpower looked a lot like an ostomy bag to me so maybe that was a good thing :D

So, they can't build a **** phone charger but we should trust them with a self-driving car? SMH

They're two very different things… 🤦‍♂️

Where were you saying the same thing when your master Rene said back in the day that since Samsung didn't line up the holes on the phone, how can we trust it's Knox security quality........

Pretty sure he didn't say that, but if you can reference the article I'm sure I can give you a good answer.

You gotta be kidding... One of Rene's most notorious FUD pieces.. https://www.imore.com/difference-apple-samsung-industrial-design

There's absolutely 0% mention of Samsung Knox in that article, that's what I was referring to.

He said it in a video around the same time he wrote that article, don't know i would find it, few of us that were around back in can attest to it....you probably didn't exist back then. Rene's hemorroids started developing a couple years after ( or maybe you were an unnoticeable internal hemorrhoid that we didn't take notice)

So basically nobody heard Rene say this fabricated statement comparing Samsung's speaker hole alignment to Samsung Knox? What a surprise.

Everybody heard it, I just don't know how to dig a 4 year old video on this mess of a website.... Random question, how many times have you frantically pounced with your sausage fingers on the "report" button and nothing's happened? lol...must be frustrating that you do everything in your being to a good soldier of the Koolaid army and the master still ignores you

I only report troll comments or comments that provide nothing to the discussion, sometimes those comments get removed, but not always. Your comments aren't always the best but at least you generally continue discussing the topic.

Yes, one is easy and one is exceedingly hard. They couldn't do the easy one.

Read macxpress's comment below, it wasn't just a simple phone charger. I'm very much looking forward to Apple's car project

You can't be serious with this post? And it wasn't just a simple phone charger either. If it were, Apple wouldn't have announced/released one.

Apple and Tesla (I am sure there are others but these are the two I follow most closely) need to learn from their embarrassing missteps and stop announcing things until they are, you know, actually ready. This is the worst by far, but it is not isolate, AirPods were late, HomePod was late, the Mac Pro, don't get me started.
And I bet you Arcade and/or TV+ are also no shows this "fall".

This is a widespread problem amongst many large companies, not so much smaller ones. The problem is that the idiots in charge set the deadlines instead of the people developing the product. The people developing the product then have to rush to get to the deadline, and obviously it often doesn't end well. This happens with both software and hardware, but the former usually ends up getting released anyway as it can be patched after the fact.
Thank you for signing up to iMore. You will receive a verification email shortly.
There was a problem. Please refresh the page and try again.