All Nintendo Switch games that support back up save data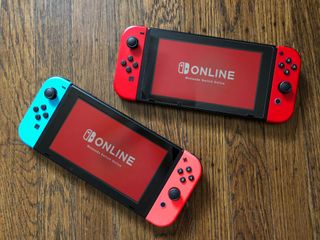 (Image credit: iMore)
If you've been playing some of the best Nintendo Switch games, the last thing you want is to lose your progress. Regardless of whether you're playing a physical cartridge or a digital download, game data is saved on your console, which means you'll lose it if your Nintendo Switch is lost or damaged. Luckily most Nintendo Switch games support backup save data via Nintendo Switch Online.
It's easier to ask what games don't support back up save data
The Nintendo Switch Online subscription service costs $20 a year and gives you the ability to play games online, voice chat, exclusive offers, and access to a collection of NES and SNES titles. It also provides cloud backup for the vast majority of games on the console.
You can check if an individual game uses online features such as cloud data in its description in the Nintendo eShop or product page on nintendo.com. It's usually safe to assume that a game will be backed up with your Nintendo Switch Online membership unless it's one of the titles on this list that are not compatible with the service.
8-BIT ADV STEINS;GATE
A Duel Hand Disaster: Trackher
A Fold Apart
A Sound Plan
Air Hockey
Arcade Archives IKARI III -THE RESCUE-
Asphalt 9: Legends
Bass Pro Shops: The Strike — Championship Edition
Battle Supremacy — Evolution
Battleground
BINGO for Nintendo Switch
Blade II — The Return Of Evil
Bookbound Brigade
Bowling
Bubble
Cabela's: The Hunt — Championship Edition
Catan
Chapeau
Clue: The Classic Mystery Game
Color Zen Kids
Creepy Brawlers
Curious Cases
DAEMON X MACHINA: Prototype Missions
Dark Souls: Remastered
Darts
Dawn of the Breakers
Dead By Daylight
Deadly Premonition 2: A Blessing in Disguise
Deployment
Doggie Ninja The Golden Mission
Dungeon Stars
EA SPORTS FIFA 20 Nintendo Switch Legacy Edition
Escape First
Eternal Card Game
EXORDER
Fear of Traffic
FIFA 18
FIFA 19
Fledgling Heroes
Fractured Minds
Funimation
Gates Of Hell
Gato Roboto
Gems of War
Gigantosaurus The Game
Go Vacation
Golf
Guess the word
Gurgamoth
HAUNTED: Halloween '86
Hidden
Hidden in Plain Sight
Hulu
Idle Champions of the Forgotten Realms
InkyPen
IN-VERT
It's Spring Again
izneo
JUMANJI: The Video Game
Just Black Jack
Lanternium
Lightseekers
Little Shopping
MetaChampions
Minecraft: Nintendo Switch Edition
Miner Warfare
Miniature — The Story Puzzle
MISTOVER
Modern Combat Blackout
NBA 2K Playgrounds 2
Neverlast
New Super Lucky's Tale
Nidhogg 2
No Time to Relax
North
Onigiri
Orbitblazers
Othello
Overwatch — Legendary Edition
Party Trivia
Pet Care
Pixel Devil and the Broken Cartridge
Pizza Parking
PLOID SAGA
POOL
Ragtag Adventurers
Red Hot Ricochet
Robbie Swifthand and the Orb of Mysteries
Robox
Royal Adviser
Santa Tracker
Sheep in Hell
Slam Land
Slot
Smash Rush
Speaking Simulator
Splatoon 2
Spot the Difference
Squidlit
SUPER DRAGON BALL HEROES WORLD MISSION — Launch Edition
Super Holobunnies: Pause Café
Taimumari: Complete Edition
Teddy Gangs
The Lord of the Rings: Adventure Card Game
The Otterman Empire
The Raven Remastered
The Town of Light: Deluxe Edition
Theatre Tales
Theme Park Simulator
Trailer Trashers
Trials Rising Standard Edition
V.O.I.D.
Wanba Warriors
Warface
Warhammer Age of Sigmar: Champions
while True: learn()
World Soccer
ZOMB
Always have a back up plan
Losing or breaking your Nintendo Switch is a hassle even if you don't also lose hundreds of hours worth of gameplay. You should seriously consider a Nintendo Switch Online subscription so you can keep that data safe. Do you have any questions about the Nintendo Switch games that support back save data? Let us know in the comments section!
Our pick
(opens in new tab)
Nintendo Switch Online 12-Month Individual Membership
Cheap online service with plenty of useful features

Nintendo Switch Online has a lot of useful benefits for subscribers. You'll be able to play online with others, voice chat through the mobile app, get exclusive bonus offers and games, cloud game saves, and gain access to the NES classics with online functionality. It's a win-win, and relatively cheap when you compare it to PlayStation Plus and Xbox Live.
Get more iMore in your inbox!
Our news, reviews, opinions, and easy to follow guides can turn any iPhone owner into an Apple aficionado
Samantha Nelson writes about gaming and electronics for iMore, Windows Central and Android Central while also covering nerd culture for publications including IGN and Polygon. She loves superheroes, RPGs, cooking, and spending time outside with her dog. You can follow her on Twitter @samanthanelson1.