Angry Birds Stella POP! tips, hints, and cheats you need to know!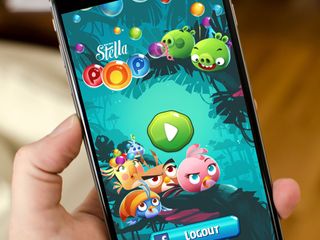 Angry Birds Stella POP! is a new match three game by Rovio that brings along your favorite Angry Birds characters. You'll have to pop bubbles to get to the evil pigs and free different forest creatures. If you've ever played games like Bubble Witch Saga, you already know what you're doing!
If you're just getting started, these are our top tips, hints, and cheats to mastering Angry Birds Stella POP!
1. Aim high, like really high
Larger combos give you lots more points, so look for moves as high up as you can see on the screen. You should always favor higher up moves over ones that are lower to the bottom of the screen.
2. Swap out bubbles for better moves
Tapping on the bubble in the sling lets you swap the color for whatever is coming up next. This costs you nothing and doesn't hurt your score. You can do it as often as you'd like so take advantage. It's easy to forget and just focus on the bubble that you're given, but training yourself to remember is worthwhile.
3. Try to end levels with lots of bubbles
End each level with as many unused bubbles in your slingshot pack as possible. You'll get bonus points for them and it can easily rack up your star rating.
4. It's all about the angles
Just like other bubble popping games such as Bubble Witch Saga, you'll have to get good at calculating angles. Bouncing bubbles off the wall can get you combos that you couldn't reach otherwise.
5. Wait for combos when you can
Sometimes it's tempting to take a combo that's right in front of you, but remember to watch for even bigger combo potential. For example, if you can create a combo in a move or two that will separate a huge chunk of the game board, be patient and work towards that instead.
6. Focus on bubbles, not smashing materials
Wood and other kinds of materials take a few bubble hits in order to break through them. Don't become fixated on these things. Instead focus on make combos that disconnect sections of the board that contain those materials. You'll save more bubbles in the long run, in turn increasing your score.
7. Don't count on what you can't see
Trying to match bubbles that are half off the screen is never a good idea. It's a crapshoot and you don't know what else it's connected to. You're better off focusing on what's in your immediate viewing area.
8. Use rainbow bubbles to obtain streaks
Rainbow bubbles will connect with any color bubble to create a combo. Save them for when you are close to a Stella streak — which requires 6 combos in a row. You can also use rainbow bubbles to finish off a level if you only need one more bubble to create a combo.
9. How to get endless free lives in Stella POP
Just like countless other games, Stella POP allows you to turn time ahead in your Settings app. When you run out of lives, just turn time ahead about 2.5 hours and you'll have 5 lives again.
Just remember to change it back when you're done so iMessages don't freak out on you.
10. Your tips, hints, and cheats for Angry Birds Stella POP!
If you're working your way through Stella POP, be sure to let us know in the comments if you've come across any useful tips or tricks!
Master your iPhone in minutes
iMore offers spot-on advice and guidance from our team of experts, with decades of Apple device experience to lean on. Learn more with iMore!
iMore senior editor from 2011 to 2015.