Bubble Witch Saga: Top 10 tips, hints, and cheats you need to know!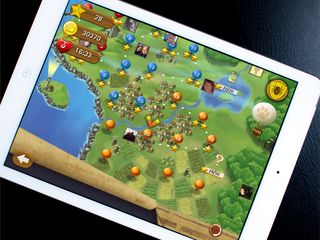 Bubble Witch Saga is a popular match three puzzle game by King, the same makers of the wildly popular Candy Crush Saga franchise. If you're looking for the best tips, hints, and cheats, you've come to the right place! In Bubble Witch Saga you are tasked with helping the witches ward off dark spirits that are trying to take over the land by popping your way through more than 500 levels. Use potions and spells along the way to help you pass harder levels before you run out of lives. Here's our top ten tips, hints, and cheats to getting your highest Bubble Witch Saga score yet!
1. How to get unlimited free lives
Bubble Witch Saga lives work much like Candy Crush. Every time you don't pass a level or forfeit, you'll lose one. You can always bug your Facebook friends for more but if you are too impatient for that, Bubble Witch Saga luckily contains the same time glitch that Candy Crush does. Simply hop into your Settings app and change the time forward a few hours. Re-open Bubble Witch Saga and your lives should now be replenished again.
2. How to get the Wish of Precision for free
Every day you come back consecutively to play Bubble Witch Saga you are given the Wish of Precision for 24 hours for free. If you don't currently have it due to not playing several days in a row, there's a way you can trick Bubble Witch Saga into thinking you have. Just play for a few minutes, then hop into setting and forward the time ahead 24 hours. Re-open Bubble Witch Saga and you should be presented with the Wish of Precision instantly.
3. Aim high
Before you start pelting bubbles all over the place, you'll need to have a plan. When you can you should always aim high in order to release as many bubbles as you can. The more they bounce off of each other and on to spiders, the higher your score will be. It also means that you'll use less shots to clear those bubbles resulting in bonus bubbles at the end of the level. Always use the least amount of bubbles as you can.
4. Don't forget to swap bubbles in the cauldron
Some folks don't realize that you can not only see what color is coming up in the cauldron, but swap the current bubble for the one coming up by tapping on the cauldron. Many times swapping a bubble can give you a larger combo that you would not have had with the current color. Always be aware of what's coming next and swap whenever you need to. There's no cost or penalty for doing this so take advantage of it!
5. Drop bubbles where the most spiders are dangling
When bubbles bounce off spiders, it multiplies your score. You always want to have the highest amount of spiders dangling as you can. Each time you toss a bubble and don't create a cluster of three or more, you lose 2 spiders. Try and avoid this at all costs and keep the max amount of spiders dangling. Then aim to drop bubbles on top of them. Watch your score when it hits the cauldron, you'll notice it's higher than if it were to just drop in without the spider's help.
6. Don't forget to watch for wall shots
In some levels you can ricochet bubbles off the wall in order to connect with other bubbles that may seem out of reach. It requires a little bit of aim but it something that shouldn't be forgotten about, especially if you have the Wish of Foresight activated. Be sure to look for combos you can reach before deciding what shot to take.
7. Use the Wish of Foresight wisely
The Wish of Foresight lets you see 3 bubbles in the cauldron instead of just two. This means tapping the cauldron will let you swap between all three. Unfortunately this will cost you $1.99 in real money and only last one level. However, I have found the Wish of Foresight to be extremely helpful on tougher levels where you're running out of bubbles before you can clear it or not achieving a high enough score. It's one of the better boosts available in Bubble Witch Saga, you just have to use it wisely.
8. Aim for the sides to create a cascade effect
Sometimes only one bubble is keeping several others holding on. This is often the case by the walls. You'll normally only need to get to one or two bubbles at the top in order to create a cascade effect and send a huge amount of bubbles tumbling down. Watch for these and clear them as quickly as possible.
9. Make popping bubbles in your vantage point your first priority
The only thing worse than missing a good combo is seeing one and not being able to get to it. Balls that are dangling directly above the cauldron can severely impair your ability to reach most of the board. Remove these bothersome bubbles first so then you have a better idea of what you can actually get to on the board.
10. Can't pass a level, try beating it through Facebook
For some reason, King games are ridiculously easier on the computer than they are on mobile. On top of that, even if you're out of lives on your iPhone or iPad, you won't be on Facebook since they don't sync. This holds true not only for Candy Crush, but for Bubble Witch Saga as well. If you're having trouble passing a level on your iPhone or iPad, hop on a computer and fire up Bubble Witch Saga in a browser. You may actually get free items for doing so too that you wouldn't get in the mobile version. I've passed countless levels in Candy Crush this way that had me stumped and Bubble Witch Saga seems to follow the same gameplay tactic.
Your Bubble Witch Saga tips, hints, and cheats?
If you play Bubble Witch Saga regularly, let me know in the comments if you have any strategies for popping bubbles that I haven't mentioned. And if you've come across any other cheats or glitches, be sure to let us know those too!
Master your iPhone in minutes
iMore offers spot-on advice and guidance from our team of experts, with decades of Apple device experience to lean on. Learn more with iMore!
iMore senior editor from 2011 to 2015.