Animal Crossing: New Horizons cooking guide: Recipes, ingredients, and more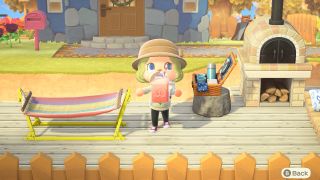 (Image credit: iMore)
Island life in Animal Crossing: New Horizons just got some new zing. Along with so many long-awaited updates, like Brewster and the Roost, fans can do way more in paradise than ever before. While heading to a cafe is fun, sometimes the most satisfying meal is the one your cook yourself. That's right! With the new free update, you can now cook meals! What's more, you can even plant and grow the ingredients, gather new recipes, and chow down on culinary delights.
So, what exactly do you have to do to become a culinary master? We're here to help.
Orders up: What you need to start cooking
Before you can start flambéing, you need to get the tools. After downloading the 2.0 update, fire up your game and head on over to Resident Services. Walk on up the kiosk and check out all of the new offerings. You'll need to purchase the Be a Chef! DIY Recipes+ package. It'll only set you back 2,000 Nook Miles, so it's not too steep, especially if you've been hoarding Miles.
After buying the new package, you'll be able to build yourself a wood stove, a cutting board, and you'll have access to a few other recipes. To cook, you will definitely need a stove. You don't need to go with the stonework kitchen in the DIY package. You can use any stove made for cooking food you purchase or make. (A wood stove, however, will not work.) The stove acts a lot like your workbench for your DIY recipes. Simply walk up to your stove, press A, and you'll be prompted to cook something.
From there, just like with DIY items, it's a matter of having the recipe, the right ingredients, and enough space in your inventory (since food doesn't stack).
How to get the recipes
Source: iMore
There are a ton of different recipes (141 to be exact), and there are a few easy ways to find them if you know where to look. In fact, once you buy the Be a Chef! DIY Recipes+ package, you'll already be on your way to filling up your recipe box. From there, you can head on over to Nook's Cranny and check out the cupboard. Inside, you'll find another recipe pack for sale. Also, you may find some season recipe packs, so keep checking back.
You can also talk to other NPCs, like Daisy Mae, to see if they have any. Much like with DIY recipes, you can often catch the other villagers at their stoves, whipping up something delicious. Plus, they'll happily share the recipe with you.
Finally, you can find new recipes by discovering new ingredients, like tomatoes, sea bass, or other items that aren't in your inventory. For example, catching a sea bass can inspire you to make something new! Of course, this is more of a trial and error thing when grabbing different ingredients. Still, you never know what tasty foods will inspire you.
Getting the ingredients
Now you've got the recipes, the stove, and you're all set, right? Not so fast! You're going to need ingredients to serve up some tasty dishes. To find out what you'll need for each dish, just take a look at the recipe cards found in your DIY menu. You don't have to sift through all of your furniture to find them. There are two tabs you can scroll to: one savory, one sweet.
Like furniture, the DIY cooking recipes will list the ingredients you'll need to have in your personal inventory to start cooking. Some of them, like sea bass or fruit, are pretty easy to get. Other ingredients you'll have to grow or find on your own.
Don't worry. If you can't find wheat or sugar cane, you can head on over to Leif's shop. Finding this sloth is much easier now that Harvey established the Merchant's Village. Just head on over to Harv's Island and donate enough money to give Leif a permanent spot.
If you don't have the 100,000 bells, or you don't want to wait for Leif to show up on your island, you can always take a boat tour. Head over to Kapp'n, shell out the 1,000 Nook Miles, and see where he takes you. You can land on an island with tomatoes, sugar cane, or any other ingredients you might need.
For those who don't want to go looking every time you need an ingredient, you can always start a farm on your own island to grow any crops you need.
Get cooking!
These are exciting times for Animal Crossing: New Horizon fans. More than ever, it is definitely one of the best games on the Nintendo Switch. With so much to do and the DLC now available, you may find yourself spending hours planting, harvesting, and sauteing away! Now, head to the kitchen and start cooking!
More to do!
Animal Crossing: Happy Home Paradise
I want to work!

Earn those bells now that you've got so much more to buy. If you love decorating, get a job you love! Test your skills with the Happy Home Paradise expansion for Animal Crossing: New Horizons.
Master your iPhone in minutes
iMore offers spot-on advice and guidance from our team of experts, with decades of Apple device experience to lean on. Learn more with iMore!
Sara is the Freelance Coordinator, writer, and editor at iMore. When not editing or writing away, she's glued to her Nintendo Switch, Xbox, or PS5, though she's a retro gamer at heart.