Animal Crossing: New Horizons - Island Tunes guide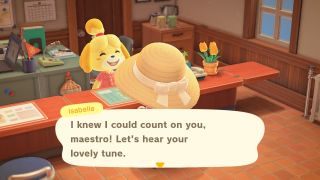 (Image credit: iMore)
In Animal Crossing: New Horizons, you're the architect of your own island. You get to decide where the buildings go, where every tree and flower grows, even which villagers stay and which go. You can also customize the music that plays in key parts of your island. We here at iMore have step-by-step instructions for changing your tune, and we've collected some of the best songs that have already been converted!
What is an island tune anyways?
Whenever you talk to one of the residents of your island in Animal Crossing: New Horizons, you will hear a version of a short song, known as the island tune. These 16 notes are the same no matter which villager you're talking with — even Tom Nook and Isabelle. Once Isabelle takes up residence on your island, she will help you change your island tune whenever you want.
How do I change my island tune?
The actual process of changing your island tune is super simple. Once Isabelle has come to your island, you can change it anytime you want. You have 16 notes, each of which can be set to 16 different sounds:
Pause - no note will play.
Hold - will prolong the previous note.
Low G note
A note
B note
C note
D note
E note
F note
G note
High A note
High B note
High C note
High D note
High E note
? - an odd chittering sound.
You then arrange these sounds and place them in any of the 16 note spots. If you have a bit of a musical background, you might already know what song you'd like to use, or maybe you're ambitious enough to compose your own tune. Either way, to change your tune, just follow these easy steps:
Go to Resident Services.
Sit in the right stool to speak to Isabelle.
Press A to select Change the island tune.
Using either the left joystick or the directional pad, change notes. Up and down change an individual note, and left or right switch between the notes.
After selecting each note, press Y to preview the tune.
If you are happy with your tune, press + to set the tune.
And just like that, you've changed your island tune.
Help! What song should I use?
Maybe your musical background isn't so strong, or you want an easy way to set a familiar song for your island tune. Either way, we've got your back. We've tested several songs out as island tunes and can recommend any of the following songs for you!
We're playing on a Nintendo Switch, after all, so Mario and co. could be a perfect fit for your island tune.
The Super Mario Bros. Theme, perhaps?
How about Super Mario Odyssey?
Maybe Super Mario Sunshine is more your speed?
Everyone loves Super Smash Bros. Ultimate!
Yoshi has an island too!
Or maybe you'd prefer Yoshi's Story?
Maybe you've already brought Zelda clothes into your Animal Crossing: New Horizons wardrobe and want to complete the experience with one of these classic Zelda tunes?
Epona's Song
The Lost Wood's Theme
If you've already adopted these Ash Ketchum and Pokémon custom designs for your attire, maybe you'll want some Pokémon music to complete the theme?
The Indigo League Theme
The Lavender Town Theme
Plenty of other video games have songs that fit well.
Kirby's Dreamland - Ripple Field
Kirby Super Stars
The Mii Channel Theme
A Hat in Time - Mafia Town
Undertale - Megalovania
These classic movie songs might be exactly what you're looking for:
Somewhere over the Rainbow from the Wizard of Oz
Star Wars
Imperial March
Leia's theme
Yoda and the Force
The Jurassic Park Theme
My Neighbor Totoro
Hedwig's Theme from Harry Potter
Personally, though, I prefer the classic Chocobo Theme from the Final Fantasy series:
Even more tunes
While plenty of songs can't be summed up with just sixteen notes, and plenty more are just not the right key, there are still so many possibilities:
Would you like some more Animal Crossing in your Animal Crossing?
Toss a coin to your Witcher?
If this particular earworm has been stuck in your head since finishing The Witcher on Netflix, you can make it your island tune too.
Speaking of earworms...
Rock the Casbah by The Clash
Need a chart-topping hit by the Clash?
Maybe some of the creepy background music from Stranger Things is more your style?
I bet you still know every word (even if you don't know the translation!)
Everybody Wants to be a Cat
Because a cat's the only cat who knows where it's at!
Black Hole Sun by Soundgarden
Won't you come and wash away the rain?
Batman the Animated Series theme
Na na na na na na na na na na na na na...
5,000 Candles in the Wind
Bye-bye Li'l Sebastian
If none of the tunes we offered feel quite right, don't worry. There are literally hundreds, if not thousands, of other songs to choose from. There is even a Subreddit devoted to sharing tunes. There, players share their favorites, and you can even make requests.
Questions?
Do you have any questions about changing your Island Tune? Want to share some of your favorite tunes that didn't make our list? Drop them in the comments below and be sure to check out our other Animal Crossing: New Horizons guides for all your Nook approved goodness!
○ Zelda outfits for Animal Crossing
○ How to make money fast
○ Multiplayer guide
○ How to become best friends
○ The NookPhone explained
○ What is NookLink?
○ Can you play Animal Crossing on Nintendo Switch Lite?
○ Every Animal Crossing amiibo
○ Best Animal Crossing Switch accessories

Get the best of iMore in your inbox, every day!
Casian Holly has been writing about gaming at iMore since 2019, but their real passion is Pokémon. From the games to the anime, cards and toys, they eat, sleep, and breathe all things Pokémon. You can check out their many Pokémon Go and Pokémon Sword and Shield guides and coverage here on iMore.
iMore = iTooMuchAnimalCrossing. Get a room already!

It was the same with Pokemon. The reason they changed it from TiPB to iMore is that it's Apple stuff and "More". You'd be better with something like 9to5Mac if you just want Apple content

Hey there Ms. Velocci, I really enjoyed reading this post! Each tune made me smile (especially the Jurassic Park one!). Is there a way to find the default island tune? I'm having some trouble finding it. Have a good one! <3