Animal Crossing: New Horizons — The ultimate guide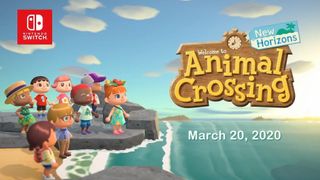 (Image credit: Nintendo)
Finally, after years of anticipation, Animal Crossing: New Horizons has released on Nintendo Switch. It's the first console addition since the beloved GameCube release. We've got our hands on the new game and have played for several hours. Here's everything you need to know about Animal Crossing: New Horizons.
Animal Crossing: New Horizons
Build, craft, relax

Animal Crossing: New Horizons takes place on a deserted island. Start with a tent and upgrade to a house, customize it to your liking, make friends with the villagers, and play with your friends.
What is Animal Crossing: New Horizons?
With the help of resident retailer and business raccoon, Tom Nook, you start small and work your way up to a bigger house with more additions. To do this, you'll need to earn Bells (money) doing odd jobs for your neighbors, collecting and selling all manner of creatures, or just getting rid of your junk.
To top things off, you don't actually need to be in the game for things to happen. That's right; the town goes about its daily business without you. There's no shortage of things to do in these casual, yet fun games.
New Horizons: What's new with gameplay?
Compared to the previous entries in the franchise, to say there's a lot is putting it mildly. Animal Crossing games typically present players with a random map design whenever a new town is created. Players arrive via plane and attend an Orientation with CEO Tom Nook as they are welcomed to their new island adventure. Before getting started, you can pick your island layout, your hemisphere, and then select where you want to pitch your tent. You can place your home anywhere you want, even the beach! From there, you can help your fellow adventures select spots for their new homes, and then it's time to start building.
In New Horizons, everyone starts from scratch, even Nook, by receiving the "Nook Inc. The Deserted Island Getaway Package." Players have a tent, a NookPhone, and a pocket full of dreams. With this blank canvas, or "empty map," you can really set to work making this island according to your vision. And that is exciting!
As you cultivate your new island home, you can invite residents, establish businesses, and eventually obtain a permit to shape your island home to your exact specifications. All this comes a fee, of course, but Tom Nook is happy to do it. Plus, you don't have to do it alone. Up to eight of your family or friends can join you on the island, and together you can create it in your own unique vision.
Animal Crossing: New Horizon's focus is still similar to past franchise games, but it comes with some new mechanics. The goal is still to collect, explore, and shape your town, but there are a few enhancements to take customization to the next level. Like how you can create your own clothing patterns or scan QR codes to use other players' street and path designs.
Getting crafty and hunting for materials
Originally incorporated in the Animal Crossing: Pocket Camp mobile game, players have the chance to get crafty and create their own items using materials found while exploring. You won't have a personal bench to start, but that's OK. Tom Nook has a workbench for you to craft whatever you need, for free!
Tom Nook's shop is the place to go if you want to buy or sell materials or anything else you're carrying around, including weeds. (Yes, weeds!) Of course, if you're a hoarder (like me), you'll want to hold on to those materials. Those materials are useful for building all sorts of items, like the "flimsy ax" used to chop down trees. Of course, getting a new item can help you gather even more materials, and sometimes some rare components may just pop up.
You can use just about anything to build new items, from wood to weeds. Players can uncover recipes to craft items using the NookPhone under the DYI Recipes app, which has tons of recipes for tools, furniture, clothes, bait, and more. All the information you'll need to build is found right in the recipe, down to the number of resources. As you learn these recipes and become a master, you can take them to the next level by adding your own personal twist, like a funky pattern.
Frequent flyer: What are NookPhone and Nook Miles?
One of the fancy new additions and key items in New Horizons is the NookPhone. This handy little device has a bunch of useful apps that help you as you play.
DIY Recipe App: Contains recipes and materials needed for crafting
Camera: For snapping handy photos
Map: Check out your island's layout
Nook Miles: Rewards program
Call an Islander: Call a friend to join you.
Rescue Service: Lost? No worries. We can help.
The NookPhone is pretty much your connection to everything. While most of the apps are self-explanatory, the Nook Miles is a nifty new feature that rewards players as they complete objectives, much like airline miles. Simple tasks like crafting a certain number of items or catching a certain amount of bugs can earn Nook Miles.
If you accumulate enough miles, you can complete the 'Nook Mile' card and exchange it for rewards. This addition is pretty great; we can finally be rewarded for our hard work. Earning Nook Miles can get you more than just prizes. You can pay off your Nook Inc. Island Getaway Package, purchase Mystery Island Tour tickets, and get a hold of some items that may not be readily available. It adds just a little incentive to do more on your island.
With all this untracked, new space, it's easy to get lost on your island from time to time. Plus, there are a lot of scary and dangerous things on the undeveloped island. If you find yourself trapped, you can simply pull out your NookPhone and call for the Rescue Service. They happily pick you up and take you back to a safe area.
If you want to capture every moment, the camera app comes in handy. You can snap photos, zoom, and add graphics; you can even pose if you'd like. This feature is even better when you have some friends along for fun.
Your friendly-neighborhood places if interest
In addition to Tom Nook's headquarters, your island features other points of interest. In the beginning, you may be limited to one or two, but as you cultivate the land and bring in new residents, commerce will follow. Of course, that is if you want it to.
Players have immediate access to the Island Getaway headquarters and the Airport. The Airport plays an important role when it comes to multiplayer. When you want to invite some friends or visit another island, this is the place to go. Of course, to access your friends' islands, you need a Nintendo Switch Online membership. You can also send gifts to your friends via the Postal Service as well, which is located in the Airport as well.
Finally, if you've collected enough Nook Miles, you can purchase tickets to Mystery Tours. Players get to travel to distant islands, depending on where the pilot feels like going and explore different areas. You can pick up fruit, gather materials, and catch exotic creatures to bring back home. Of course, you may want to watch out for any dangerous insects on your journey.
Once you've had a chance to really improve your town, you'll have many more options that you may want to add to your growing village, like a museum, a campsite, a general store, or a fashion boutique. As more people move to the town, you may even run into some familiar faces, like Isabelle! In fact, she may want to help you build town morale. Once you've improved your town enough, you can run special events, tournaments, and create the atmosphere you desire! Or you can just enjoy rustic living.
As soon as your town becomes "legit" and you earn your permit, you can even make changes to the landscape. Build mountains, shape water, or build pathways. There's definitely more than one way to build a community. It's all up to you.
Holidays & Seasonal Activities
Animal Crossing: New Horizons regularly receives updates that correspond with the seasons or holidays from that time of year. So, for instance, when April rolls around, Zipper T Bunny appears on your island for the Bunny Day event and gives you the task of locating special eggs.
Going along with this seasonal tie-in, the characters, stores, and facilities on your island do different things depending on the time of day or time of the year. You need to pay attention to store hours, or you might find that a store has locked up for the night. Additionally, Flick hosts the Bug Off (bug-catching tournaments) on specific days of the year while C.J. runs a Fishing Tourney four times a year.
With the fall update, leaves change colors on your island, and players meet Jack the pumpkin-headed specter around Halloween. The following month, players get to celebrate the harvest in November by gathering ingredients for Franklin the Turkey Chef on Thanksgiving.
Lastly, the winter update brings a chill to your island, followed by a blanket of snow. December 25th is Toy Day. Players meet Jingle, the Black-nosed reindeer, who asks for help distributing Santa's toys to your villagers. If you help him out, you'll be rewarded with festive goodies.
Phone a friend: Call an Islander and New Horizons multiplayer
Playing with your friends has always been a staple feature of Animal Crossing games, and New Horizons looks no different. At the end of the trailer, there are a total of eight villagers seen together, gathering at some rocks next to the water.
It's confirmed that up to eight islanders can be living together on the same island. Up to four of them can play together at the same time using two pairs of Joy-Cons.
During each multiplayer session, a leader can be designated for the group. The leader can use the Call an Islander app to bring in additional islanders. The leader has a yellow flag marker shown above their head, so it's easy to distinguish who is currently leading the group. If you want to switch the leader so they can share in the 'material' wealth, you can easily move the flag around from player to player. Plus, each player can emote, which is a fun little detail.
During co-op play, the other islanders teleport near the leader if they stray too far. It should be noted, to engage in the four-player co-op, every player needs to have a house on the island. Keep in mind; only one island can exist per Switch console; regardless of home, many people are registered to it. You can travel to one player's island for eight-islander multiplayer and explore using local wireless or an internet connection. To play online, each player should have a Switch, a copy of the game, and a Nintendo Account. Also, online play does require a Nintendo Online membership. Oh, and unless you're considered best friends in the game, you'll have to leave your ax and shovel at home.
NookLink and amiibo compatibility
Sometimes holding on to your old games and amiibo is a great idea; you never know when it might be useful! For online play or if you want to transfer some of your custom designs from Animal Crossing: New Leaf or Happy Home Design, the NookLink is just the tool for you. Using the NookLink on your mobile device, you can chat with friends or use the keyboard. If you're missing some of the fancy designs you made in previous games, you can scan the QR code using the NookLine app and bring them on over to New Horizons.
If you happen to have some Animal Crossing amiibo or Animal Crossing amiibo Cards, you're in luck! Animal Crossing: New Horizons supports amiibo figures and amiibo cards. You can invite those fan favorites to Photopia, and take pictures. Alternately, amiibo cards allow you to invite specific animals to your village so that you can invite them to become permanent residents.
Other twists on the New Horizons
While the game has a very familiar look, there are so many new details that are exciting about New Horizons. Who knows what could have been added? A lot, apparently.
In addition to crafting, the NookPhone, and multiplayer, some new gameplay elements are being introduced. From the trailer and gameplay demos, we can tell there's going to be customization options galore. Items no longer have to be placed inside the home; you can set up a nice bonfire and hammock right outside your house.
Animal Crossing: New Horizons also features northern and southern hemispheres, so no matter where you are, your island experiences similar seasons and weather. While seasons are nothing new to Animal Crossing, players can do new activities and things as the weather changes. What's more exciting about this update is the variety it brings: weeds, plants, and growth changes. There are hidden Easter eggs in spring and mushrooms in fall. Plus, players need to be more aware of when night falls since there's no telling what they will see under cover of darkness, including some dangerous bugs or scary ghosts.
Image 1 of 4
Fishing, bug catching, fossil finding, and planting are all still staple activities, but now you can pick flowers instead of crushing them. Players can craft bait, make a garland, use weeds to craft, and move trees! Plus, eating a piece of fruit gives your islander the strength to perform more strenuous tasks, like pulling up and moving a tree. The island itself is much bigger, and you can truly make it however you'd like.
Transfering Data
Unfortunately, Animal Crossings: New Horizons does not support moving user data or transferring saves between consoles. So, if you want to move your save data between your Nintendo Switch and Switch Lite, you are out of luck. This also means that if you engage in local co-op, your friends can't transfer their data to your Switch either.
The Animal Crossing: New Horizons software doesn't support save data storage using Nintendo Switch Online, but the developers are working on a way to restore your save data in case of loss, theft, or damage to the original Switch. This restore method is only possible for Nintendo Switch Online subscribers. Unfortunately, information about this backup system is still being developed.
Playing on the Nintendo Switch Lite
Nintendo Switch Lite owners rejoice! You can take part in the release of Animal Crossing: New Horizons, too. The game is compatible with the handheld-only device, and what's more, players can still engage in multiplayer fun. Players still need a Nintendo Switch Online membership for online play. Also, if you plan to play locally with your friends, it's necessary to connect some Joy-Cons or Pro Controllers for the other players as well. It works the same as the Nintendo Switch; so, keep in mind that you can't move it to another once you create an island on one system.
Animal Crossing accessories galore
Image 1 of 3
Several Animal Crossing: New Horizon goodies have released for the Nintendo Switch. The first is the new Nintendo Switch featuring Tom, Timmy, and Tommy Nook. In addition, it has unique Joy-Cons, a dock, and a leaf-print carrying case.
If you don't need a new Switch or can't justify getting one, there are several Animal Crossing: New Horizon skins at a much more affordable price. This includes a Switch bundle and a few options for the Switch Lite, including a wood-inspired finish, and a design featuring adorable Animal Crossing characters.
If you are a fan of wireless controllers, the PowerA Wireless Controller has two special designs featuring K.K Slider, and Timmy and Tommy Nook.
If you are a fan of all the merch, Hori has tons of officially licensed accessories. The collection includes a storage case, a shoulder bag, a patterned pouch, a Switch Lite semi-hard cover, a super cute Switch stand, and a charming tote bag.
When does Animal Crossings: New Horizons release?
It's currently available to play as the game released on March 20, 2020. It's
Update December 2020: Added info about Toy Day.
A relaxing getaway
Animal Crossing: New Horizons
Build, craft, relax

Animal Crossing: New Horizons takes place on a deserted island. Start with a tent and upgrade to a house, customize it to your liking, make friends with the villagers, and play with your friends.
○ Zelda outfits for Animal Crossing
○ How to make money fast
○ Multiplayer guide
○ How to become best friends
○ The NookPhone explained
○ What is NookLink?
○ Can you play Animal Crossing on Nintendo Switch Lite?
○ Every Animal Crossing amiibo
○ Best Animal Crossing Switch accessories

Master your iPhone in minutes
iMore offers spot-on advice and guidance from our team of experts, with decades of Apple device experience to lean on. Learn more with iMore!
Christine Romero-Chan was formerly a Senior Editor for iMore. She has been writing about technology, specifically Apple, for over a decade at a variety of websites. She is currently part of the Digital Trends team, and has been using Apple's smartphone since the original iPhone back in 2007. While her main speciality is the iPhone, she also covers Apple Watch, iPad, and Mac when needed.

When she isn't writing about Apple, Christine can often be found at Disneyland in Anaheim, California, as she is a passholder and obsessed with all things Disney, especially Star Wars. Christine also enjoys coffee, food, photography, mechanical keyboards, and spending as much time with her new daughter as possible.