Anna Lunoe's Hyperhouse is Apple Music's secret killer feature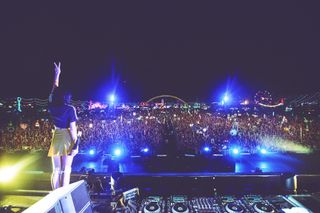 Anna Lunoe has just stepped off an international flight when I connect with her. She's confident and friendly — with perhaps a pinch of mischievousness thrown in. She's also the DJ who created Hyperhouse, the dance music centerpiece for Apple Music, and the woman who spent the last week guest-hosting Julie Adenuga's weekday show.
Though Adenuga, Ebro Darden, and Zane Lowe are the most familiar faces behind Apple Music's Beats 1, the digital radio station has dozens of other DJs, artists, and guest stars that shore up its other hours with shows that run the musical gamut. If you're only tuning in to Beats 1 during primetime, you're missing some of its best content — and Lunoe is one of the station's biggest and brightest upcoming stars.
Digital taste waves
Beats 1 is Apple Music's digital radio station, live in 100 countries. DJs have scheduled shows, select the songs they like, and deliver them from a traditional studio setup in countries across the world. But it's somewhat of an ironic move for the company saved by the iPod and music on demand.
iTunes exploded in popularity with the iPod precisely because it wasn't radio: You could download and rock out to any song you wanted to hear, and shuffle them in any order. But things have changed since 2003, much of it prompted by Apple: The company moved listeners from buying full albums in stores to piece-meal songs online, which in turn helped create the audience for the streaming industry.
But the current problem listeners face isn't playing music they like; you can do that on any number of devices and services. It's now about finding the music you like — and that's the problem Beats 1 was made to solve.
Chaired by Zane Lowe, the legendary DJ from BBC Radio, Beats 1 had a huge hurdle to overcome: It not only had to help its listeners discover new music they might like — it could potentially reconnect those long-disassociated with listening to live radio.
Inside the Hyperhouse
Enter Anna Lunoe and Hyperhouse, her breakthrough show on Beats 1. "One of my mixes somehow caught the ear of Zane, magic of the internet I guess." she says in a distinctly Australian accent. "He heard my stuff, and needed someone to take care of dance." There's an understated, quiet pride as she talks about her work. She's worked hard to get here, and now her show is the dance music centerpiece for 13 million Apple Music subscribers.
Lunoe spent 5 years DJing in Australia before striking it big in the dance music scene. She tells me the experience was invaluable for defining Hyperhouse. "There's so much great stuff that will never find it's way up to the top," says Lunoe. "I feel a huge responsibility to deliver lesser known work to as many people as possible. You need someone to dive deep into the pile."
Dance music is ever-evolving. The work of the 80s is different than the 90s, which is different than the 00s. This is what makes Lunoe's work so critical: By deciding which songs make the cut, she's moving the genre forward. Her style combines dance music with a decidedly hip hop flavor. "My passion within dance really is rooted in RnB and hip hop," says Lunoe. "To understand dance, you have to be open to other genres."
It's not uncommon for club mixes to be over 10 minutes long, building up musical tension until the beat breaks. Lunoe avoids this style on Hyperhouse: Her songs are only four to five minutes long — a more traditional radio length. It's also a choice that gives dance music fans a smorgasbord of new songs every week.
And if there's something you can really groove to, it's a just a click away from your iCloud Music Library. "About 90 percent of the music I play on the show has been released in the last few weeks," says Lunoe.
As Lunoe was preparing for Hyperhouse recently, titanic posters of the largest names in dance were hanging on buildings outside her hotel room. This would have been unimaginable fifteen years ago, when EDM was still a subculture. Dance has moved from the underground and straight into the mainstream.
"Dance culture is pop culture," says Lunoe. "There're those who feel a little lost because it's now at the mercy of the mainstream. You either embrace it or reject it. With the show, I make an effort to be open to the mainstream, but bring out the underground."
In preparing Hyperhouse every week to record in the Los Angeles Beats 1 studio, Lunoe spends countless hours scouring for gems. "When you're a DJ, you have tracks sent to you constantly," says Lunoe. Many of her songs are found on Soundcloud before they are officially released. Many will later find their way into streaming on Apple Music.
Take the song Actin' Up (opens in new tab), by Friendless: "That song is from producers in Australia," says Lunoe. "They have 1000 fans on Facebook. I got it off an Australian promo list." It's the kind of song that risks languishing in obscurity, but it's a perfect fit for Hyperhouse. The moment I heard it, it went on my playlist and became one of my perennial summer songs. It's the kind of track you listen to with the sunroof back and the windows down. Song curation like this is how Beats 1 helps Apple Music crush its competitors.
Moving the needle
I ask Lunoe if she's the best known female DJ in the world. She's characteristically reserved in her answer - proud of what she's accomplished, but also humble. "In the U.S., I'm well known. In Australia, I'm well known. But in the U.K.? I've got some work to do."
Lunoe says she's recently become big enough to have a second person travel the world alongside her, helping her push her career even further. Her setup is all Apple. To manage her radio show, arrange and make music she has a pair of Retina MacBooks Pro. She's eager to experiment with the iPad Pro. "There are amazing things you can do with the iPad drum machine, and just play them into Ableton," says Lunoe.
Not content with just her DJ work, Lunoe has been a vocalist and also a producer. Her best-known song is perhaps, "Me & U," a banger club track with Tommy Trash that's been endlessly remixed, the way top dance songs get interpreted and reinterpreted by various DJs. The musical hook, Lunoe chanting "All me and you, energy. All me and you, energy," is hypnotic. I've listened to it for hours on repeat, and I want more like it.
"I'm making more songs now than I ever have," says Lunoe, a smile in her voice. "We'll have something new out by the end of the summer."
The secret gem
For me, Apple Music isn't about its curated For You playlists, or iCloud Music Library: It's shows like Hyperhouse that make my $9.99 a month a no-brainer. I get two hours of new songs every week. I can play them as a single show, or I can tab over to Lunoe's weekly playlist and listen to the individual songs that Apple Music has licensed. But it's listening to the show as it's live on Beats 1 that's the real treat. You can even follow the experience on Twitter with Lunoe, hearing other fan's reactions.
Dance music may not be your thing. But Lunoe's Hyperhouse is just one of the station's many shows: Elton John has a feature that blends old-school rock with modern music. Dr. Dre invites guests from the rap and hip-hop industry onto the Pharmacy.
It's what Apple Music does better than anyone else: The service provides a sense of culture around the music you love, and expands your horizons. You're not listening to the same hundred songs on your iPod in your room — you're experiencing brand-new music with people just as passionate as you.
Get the best of iMore in in your inbox, every day!
Beats 1 promised so much, but has given their listeners so little in my opinion.
Every time I try it, I hear nothing but Rap, Hip Hip, and rather dull pop music. You have Elton John and the like giving you their favourites, but again it few and far between, with the show just the same dullness. It might be in 100 countries, but in how many hears? If they scheduled more niche shows, specific to genre, then it would become more of a proper radio station, rather than just a few peoples mixtapes.

It's like any radio station, it has something. For everyone at all hours. I love Ebro's show, and Dre"s // Drake as well but it's on at bad times for myself; take a look at the "catchup" shows you might find some more you appreciate --- the main show on when I'm listening live is requests or pop and I am not too into pop myself so I end up listening to the old catch ups - best part is if it's not live they usually strip the censorship which drives me a bit nuts to be honest. Beats2 for adults !

How about a piece on Ebro Darden? He is the soul of Beats1 along with Zane.

Ebros show is def up there! I wish it was about 2 hours later for my tZ

So, they've "expanded" their format from 24/7 rap and hip hop to include electronic dance music? Seriously? Wake me up when they play something good.

Hyperhouse is just one of about thirty programmed specialty shows Apple Music offers. Outside of primetime, they hit a wide range of musical styles. Here's a playlist from Jehnny Beth, who focuses on 60s/70s/80s: https://itunes.apple.com/us/playlist/ep-13-start-making-sense-jehnny/idpl.551b4678956446729b265ea1b9655d8c?at=10l3Vy

HAIM Time plays a variety of rock, pop, and indie hits: https://itunes.apple.com/us/playlist/ep-25-haim-time/idpl.6d3bc94c90fc4e079347a0be6df8fb6a?at=10l3Vy

Thanks Brianna! I'm checking out some her playlists now... This kind of stuff is great, but it took you writing about it for me to even hear about it. Apple needs to work on making some of the great content more discoverable.

Sounds great for dance music aficionados who use apple music.

Shouldn't a killer feature appeal to the widest user base? I don't see this being the widest genre to cover in order to 'kill' the competition.

It depends on what you consider your user base. If you want your service to be hip to say the 16-28 year olds than shows like this will do it. There is a reason there are so many night clubs that play this type of music.

Hahahahahahahahahahaha!!!! Sent from the iMore App

I haven't heard a single thing I've liked when I've tried Beats 1. I haven't listened at all hours of the day, mostly in the afternoon, but it hasn't appealed to me. Doesn't help that I'm a rock guy and rock seems like the red headed stepchild of itunes. I much prefer Slacker to Apple Music for its ability to create and fine tune mixed genre playlists. The lack of versatility in Apple Music is what turns me off the most.
Thank you for signing up to iMore. You will receive a verification email shortly.
There was a problem. Please refresh the page and try again.