Apple apparently preparing refund program for certain iMac hinge repairs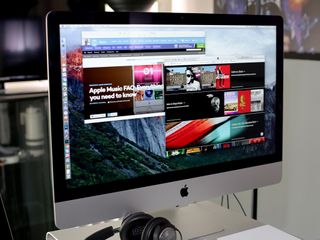 (Image credit: iMore)
Apple will apparently start refunding customers who had previously paid for repairs to the display hinge of their iMac. An issue affecting iMacs shipped between December 2012 and July 2014 could cause the display to stop adjusting properly and tilt forward, with repairs often costing around $100.
This information comes from an apparent internal service document, obtained by MacRumors:
Since Apple hasn't made details of this program public, you might want to try contacting Apple Support (opens in new tab) for help if your iMac is among the eligible models.
Joseph Keller is the former Editor in Chief of iMore. An Apple user for almost 20 years, he spends his time learning the ins and outs of iOS and macOS, always finding ways of getting the most out of his iPhone, iPad, Apple Watch, and Mac.
Saw a few posts about this over a year ago on the Apple Discussion Forums and they quickly petered out. I personally have a late 2013 27" iMac 14,2 and have not experienced this hinge failure. Of course my AppleCare on that iMac just expired a few days ago. :-)

Are you sure? This one is 45 pages long and from 2014;
https://discussions.apple.com/thread/5717518

Yeah, 45 pages of the same dozen people ranting and raving, followed by trolls predicting the demise of Apple because QA is "going down." I've seen these types threads before on numerous "issues" and counting posts doesn't prove anything. Counting Google "hits" doesn't either. The Internet is a bastion of negativity.

Yes. Apple used 'plastic' washers... Now, they should know better than that. It's like trying to support a building structure with noting more than styrofoam.

I bought a 27" iMac about 4 years ago that had this problem about 1 or 2 weeks after I got it. I was sitting in my office, working on pencil and paper, not even touching/using the computer. All of a sudden, the display just tipped all the way down, like all the tension in the hinge was lost, and it would no longer stay up in its usual position. If I wasn't sitting right in front of it and hadn't seen it happen with my own eyes, I would have suspected the custodian or someone had bumped it and broken it. Since the thing was so new, I got it replaced/repaired right away (this was at a university; the on-campus computer store took care of it, and I can't remember if they just gave me a new one or got it repaired with no charge for me).

My 27-inch, Late 2013 iMac had this issue. I paid a total of 220.80 GBP to analyze and repair the problem with an authorised retailer. Six months later Apple contacted me to arrange a full refund which has now been processed.

My late 2013 27" iMac has this problem.
Some rolled card and a plastic tie wrap placed just above the vent keeps it in place.
If I can have this repaired free of charge it's still a hassle getting the iMac down to the local Apple Store in the shopping centre.
Get the best of iMore in in your inbox, every day!
Thank you for signing up to iMore. You will receive a verification email shortly.
There was a problem. Please refresh the page and try again.