Apple, education, and teaching the teachers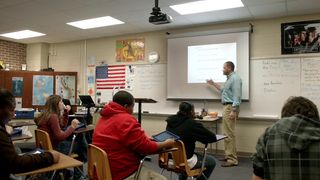 The Apple ][ was the first computer in so many classrooms across the country: For many, it was the device that introduced a generation to the digital age.
Unfortunately, that Apple ][ in the back of the room wasn't used for all that much. It's "state of the art" educational software included Oregon Trail, Typing Tutor, and other digital replacements for the venerable flash cards. Oh, and, the games the more, uh, creative amongst us managed to play.
The promise of Apple and education
Way back when, I did my Master's thesis on the topic of computers in education, centering on the Macintosh and HyperCard. My hypotheses was that computers in the classroom wouldn't make an impact until they were either one machine to one student (or, if necessary, shared where costs were prohibitive). They would also need to be combined with a new a type of curriculum — one that would take advantage of a time when it would be possible for anyone to get the answer to any question with a factual answer. With a change in both tools and curriculum, education could seriously benefit from the addition of computers to the classroom.
(To be honest, I think I successfully defended my thesis mostly because no one had the slightest idea what I was talking about.)
Chromebook or iPad?
Fast forward to today's landscape: There are many options for teachers and schools who want computers in the classroom.
On one hand, Chromebooks offer traditional keyboards, a full web experience, multi-user options, and collaborative features. They come in low cost, easy-to-manage packages. They sound compelling. But there's another side of the story. Chromebooks, as good as they are these days don't deliver the richest or the best experience for learning or teaching.
For a long time, Apple positioned iPad as the ultimate classroom tool, but it was lacking in too many features needed for success. There was no way to share devices among students. Costs were high. Moreover, the tools to create innovative curriculum to unlock the tablet's full potential didn't really exist, and what was available couldn't be used by the people who needed to use it most — the very people where knowledge lives and thrives — teachers.
But today's iPad, and the overall iOS platform, isn't your father's tablet.
The (new) promise of Apple and education
Apple has added amazing content creation tools for the iPad, specifically targeting them to teachers so that they can create new courseware for learning. With iOS 9.3, there are also new tools for classroom management, student sharing, and facilitated learning. That means educational institutions can (at least, in theory) look beyond device costs.
It's easy to look at the simple analysis of Chromebook price, or familiar form factor. As Oscar Wilde said, "a cynic knows the price of everything, and the value of nothing". And as long as there are budgets, price as a driver will always remain.
But when we talk about our children's education — what they can and will learn from computers — educators and decision-makers in the education space need to go beyond the cynicism of price alone.
Teaching the teachers
As good as iPad's experience is, it's still somewhat of a well-kept secret how it might be deployed, and used. If Apple wants to unlock the potential of iPad in the classroom, the company needs to teach its own lesson in a clear voice: Here's how the iPad can change your students' learning experience. It's a message that needs to go directly to educators, and to those who hold the purse strings for them.
It's time to show today's generation of teachers, who were nurtured on the Apple ][, how to seed the next generation of Apple computers in the classroom.
Get the best of iMore in your inbox, every day!
I've covered the personal technology beat for more than two decades at places like Gartner, Jupiter Research and Altimeter Group. I've also had the fun of contributing my $.02 on the topic at Computerworld, Engadget, Macworld, SlashGear and now iMore. Most recently I spent a few years at Apple as Sr. Director of Worldwide Product Marketing. On Twitter I'm an unverified @gartenberg. I still own some Apple stock.
I like this article, and feel that it hits on the key points of why we have been unable to effectively integrate technology into the classroom. I've been teaching Middle School science for about 6 years now, and in that time have looked for ways to effectively use technology to engage students in the classroom. Now, we don't just need the tech in the class, but we need great content for each subject, and teachers that can effectively use that content to take their lessons/classrooms to the next level. I've seen many districts that purchase new tech, wether it be iPads or Chromebooks, for all the students in a district or even for just a grade level or a department, and that is great but then the problem is what do you do with the tech. Many time all of this great tech stays locked up in their carts. Someone should collaborate with actual teachers to determine what we could use, and then like the article said turn around and teach the teachers how to use it. Sent from the iMore App

"we need great content for each subject, and teachers that can effectively use that content to take their lessons/classrooms to the next level"
Unfortunately from a developers perspective it is very difficult to reach the education market with innovative solutions. We have had our CREATEit app on the iTunes store for three years now and the apps are still virtually invisible. We also have a content sharing solution with WebSonar Libraries demonstrated on schoollibraries.net. The solutions you are looking for are available.

Have a look on Twitter and have a search for #adechat and #ipaded
There are several great apps like Book Creator and Explain Everything which are non curricular specific. They focus on the content that the pupils can create. Sent from the iMore App

I agree with the above comment. I am a teacher too and our iPads don't get used anymore, in part due to the limitations outlined in the article. The problem is that, with constrained public sector budgets and previous so so experiences with older iPads, cash-strapped IT departments in schools are wary about big investments. I do feel that the new iPad Pro is the perfect device for schools... set at the wrong price. Sent from the iMore App

I agree. Chromebook's are priced to sell and web apps are almost indistinguishable from native iPad apps. My daughter's school uses both Chromebooks, iPads and Apple TV's, but most of her school work we end up reviewing at home is done via a webpage. The concept is great, but not realistic in today's public eduction environment.

Good article but I'm afraid you may be missing some key pieces of information. There is a lot of information around how iPad can be used in Education. With the support of Apple Distinguished Educators, Apple Education Trainers and numerous consultants, the impact of using a mobile device in Education; certainly here in the UK; is very prominent. The worlds first 1-1 iPad school, Cedars School of Excellence, has produced two champions of iPad use, @fraserspeirs and @andrewjewell1 both of whom have developed a wealth of knowledge and have shared best practice on numerous occasions. If you look at Twitter, the hashtags #ipaded #adechat #edtech are filled with tweets, links, articles and images all fro teachers who are sharing what works for them. From Accessibility, AirPlay mirroring, VPP, DEP, MDM, apps for the classroom the message is clear - the device has an impact but is lead by sound teaching practice and enhanced experiences for both staff and pupil. Sent from the iMore App

I am the IT Administrator at a private Pre-12 school. We have students using iPads throughout all grades. Our secondary students are setup to a 1-1 program so these students take the iPads home. Costs have been very prohibitive as we are still using mostly iPad 2s. We have had our own sets of struggles with these devices. Since their inception, iPads have been created as personal devices. Apple has not allowed them to be managed by the masses as schools and other business need them to be. We do have a mobile device management program which we use on the iPads. It has made deploying apps, books, and other policies easier. However, up until lately, there have been limitations on what our MDM was capable of doing. My school wants to get to the point where we are coming up with new experiences in teaching and learning with these devices that was simply unimaginable before we had them. That being said, we have not been able to get passed the point where the iPads are just replacing books. Though books can be heavy to carry around they are less cumbersome to deal with than managing iPads. Our school was about to leave iPads and switch to Windows laptops instead. With that in mind, I am very excited that Apple is putting a stronger focus on education. Thank you Apple for finally remembering us!! Not only does iOS 9.3 give great features, but an awesome new service called Apple School Manager (currently in beta mode) looks incredibly exciting! I hope it ends up being as great as advertised. It seems like they are finally opening up the devices for better administrative management.

Apple does NOT get education. As an IT manager with a 1:1 ipad program with a school, I am already trying to map out next years iPad policies and procedures, as most schools are, (usually start prepping after spring break). With Apple School Manager sitting in beta preview for months with no real look at how it works, I have no idea how to prepare. Will ASM make it easier to enroll a device old or new in Profile Manager? Do students still need to create or have parents approve Apple IDs? No idea... Teachers will be neck deep in wine by the time ASM goes public over the summer or even if it's released tomorrow while teachers are prepping for exams so there's no time to train them on any new features. Also, releasing updated products like iPads in September, (start of the school year), means there will be no way to include them in the new school year... Apple may have great products for education but timing is important. If ASM is not released soon I will have to keep my current deployment program so I can start to prep the 600 devices we have and try to add new devices.