Apple employees reportedly receive Apple Music subscription for the holidays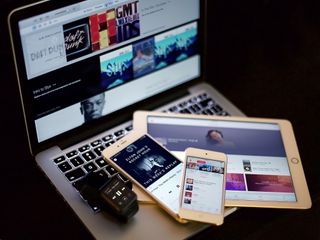 (Image credit: iMore)
Apple employees are getting some nice gifts from their bosses for the holiday season. A new report says that they received a nine-month subscription to Apple Music as part of their holiday gift, along with a free set of urBeats headphones.
MacRumors reports that Apple's iTunes leader Eddy Cue revealed the news about the free Apple Music gift in a video message to employees this morning:
The gift is certainly an impressive gesture for Apple to give to its many workers at the end of a busy 2015 for the company.
Source: MacRumors
Get the best of iMore in in your inbox, every day!
I have been writing professionally about technology and gaming news for 14 years.
Yeeeey! They got a $90 gift that cost Apple a fraction of that. What amazing gifts!

@kingweb
apple treats their employees Very well. I don't want the beats headphones they gave me.
I would offer to let you have them Free. but since they didn't cost me anything, you wouldn't appreciate them.
i'll just throw them in the garbage instead since I will never use them.

Good choice. That's were they belong

Don't. I'll take them. Haha. Sent from the iMore App

It's more than my job gives me... Which is 0$

I love my Apple gadgets (iPhone 6 Plus, Apple Watch, Macbook Pro and iPad Air 2). That being said, Apple Music is terrible. Spotify is much better at the same price point.

I agree with you. Apple Music is horrible. I prefer Spotify as well. Sent from the iMore App

Steve Jobs would be rolling over in his grave Sent from the iMore App

Would be? Don't you mean is? (Or was he cremated or frozen?)

I stand corrected Sent from the iMore App

I think I need to finally give Apple Music a try. Still haven't used my trial. Sent from the iMore App

I'm honestly surprised they don't get them free as part of employment.

I'm an Apple employee, and I was shocked when we didn't. Although I'm a fan of the free 200gb of iCloud storage.

Nice! Sent from the iMore App

Gotta crank up those user numbers, eh?

We did? Sweet!!! Can't wait to go into work today then.
Thank you for signing up to iMore. You will receive a verification email shortly.
There was a problem. Please refresh the page and try again.