Apple files lawsuit against the activists that occupied its Paris store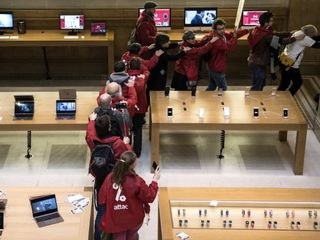 Last month, members and supporters of French activist group Attac (the Association for the Taxation of Financial Transactions and Aid to Citizens) peacefully occupied Apple's flagship store in Paris in order to protest alleged tax evasion committed by the company. Now, according to French publication The Local, Apple is reportedly suing Attac for €3,000 (which is approximately $3,600 USD). In addition, Apple is asking for a court order barring the activist group from staging any more protests within Apple stores.
The Local's piece goes on to say that while Apple supports the freedom to protest, the company felt the protest was a safety hazard in this particular situation as the group "blocked the store for several hours" on a busy shopping day, only leaving after they were guaranteed a meeting with company management:
However, Dominique Plihon, a representative of Attac France, believes that the lawsuit is nothing but an attempt to obscure the truth, claiming that the company is trying to "gag Attac and prevent us from holding new citizen actions to condemn tax evasion by multinationals." He also said that Apple wrongfully accused Attac of vandalism, though the group's protests are "symbolic, nonviolent, staged openly and with no material damage."
According to a claim made by the EU in August 2016, Apple has accrued an overall debt of €13 billion ($14.5 billion US) in dodged taxes by taking its earnings and processing them through multiple different nations. Apple, however, still maintains that it has followed the laws of each country in which it operates, and is in the process of appealing the ruling.
Thoughts?
What do you think about Apple suing Attac? Give us a shout in the comments.
Tory Foulk is a writer at Mobile Nations. She lives at the intersection of technology and sorcery and enjoys radio, bees, and houses in small towns. When she isn't working on articles, you'll likely find her listening to her favorite podcasts in a carefully curated blanket nest. You can follow her on Twitter at @tsfoulk.
I don't have a specific comment on this article but rather I am disappointed that when I pull up this article that the audio that is playing on my iPhone is turned off. I suspect that it has something to do with the loading of the ads since once the page is loaded then I can turn on my audio source once again and come back to this page to the end it without a problem.

I fully support demonstrations and activism.
But I draw the line at blocking entrances, exits, roads, or any kind of block that does not allow normal citizens to pass. Blocking the store entrance is not OK. Shutting down a freeway or a road is not OK. It doesn't matter the cause. It is not a peaceful protest IMO if you have to use your body to imprison people or prevent them from going about their lives.
I support this type of lawsuit for any company to prevent further disruptions of travel.
They could have just demonstrated out in front of the store, or even been a-holes in the store, but you can't block the entrance.

I could see it now. The protesters at it and a few of them need their iPhones fixed so they make an appointment and buy a few watch bands. These people obviously have nothing to do better with their time. Really can the employees of the store do anything? No they cant they need to close any tax loop holes that there are. I mean really any citizen even I would exercise a tax loop hole. I would put all my money into my childs account if it meant I didn't have to pay taxes.
Thank you for signing up to iMore. You will receive a verification email shortly.
There was a problem. Please refresh the page and try again.