Apple iPad and iPhone 3.2 Preview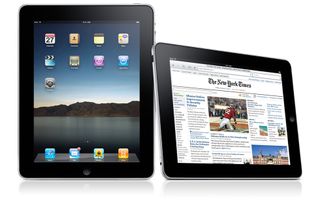 Apple's new iPad tablet is essentially a larger form-factor iPhone 3GS or iPod touch G3 which leverages both the bigger, 1024x768 screen and an updated iPhone 3.2 OS with enhanced versions of existing apps like Mail and Calendar, new offerings like the iBooks e-book reader and store, low-cost 3G data plans, and a 1GHz Apple A4 processor.
Critics have called the iPad "just a big iPhone" and fail to see how it changes anything. Supporters have called the iPad "a big iPhone" and feel it changes everything. Which is it? Until it ships in March (for the Wi-Fi version) or April (for the 3G version) and TiPb gets to do a full-on review, we can't say for sure. But we can go through and preview what we've seen so far and try to figure out just which direction Apple's leaning. And we're going to, after the break!
What is the iPad and Where Does it Fit?
At their "Come see our latest creation" keynote (available now via Apple.com and iTunes), Apple CEO, Steve Jobs announced the iPad as a new category of device in-between the smartphone and a laptop. That's not to say in-between devices didn't exist before, they certainly did -- netbooks, tablet PCs, large media devices, etc. have all tried to be that device and most have failed. Just as there were MP3 players before the iPod, however, Apple aims to mainstream the concept and possibly create if not a new category position, then a new contender to be that category.
Sure, the iPad could be just a large slab of glass too big for the pocket and too underpowered for productivity. Or it could be a highly abstracted computing appliance with an incredibly intimate, easy-to-use interface. It could fail to catch on, like others before it, or it could conceivably mainstream computers the way the iPhone mainstreamed smartphones. Geeks might enjoy using it on the sofa or while traveling. Non geeks might enjoy finally having a way to browse the web, handle email and appointments, consume music, movies, TV shows, and e-books, and use apps and games without the massive overhead involved in managing even a modern Windows, Mac, or Linus-based machine.
In order to introduce the iPad, Steve Jobs said it had to be significantly better at a few key things than either a smartphone or a laptop. His list included:
Browsing
Email
Photos
Video
Music
Games
eBooks
The ability to hold all that in your hands and interact with it through a fast, fluid multitouch interface was Jobs' pitch -- so much more intimate than a laptop and so much more capable than a smartphone. But for whom?
Horizontals and Verticals
Again, geeks often buy just to have the latest gadget, but for non-geeks, an iPad might be preferable to a file-system bound PCs that require tons of tech-support from manufacturers or tech-savvy family members. No anti-virus or anti-malware, no hunting down and installing software and only partially uninstalling it later, no drivers to be driven mad by, and runtimes to rundown the system.
TiPb and many others have joked that this could be the perfect machine for our mom, but that just means it could be perfect for anyone who finds current computers impenetrable and hostile. That includes grandparents who just want to see photos and movies of the grandkids and email them back and forth. It also includes those young grandkids who, if the iPhone is any indicator, can take to the user interface like fish to water.
The lack of an iSight webcam does hamper this, however, as many grandparents actually want to see their grandkids (apply that equally to any friends or family).
For verticals, it could also be a boon to medical professionals, teachers and students, technicians, business users, or anyone who needs an easy-to-use interface that's highly customizable via apps, and incredibly low maintenance. Whether that's to review x-rays, carry around tons of interactive textbooks, follow detailed schematics, or use rich data visualization models, the iPad could be a better, more specific solution while on rounds, in class, at a customer, or on the road.
Before we begin to look at where we are today, it's interesting to once again note that the iPhone we've had since 2007 was an adaption of older, existing Apple tablet efforts. The iPad (or Safari Pad) started life before the iPhone but ended up being released later. Much of the technology in the iPhone and iPod touch comes from work on the iPad, Apple just felt they could productize the smartphone and iPod version earlier, and that the iPad just wasn't ready yet.
Today, Apple thinks it is.
iPad Hardware
If the original iPhone 2G (and the iPod touch G1 that followed it) established Apple's take on the iconic black slab, the iPad establishes the black slate. Like the original iPhone and like all generations of iPod touch, it's backed by an aluminum unibody -- and the 3G-enabled version even has a similar black plastic, antenna friendly, cutout. And like all versions of iPhone, the front is a single piece of glass wrapped in a silvered bezel.
If we examine the size, the iPad is 9.56" high compared to 4.5" for the iPhone and 4.3 for the iPod touch. Width is 7.47" compared to 2.4" for both the iPhone and iPod touch. Depth is 0.5" for the iPad compared to 0.48" for the iPhone and 0.33" thin for the iPod touch. Weight is 1.5 lbs for the iPad compared to 4.8 ounces for the iPhone and 4.05 ounces for the iPod touch.
So in terms of size, the iPad is more than twice as high and three times as wide as an iPhone, and it's quite a lot heavier as well. It's certainly not pocketable but it is portable. Sure it's heavier than a Kindle but that's a tradeoff for the aluminum and glass-covered, full-color screen.
And oh, what a screen. 9.6" diagonal as opposed to the iPhone's 3.5", it's LED and uses IPS -- the same technology found in the new 9:16 iMac display. While we haven't seen the iPad's screen in action yet, the iMac's is phenomenal, with an incredible range of bright, beautiful colors and ultra-wide viewing angle perfect for sharing with lots of people sitting on a couch together (if you're familiar with older generation displays, and how the colors would seem to invert from an angle, have no worries about that here.)
It's also oleophobic, aka oil resistant, just like the iPhone 3GS.
Where the iPhone and iPod touch which have 3:2 aspect ration screens, the iPad's is 4:3 like an old standard definition TV. By contrast, Apple's old iMac had a 16:10 ratio, and their new iMacs, like modern HDTVs, have 16:9 aspect ratios. Why has Apple gone in the opposite direction for the iPad?
Unlike a TV, where you sit across the room and the screen fills a relatively small part of your field of vision, and like the iPhone, the iPad will be held much closer. Even with monstrous letterboxing, the video will still fill a large part of your field of vision.
Of course, the iPad isn't only a video player. There are other forms of content to consume. For web browsing, even 16:10 sometimes feels too "short", and you need to scroll more than you like. For books, a narrow page may not be ideal, and with a two-page spread, those pages will seem squat, squarish. In that context, the 4:3 ratio could be a good compromise.
Bottom line, the iPad is more to lug around than an iPhone, but if you're used to lugging a laptop or netbook, taking an iPad with you will be a breeze. Taking it in addition to that laptop, however, might be annoying -- and something Apple likely hopes you do instead of, not as well as.
Buttons, Ports, and the Usual Paucity Thereof
The iPad boasts just as many -- or rather just as few -- physical controls as the iPhone and iPod. There's a home button just below the screen, an sleep/wake button on the top, and mute button and volume rocker on the side.
Update: As of March 12, when the iPad officially went on pre-order in the US, Apple updated the specs to indicate an "orientation lock" had replaced the mute button on the iPad. As the name implies, this hardware button will prevent the iPad display from rotating -- a boon to those who want to read while lying down, for example. As to the mute functionality, that will now likely require holding down the volume rocker.
To control anything else, Apple expects you to use that beefy multitouch display.
Ports are similar. There's the iPod-standard 30-pin dock connector at the bottom, a 3.5mm headset jack, weirdly shaped speakers on both sides, and a microphone.
That's right, no USB or Firewire, no HDMI. You can get video-out via VGA adapter (meant for business use with projectors) and Apple's existing composite and component A/V cables. A new dock adapter also allows cameras and SD/SDHC camera cards to be connected so pictures and video can be loaded into the iPad. Since the iPad supported 720p video files, here's hoping Apple ads an HDMI adapter to the list sooner rather than later.
Apple is providing a basic dock for the iPad [$29 - Apple Online Store link], just as it does for the iPhone, as well as a case [$39 - Apple Online Store link] that can be flipped open and around to prop up the iPad for easier typing or movie viewing. There's also a 6-foot extension for the AC USB power adapter [$29 - Apple Online Store link], and the aforementioned video cables.
What is new -- what's astonishing given Apple's history with the iPhone -- is a second dock that's attached to, and provides full support for, an Apple-style hardware keyboard [$69 - Apple Online Store link]. Yeah, we almost fell over too. And if that's not enough, the iPad can also use Apple's -- or anyone else's -- Bluetooth keyboard as well.
This means people who might not have considered an iPad for serious text entry can now consider it, and could potentially take it on short trips instead of a netbook where they'd use just the iPad functions 80% of the time, but still need a hardware keyboard once and a while.
We hold great hope that both make their way back to the iPhone and iPod touch with all deliberate speed.
Last but not least for business users, Apple is providing a dock to VGA adapter for running presentations on a projector [$29 - Apple Online Store link].
Apple A4 System-on-a-Chip
One of the biggest stories coming out of the iPad launch was Apple introducing their own system-on-a-chip, dubbed the Apple A4. Other than the announced 1GHz speed, no one will know the exact details until the iPad ships and is subsequently torn down. We won't know for sure until there's a post-launch teardown, but Apple is either using an optimized version of the same single-core ARM Cortex A8 CPU found in the iPhone 3GS, or the next-generation multi-core ARM Cortex A9.
Similarly, Apple is either using the same PowerVR SGX graphics core as the iPhone 3GS, or the newer generation version introduced this year. There's been no word on RAM yet, though Apple did say the A4 had an on-board memory controller.
To be clear, Apple isn't making their own chips (at least for now), they're just putting the chips they want together in their own way.
Up until now, with Apple controlling software and hardware, it's been difficult for competitors to produce as nicely integrated devices. With Apple controlling the internals as well, its only going to be harder.
Storage and pricing go together like Apple and $100 increments. Trust us, that makes sense if you're at all familiar with how Apple determines low, medium, and high-cost versions of their iPod and iPhone families, and now iPad as well.
As of March 12, you can pre-order the Wi-Fi version for pickup at your local Apple Retail Store or delivery on April 3, or the 3G version for delivery in "late April".
For the Wi-Fi only model, you're looking at:
For the Wi-Fi + 3G model, it increases to:
Those are the same storage options currently available on the much smaller iPod touch, so yes, we're disappointed. Physically, our guess is Apple could have fit 128GB of solid-state NAND Flash memory in the iPad. Whether they could have fit 128GB without significantly raising the price-point, however, is another story. That Apple was prioritizing low price over huge specs isn't surprising here.
And what a low price it is! After analysts and journalist either predicted or were fed a $999 price point, announcing at $499 made the iPad seem like a sweet deal, and it is given the functionality of even that 3G-less, low storage version.
Like with the iPhone, we're betting people get lured into the Apple Store for the $499 but realize even $699 or $829 for the 64GB, 3G version isn't that much more amortized over the course of the 12-36 month product life (gadget lovers tend to update every year, mainstream consumers only when they have to).
Cheap, No-Contract Data Plans... if You Have a Micro-SIM
For the version of the iPad that supports 3G cellular networking, unlike the iPhone -- which remains locked to carriers who, in exchange, subsidize its price to the tune of $450 -- is being offered unsubsidized and unlocked. You can run it on any 3G carrier that supports UMTS/HSDPA (850, 1900, 2100 MHz), which included AT&T -- but not T-Mobile US. It also supports GSM/EDGE (850, 900, 1800, 1900 MHz), however, so if you really want to run it on T-Mo (or Wind in Canada) you can do so on the much slower 2.5G.
Sounds great, but as Apple has done in the past, they've jettisoned current technology for next-generation. Instead of the ubiquitous 2FF Mini-SIM cards used by the iPhone (and almost all modern GSM phones), the iPad uses smaller, 3FF Micro-SIM cards. Steve Jobs said, if you have one, you could stick it in the iPad and it should "just work". Trouble is, most people don't have a Micro-SIM yet. No doubt AT&T should by launch, and we've heard T-Mo, O2 in the UK, and Orange in France are getting them as well.
Speaking of which, Apple didn't stop the low-cost train with just the iPad itself -- they somehow got AT&T to agree to unprecedented data plans:
$14.99 for up to 256MB of data
$29.99 for "unlimited"
We're fairly certain "unlimited" is the typical "use over 5GB's at your own risk. That they're off-contract, however, and unlocked is outstanding. Customers can get on-demand, pre-paid data for times when they'll be traveling, anywhere in the world. What's more, Apple says you can enable the data plans right on the device, making it super convenient.
If you go for an iPad 3G, you can select and purchase your plan on a month-by-month basis right on the iPad. Choose the 256MB plan and you'll get messages alerting you when you have 20%, 10%, and 0 data left so you can turn 3G off, add another 256MB for an extra $14.99, or upgrade to an unlimited plan right from the device.
Whether or not this will be rolled-out internationally is unknown. We should know more by June when Apple said they would announce more network deals.
As to the AT&T data plans, they can be managed directly on the iPad itself.
iPad Software -- iPhone 3.2
The iPad doesn't run full-on Mac OS X. If you want a highly-portable Mac, Apple offers the Intel Core2 Duo-powered MacBook Air with Nvidia graphics that runs Adobe CS 4, including Photoshop, well. In other words, you can hammer nails with a screwdriver but that's not its intended purpose, and in Apple's mind the iPad's intended purpose meant the right tool for its job is iPhone OS X in general, and iPhone 3.2 in specific.
With 70 million iPhone and iPod touch devices sold to date, Apple pointed out that there's a huge base of consumers already educated on how to use their brand of multitouch interface, something they must consider important in mainstreaming the iPad.
That's right, the iPhone 3.2 OS that's been missing in action for actual iPhone and iPod touch owners have been waiting for since late 2009 has finally shown up -- and so far it's iPad only.
Now that's not to say iPhone and iPod touch owners might not get it eventually, like in March when the iPad ships, and it does bring some interesting things to the iPad that we'd all appreciate. And, Apple being Apple, it also lacks some things that we really wish it didn't lack.
Some of what's lacking -- and we'll get to specifics below -- might well change before launch. The iPhone added the YouTube app between introduction and shipping, for example. Also, if Apple holds true to schedule, March will bring us an iPhone 4.0 sneak preview event, which means anyone getting an iPad on release could get a free software update that adds significant functionality in June/July -- just as previous iPhone and iPod touch users have enjoyed for years.
All that being said, here's where we stand as of today.
Apple Senior VP of iPhone Software, Scott Forstall said that all of the built-in apps for the iPad's version of iPhone 3.2 were re-written from the ground up. Since the screen is much bigger, that makes sense. Where on an iPhone or iPod touch you have to switch screens to get to list views like the Email inbox or album contents, or change options without having to go to a separate settings window. Primarily these are exposed through "popover" menus, especially in portrait mode, and side panels in landscape mode.
Scrubbers, seen on the iPhone 3GS for video trimming, also get bigger and pushed out across the system so you can scrub through everything from photos to calendar days.
Multitouch gestures like pinch-to-zoom are found in more apps, and from the demo of a prototype version of the game NOVA, more complex gestures are also possible -- such as three-finger turns.
Lastly, the virtual keyboard is much bigger and MacBook-looking (it even includes faux ridges on the F and J keys!) that almost MacBook size in landscape mode
According to numerous hands-on reports, however, the home+sleep button combo to take a screenshot isn't currently implemented. (Do a reviewer a favor, Apple, flip that switch and soon.)
Photos from the Lock Screen
The iPad has an almost identical lock screen to the iPhone and iPod touch with the exception of an extra button that launches photo slide shows. Essentially, when your iPad is off and especially when its charging in its dock, it can become a 9.6" digital photo frame (with a gorgeous LED panel!)
However, if photos aren't your thing, if you'd prefer weather, news, Facebook or Twitter status updates, or... anything else, you're out of luck. Full screen or dashboard-like widgets, Apple doesn't currently offer any other way to use that giant screen when locked.
Like with the iPhone, you can set wallpaper for your iPad Lock Screen background. But that's not all...
Home Screen: Bring your own Wallpaper, Even in Landscape
Like the iPhone, the iPad Home Screen hosts all the icons for the built in apps, App Store apps you've downloaded, and websites/web apps you've created short cuts for. Unlike with the iPhone, however, you can customize the background of your iPad Home Screen (without Jailbreaking!). And what's more, you can set wallpaper for both the Lock Screen and Home Screen, or each separately. Customization! (From Apple!) If you don't want to use your own photos, Apple provides several wallpaper options.
While the demonstration and associated press images have shown an iPhone-live 4 icon wide grid for apps, the iPad simulator shipped as part of the iPhone 3.2 SDK (more on that later) shows up to 6 apps can fit in the dock.
What's more, the iPad Home Screen can now be rotated into landscape mode.
The iPhone's Spotlight search feature shows up pretty much intact on the iPad, both as a "Home Screen" swipe to the left, and as a built-in option for Mail, Contacts, Calendar, Notes, iPod, etc. You can also rotate it to landscape where it shrinks horizontally and appears as an overlay for easier scanning.
Also transported over from the iPhone are Apple's terrific accessibility features which can either be called up via a triple-click of the home button, or through Settings. They include Voice Over, Mono Audio, Zoom, Closed Captioning, and White on Black.
iPad Calendar takes visual cues from both iPhone Calendar and Mac iCal but really looks like it comes into its own, with the real-world look and feel Apple has sprinkled throughout the iPad, and all the room the big screen provides.
Along with month, day, and list view, it also gets a week-view, which the iPhone still lacks.
Like the iPhone, iPad can sync iCal, MobileMe, Google, Microsoft Outlook, AOL, either via iTunes or over the air (MobileMe, Exchange, GoogleSync, etc.)
iPad Contacts gets re-envisioned to look more like... well, a contact book complete faux open page design and ornamental bookmark.
Not much in the way of new functionality has been shown yet, though the SDK shows hints that either camera hooks from the iPhone were left in (and SMS and phone call handling hooks as well), or Apple has plans for future iPad devices.
iPad Notes, in landscape view, gets the side panel list so you can jump quickly from note to not without having to navigate back and forth like you do on the iPhone. In a move that might be the highlight-equivalent of the still-in-use Marker Felt font for body text, Apple helpfully circles the current note in red...
Like on the iPhone, Apple created an iPad Maps app that hooks into Google's ginormous back end of location, satellite, and street-view data. The biggest change is -- wow, does it look great on the bigger screen.
The "page curl" to access settings remains, and no matter how nice it looks, why this inconsistent method exists only in Maps remains a mystery.
Also, popovers make an appearance in Maps, for example when you start typing in a search, a popover appears containing suggested terms. While not expressly shown, it's not difficult to imagine this is another system-wide addition across the built-in apps.
Popovers also appear for bookmarks and even the information boxes when you tap a pin.
As an aside, it's nice to see Google still playing a role inside the iPhone/iPad OS, despite rumors to the contrary.
Videos and that 4:3 Aspect Ratio
Rather than being included in the iPod app like on the iPhone, iPad has a separate Videos app like the iPod touch. As mentioned, due to the 4:3 aspect ratio, you'll get some chunky letterboxing on video, especially the HD video (we're guessing 720) that Apple claims is supported. If you prefer, you can tap to fill the screen but you'll lose part of the picture on both sides -- something that will not doubt make cinemaphiles cringe.
Due to the bigger screen real-estate, however, instead of a vertical list, poster art is shown in an iTunes-style grid.
There's also a large, thumbnailed chapter view for titles that support it.
The YouTube app for iPad pulls in the H.264 version of Google's popular video site and supports high-definition now as well (though what resolution that means, we're not sure yet).
Unlike the iPhone, where you can only see full-screen video, or video information or related videos on separate screens, on the iPad you can see a partial screen video with all that information displayed at the same time.
You can also share videos via Email or Facebook.
The iPad wouldn't be part of the Apple ecosystem if it didn't include the iTunes Store. Visually, this version looks more like the Mac iTunes than the iPhone, with multiple panels that let you keep browsing along the sides and bottom even as you call up more details on top.
When you select something, however, an overlay spins out of the album art to give you more options -- something very different than either the iPhone's full-screen change or desktop iTune's window reload.
App Store -- 150,000 Apps for That... and This!
The App Store on the iPad looks like two iPhone App Store list views side-by-side at the bottom, and a big CoverFlow view stacked on top. Since CoverFlow hasn't been shown elsewhere on the iPad yet, it's a little strange seeing it here... When an app is selected, the app page proper looks similar to the desktop iTunes presentation.
Far more interesting than the UI, however, was the announcement that "almost all" existing iPhone OS App Store apps -- 150,000 and counting -- would run on the iPad. (We're taking "almost all" to mean the same ones that don't run on an iPod touch due to the lack of a camera and telephony will likewise not run on the iPad for the same reason).
That's huge, and it gives the iPad a monstrous software library right out of the gate, and it means anyone who already has iPhone/iPod touch apps can just hook an iPad up to iTunes and sync over their existing library (or, we supposed, just download them again from the App Store for free).
On the iPad, iPhone apps will run at normal size, framed in a black box, or can be pixel doubled via a 2x button to appear almost full-screen. The pixel doubling looked okay if not perfect, and better on fast-moving games then static social networking apps.
What's more, thanks to the simultaneously released iPhone 3.2 SDK for iPad, developers can make iPad-specific user interfaces that take better advantage of the larger screen, and can also make "universal binaries" where users can download an app and be presented with an optimized UI for their iPad and one for the iPhone depending on which device they run it on at the time. We're guessing this will make apps bigger overall, but simpler for the end user to manage. Of course, developers will also have the option to make, for example, App X for iPhone and App X for iPad and offer both independently on the App Store.
iPad apps will have their own section in the App Store to make them easier to find. A few prototypes have already been shown off, including the game NOVA, the New York Times newspaper app, New Yorker darling Brushes, MLB at Bat, and Need for Speed Shift.
We should also mention the iPhone 3.2 SDK contains some extra hooks that we haven't seen in the iPad yet, including VoIP, a file repository, external display support, iChat-style video calling, file downloads from Mobile Safari, support for telephony like SMS and calls, and some prototype support for a "handwriting keyboard". We may see more of this in the future, or we may not. With Apple, anything is possible.
Interlude -- Still No 3rd Party Background Multitasking
Of course, the elephant in the iPad is that -- just like the iPhone -- none of the 3rd party App Store apps will run in the background and multitask. So you can't run 2 apps at 1x side-by-side in landscape, though they'd easily fit. You can't stream Pandora or Slacker while surfing the web (you have to use the iPod app, which does work in the background). You can't leave AIM or BeeJive open to check for IMs while you're composing in Email. (Push notifications should work for the latter, same as the iPhone, but it wasn't demonstrated.)
That may change for power-users with a Jailbreak-like effort post-launch. Better yet iPhone 4.0, should be shown off and made available in beta form sometime in March, right around when the WiFi-only iPad ships. As of today, however, iPad apps remain unitaskers.
Likewise, nothing resembling a widget platform, such as Apple's own Dashboard widgets, were shown off. They'd make just as much sense as optional popovers while using other apps as they would for glance-able data on the Lock or Home Screen.
Pounding out a blog post in Safari, if the menu bar alerted me to a new IM or @mention, being able to tap it, get a popover, quickly fire off a response, and go back to blogging would undeniably be better for some users than the current work, get push notification, exit app 1, launch app 2, perform action, exit app 2, launch app 1, resume work. Certainly the market for full-screen word processors and other window-shaded productivity apps on the desktop shows some prefer to "get things done" without distractions, but that's not how everyone works.
And when you start getting into bigger touch screen devices, the idea of multiple app windows being visualized together, like Palm webOS cards or even Mobile Safari Pages makes me drool for drag-and-drop functionality. Holding to float and drag to re-arrange within an app is excellent. Being able to hold to float and drag into another app with be phenomenal. Maybe we're not there yet in terms of hardware or software, or maybe iPhone 4.0 will start us down that road, but it's something important to point out iPad and iPhone 3.2 haven't shown off yet.
Safari was the first app Steve Jobs showed off during the iPad demo and it resembles nothing more than the iPhone's Mobile Safari gone big screen. Pinch to zoom, swipe to scroll work just as you'd expect though there's obviously less zooming and scrolling needed on a 1024x768, 9.6" screen.
All the controls are now at the top, which seems global on the iPad, and popovers rather than screen changes let you access things like bookmarks.
Instead of the horizontal, swipe-able "pages" view on the iPhone, the iPad gives you a thumbnail view where 9 pages can be seen and selected in a grid view (Apple only shows 7 in the promotional graphic but we're assuming 9).
Safari for iPad continues Apple's exemplary support for HTML5, CSS3, and other advanced, standards-based web technologies. Unlike the iPhone, it will even play supported video forms (H.264) in line, or you can double-tap for full screen.
What hasn't changed is support for plugins, which includes Java, Silverlight, .Net, ActiveX, but most notably for most users -- Flash. Apple has stated that plugins in general and Flash in particular accounts for the majority of crash reports on the Mac platform, and that along with CPU requirements and battery drain are reasons for not having it on the iPad, just as they don't have it on the iPhone.
Most users don't care about that, however. They care that they can't get their videos and games, including Hulu, Farmville, and adult content (aka porn). YouTube has a built in app for the iPad and other video sites like Vimeo have started making H.264 versions of their videos available as well. Games like Farmville are mouse-based and may require rethinking for the iPad's touch controls anyway, can be offered as App Store apps, and Flash-maker Adobe has announced that their next version, Flash CS5 will allow Flash apps to be compiled as iPad/iPhone App Store apps anyway. Porn is an early adopter and already specifically targets the iPhone, so iPad should prove not problem for them (we're told!)
That just leaves Flash-only websites, common to entertainment, restaurant, and other types of businesses that want to bring the visual excitement. Also to "Rich Internet Applications" that want to do more than even HTML/CSS/JavaScript based WebApps typically allow. For them, and for users who go to their sites, the iPad will only show the same blue lego-block of plugin fail that the iPhone shows now.
Apple likely won't change their mind about supporting Flash, and some websites will want or need to keep using Flash because HTML5 and other new, standards-based alternatives just aren't feature competitive yet. So if Flash-based web sites are a must for you, and you avoided the iPhone, you'll probably want to avoid the iPad as well.
Email -- No Longer Pane-less!
iPad mail supports the same Exchange, MobileMe, Gmail, Yahoo!, AOL, Hotmail, and most other IMAP and POP mail accounts as the iPhone.
However, anyone tired over having to tap in, tap out, tap in, tap out, to move non-linearly between email messages in those accounts will be happy to know the iPad Mail app integrates the inbox with the message view window via a side pane in landscape mode and a popover in portrait mode.
In landscape view, rather than full screen email composition, Apple again provides an overlay. Fans of less eye-travel will no doubt appreciate it...
Otherwise, it's the same rich, HTML Email with embedded pictures you're used to on the iPhone, including viewing support for .jpg, .tiff, .gif (images); .doc and .docx (Microsoft Word); .htm and .html (web pages); .key (Keynote); .numbers (Numbers); .pages (Pages); .pdf (Preview and Adobe Acrobat); .ppt and .pptx (Microsoft PowerPoint); .txt (text); .rtf (rich text format); .vcf (contact information); .xls and .xlsx (Microsoft Excel).