Apple Music costs just ₹120 ($1.8) per month in India, family plan priced at ₹190 ($3)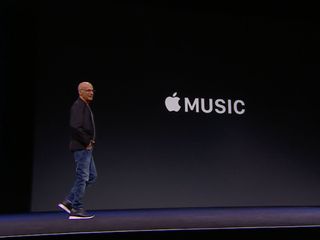 Apple launched its new Music service globally yesterday, with India being one of the launch countries. While the service costs $9.99 a month in the U.S., Indian customers will be able to subscribe to Apple Music for just ₹120 ($1.8) per month. The family plan — which costs $14.99 monthly in the U.S. — is priced at ₹190 ($3). Indian customers also get a three-month trial period upon subscribing to the service, after which monthly billing commences. One reason for the low pricing has to do with limited availability of the iTunes catalog.
It is clear that Apple is trying to aggressively target customers from the country, with Apple Music being a viable contender to other streaming services currently available in India. Other services that are live in the subcontinent include Rdio Unlimited, which also costs ₹120 ($1.8) a month, and Saavn Pro, which is available in two tiers: Lite for ₹120 ($1.8) a month and a Pro version that sets users back ₹250 ($4).
Local service Gaana also has a subscription model for its unlimited streaming service, which currently costs ₹99 ($1.5) in the country. Piracy is still the number one form of media acquisition in the country, although the launch of services like Apple Music have the potential to wean users away from illegally downloading content. Along with a varied collection of tracks available to stream from iTunes, the service features Beats 1, a 24-hour ad-free global radio station hosted by Zane Lowe. Access to Beats 1 is free even if you don't subscribe to Apple Music.
Indian readers, how many of you will subscribe to Apple Music post the trial period? Let us know in the comments.
Sweet Music
(opens in new tab)
Millions of songs in your pocket.

Apple's music streaming service boasts over 70 million songs, live radio stations anchored by renowned personalities, and thousands of curated playlists spanning every genre you can imagine.
The clumsiest man in tech.
have been using apple ecosystem for over 3 years now!! this is going to be excellent way to manage music over iCloud. it will be a good move toward eradicating piracy.. :)

Definitely, i would subscribe Family sharing plan for 190 Rs with my friends. It is much much cheaper, and the best plan. Way to go Apple :) (y)

Definitley without any doubt. The price is very reasonable for the services Apple Music provides!!!

This is definitely great news. At first I wasn't planning on it, but after finding out that its much cheaper than I thought, I'll give it a try. Rs. 120 a month is definitely affordable and the family plan is an even better deal. Thanks Apple :)

That seems cheap (in US tearms) unlike here in the UK where the pricing are exactly the same as in the US individual £9.99 ($9.99) family £14.99 ($14.99).

Already done it and it is bloody beautiful!!
I love Apple music Sent from the iMore App

I'd love to subscribe to this service. It seems very reasonably priced. But most of my family members (including me) have a Windows Phone, so I guess I can't really join in.
If only Spotify worked in India.

That's great pricing for the region. Why can't Apple do the same for Pakistan? Nothing is India-big, but just my city Karachi (20 million people) is bigger than many countries. Pirated content is easily and freely available, but there is not a single way to get digital music (or even movies) legally in Pakistan. I don't understand why they don't take my money.

Yes. This was an impressive move by Apple here in India
But we need more such moves from apple. What about Apps ? Their cost still is converted from Dollars which makes them expensive here.If they get to workout similar pricing with apps as well then Yes it would definitely boost up apps sales here . Wouldn't people like to buy apps for 10 or 20 Rupees instead of mandatory 60 Rupees for every paid app and if the Big titles come come for 300 or 400 rupeed how many people would buy ? Let's hope for the best from apple :)

it is 6,99€ and 10,99€ here in Europe.

I just read a racist comment calling Indians 'dot heads'. That brought back memories of a New Jersey gang called 'dotbusters' in seventies. I am very sentimental about this issue and reinforces my decision to come back to India.
That person acknowledges that INR 1 is to Indians is like $1 in US but still makes racist comments.

I will continue with the paid subscription after 3 months. Apple music has all the music which I love(Nu metal/Classic Rock/Metal) ! I am HAPPY!
Get the best of iMore in in your inbox, every day!
Thank you for signing up to iMore. You will receive a verification email shortly.
There was a problem. Please refresh the page and try again.