An iTunes bug, not Apple Music, may be to blame for disappearing music libraries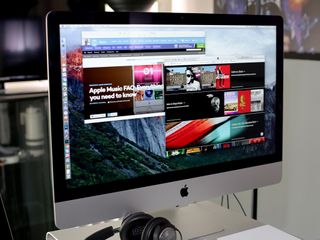 (Image credit: iMore)
After an article went live last week accusing Apple Music of deleting your local music and replacing it with Apple Music DRM-protected copies, we put out an explainer detailing how Apple Music works — TL;DR: It's not designed to remove anyone's local library.
We weren't ruling out a bug, however; after a very helpful chat with designer Robert Etropolsky, whose library had also seemingly disappeared, along with several other reports, we kept digging. And after enough digging, we may have discovered what happened here.
Update: Apple has confirmed that an extremely small number of users have lost files; the company is currently investigating and plans to release an iTunes update next week to help safeguard against potential user error.
I will reiterate: Apple Music is not automatically deleting tracks out of your Mac's library, nor is it trying to force you to stay subscribed to the service. In this instance, it appears that Apple Music is an unfortunate scapegoat: The real problem may be a bug with the subscription service's container application, iTunes.
Based on several Apple Support threads, it appears that the most recent version of iTunes 12.3.3 contains a database error that affects a small number of users, and can potentially wipe out their music collection after the update. The error has been mentioned a few times, primarily on the Windows side, in the weeks since the 12.3.3 update, but appears to be rare enough that it hasn't previously received major press. Apple did put out a support document shortly after the 12.3.3 update that walks you through some fixes if you find that your local copies of music are missing.
I can't state for certain that Etropolsky and Pinkstone fell victim to this bug, but based on their descriptions and screenshots, it seems likely that the following happened:
They subscribed to Apple Music.
At some point after March 21, they updated to iTunes 12.3.3. Etropolsky sent iMore screenshots from his Time Machine backup that show his tracks disappearing between April 7 and 12th.
The update appears to have wiped parts their music library due to a database error; however, because Apple Music had already uploaded and matched their collection to iCloud, it still presented to the user as a complete library — one that was now cloud-based, as you would see if you were on a secondary Mac.
When the user tried to play a track, the track would present as missing, and prompt to either locate the track, or download a copy from iCloud.
Because both Pinkstone and Etropolsky only subscribed to Apple Music, any re-downloaded matched tracks would download from the Apple Music catalog — even if the match was incorrect, and connected to the wrong file.
As a result, it appeared to both users as if their library had been automatically replaced by Apple Music-sourced files. Unfortunately for Apple Music, the service's prior problems with metadata-based matching and DRM-encumbered files made it an easy target for blame.
I don't want to incite mass panic, here: This bug appears to have affected a very small number of users, and if you didn't have local files disappear after updating to iTunes 12.3.3, your library is likely just fine. You can check to see if your library is locally-stored by turning on the iCloud Status and iCloud Download icons; if you've been affected, I suggest restoring from a backup or following Apple's Support document.
But these kinds of bugs — however few people they affect — emphasize just how important it is to keep physical backups of your content. Both Pinkstone and Etropolsky were lucky enough to have full backups of their iTunes Library, but there may be users out there who weren't so lucky. Digital software can always fail, and if it's managing something as precious as your music, it's vital that you back up your information before upgrading that software, turning on music subscription services, or anything that affects your data.
Regardless, it doesn't reflect well on either of Apple's music properties for the company to stay radio silent about potential bugs. Even if it's a one-off aberration that affects as few as five people, the amount of potential panic inherent in "Apple Music deleted my library" is dangerous; it scares current users and gives the service a terrible reputation — even if, as in this circumstance, Apple Music wasn't to blame: It interpreted the missing library as a secondary cloud-based library and delivered tracks accordingly.
Unfortunately, Apple Music is intrinsically tied to its container applications: If there's a bug with iTunes, confidence in Apple Music is adversely affected. When the Music app on your iPhone automatically cache clears your saved tracks to try and make storage space, confidence in Apple Music is adversely affected. And when iCloud Music Library doesn't match tracks to their correct versions, confidence in Apple Music is adversely affected. Now is the time for the company to recognize that without stable base applications, Apple Music will always be plagued with accusations and problems — even if it doesn't always rightly deserve them.
Apple on Friday confirmed that a very small number of users have seen disappearing music files in their libraries, and the company is currently investigating.
Master your iPhone in minutes
iMore offers spot-on advice and guidance from our team of experts, with decades of Apple device experience to lean on. Learn more with iMore!
Serenity was formerly the Managing Editor at iMore, and now works for Apple. She's been talking, writing about, and tinkering with Apple products since she was old enough to double-click. In her spare time, she sketches, sings, and in her secret superhero life, plays roller derby. Follow her on Twitter @settern.