Apple News+ will be refined and updated after publishers voice concerns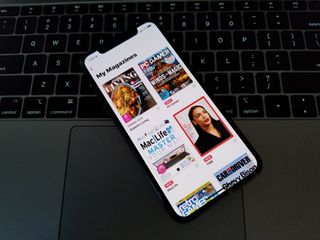 (Image credit: iMore)
What you need to know
Apple is going to change up Apple News+ after lackluster start.
Many publishers have expressed concerns that the service isn't really helping their numbers.
Other have concers about the layout and how the magazine structure isn't really conducive for news.
Apple is listening to all of the feedback and will take it into account moving forward.
Apple is doing some self-reflection about Apple News+ after the subscription based service got off to a rocky three-month start. According to a new report from Business Insider, multiple publishers have expressed concerns about early numbers that show the new Apple service hasn't lived up to its billing.
In many cases, the revenue these publishers are getting is far below what Apple promised.
This confirms that Apple News+ is still a work in progress. Though Apple may be vociferous about the reach of its platform, it can't be denied that the publishing industry is a tricky business. One size will not fit all, and it seems all of Apple's changes haven't worked as well as it thought it would.
These publishers are in constant contact with Apple about what it can change moving forward.
It's unclear what Apple will change with Apple News+ or when. For now, it'll still remain as it is. Let us know if you have had any of the issues the publishers mentioned.
I've subscribed and to be honest I fail to see the point. I expected to be able to get access to actual news and relevant content, instead I'm being promoted garbage and human interest stories. I can only take so much Apple related news, tips on healthier lifestyle, etc. Maybe it's because I'm in Canada or maybe something else but I also know that this isn't my profile either. I don't care about any of the things that I'm being served and the things I do care about are nowhere to be found. Also, publishers are spot on that reading anything other than short blurbs is not friendly at all.

100% agree. Even after configuring my settings fully I was still getting notifications for a news outlet that I DON'T want to hear from. I get it the orange cheeto is bad. People don't like him. I do like him however. Even after configuring my settings and STILL getting notifications reminding me how "orange man bad" I had to uninstall completely.

Maybe the magazines are not interesting enough to Apple customers to get us to pay a fee.

Maybe more people detest curated "news" with Apple's bias and just want an RSS feed link we had 10 years ago.

I never thought this was a good idea. I like the apple app for what it does for free, but if your going to be spending money on anything, pay your money directly to the journalism sources themselves via their own subscriptions and not through Apple. There isn't a more important time than now for this to happen.
Get the best of iMore in in your inbox, every day!
Thank you for signing up to iMore. You will receive a verification email shortly.
There was a problem. Please refresh the page and try again.