Apple offering free month of upgraded iCloud storage to users with free tiers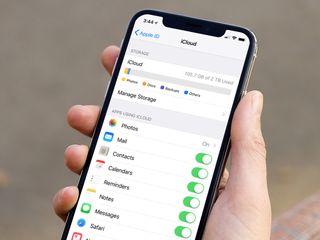 (Image credit: iMore)
According to a new report from AppleInsider, Apple appears to be offering free month-long trials of upgraded iCloud Storage Plans to users on the free tier.
Should your device hit that free 5GB limit, you should see a prompt that lets you try out any of the upgraded tiers free for one month — that's the $0.99 per month 50GB plan, the $2.99 per month 200GB plan, and the $9.99 per month 2TB plan. AppleInsider details the experience:
Keep in mind once your free trial is up, you'll be charged the monthly fee for the storage tier you chose. You don't want to be surprised by a rogue $10 charge for two terabytes of storage you aren't planning on using!
What do you think of Apple's iCloud Storage promotion? Wish they'd add more storage to the free tier? Want more storage on the paid tiers? Be sure to leave your thoughts in the comments!
Get the best of iMore in in your inbox, every day!
Mikah Sargent is Senior Editor at Mobile Nations. When he's not bothering his chihuahuas, Mikah spends entirely too much time and money on HomeKit products. You can follow him on Twitter at @mikahsargent if you're so inclined.
Apple's paltry amount of free iCloud storage hasn't changed since 2011. I appreciate that they don't mine your data like Google, but they are also sitting on a huge pile of cash. If they really want to help their users, instead of trying to lure people in with free offers and getting them to pay, how about doing the right thing and at least giving us enough free storage to back up two iDevices and some photos?

Dropbox lowered their free tier from 5GB to 2GB.

What do I think? Bad idea that will cause a class action lawsuit. So you get the warning and select a plan free for one month. You then proceed to use that extra storage. The month is up and you are now faced with another choice, start paying or lose all that data you stored in the past month. It's sort of like the "forced acceptance" charges being leveled at Google and Facebook over their new GDPR policies. Either accept their terms or be blocked from their services.

I pay 99 cents a month for 50 gb, and don't consider it unreasonable. I also don't consider unreasonable the view that Apple should match what Google offers. They did lower iCloud prices a while back because they were losing out to other providers.
Thank you for signing up to iMore. You will receive a verification email shortly.
There was a problem. Please refresh the page and try again.