Apple Pay in Canada: Everything you need to know!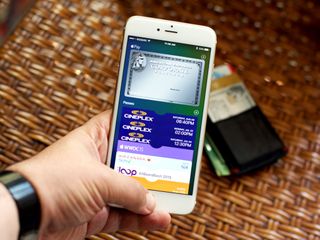 (Image credit: iMore)
As of May 10, 2016, Apple Pay in now available from many of the major banks (with more to come), with support from Visa, MasterCard and Interac.
If you're new to Apple Pay, here's what you need to know:
Which banks support Apple Pay?
AMEX Bank of Canada
RBC
CIBC
ATB
The following banks have announced Apple Pay support, but will enable in-store and in-app purchases in June 2016.
TD Canada Trust
BMO
Scotiabank
Want the specifics?
Apple Pay expands to Big Five banks in Canada with support for Visa, MasterCard and Interac
Which payment networks are supported by these banks?
Depending on the products offered at those banks, Visa, MasterCard, Amex and Interac are supported.
Which devices support Apple Pay in Canada?
To use Apple pay in store, via NFC on a contactless payment system — in other words, to be able to tap-to-pay at your favourite retailer:
iPhone SE
iPhone 6s
iPhone 6s Plus
iPhone 6
iPhone 6 Plus
Apple Watch
So the Apple Watch supports Apple Pay, too?
Yes, it does! And it's easy to set up:
Can you use your devices to make purchases in apps with Apple Pay?
Yes, but that functionality is coming in June, 2016. The following devices support in-app purchases with Apple Pay:
iPhone SE
iPhone 6s
iPhone 6s Plus
iPhone 6
iPhone 6 Plus
iPad Pro 9.7
iPad Pro 12.9
iPad Air 2
iPad mini 4
iPad mini 3
Apple Watch
Why did Apple Pay take so long to support Visa, MasterCard and Interac in Canada?
That's a great question, and we've taken you through the entire journey in our Apple Pay FAQ:
Daniel Bader is a Senior Editor at iMore, offering his Canadian analysis on Apple and its awesome products. In addition to writing and producing, Daniel regularly appears on Canadian networks CBC and CTV as a technology analyst.
Apple Google or Samsung pay will never be more then a gimmick until they start being a reality in more then a few select countries. Taking years between each country it adds it'd way to slow. Either step up or close shop.

so far from a gimmick and better they get it right in each Country than having more complaints about people not knowing what to do or how to use it

Actually the issue with the slow release in other countries is not necessarily Apple "s fault. It's the problem with the individual country's banking systems and weather they decide to get together with Apple Pay. Amex has been out for awhile in Canada now, which did me no good because I don't have an Amex card. But my Canadian Tire MC now works, and next month TD Canada Trust will allow my debit to work. So the problem was not with Apple, it's just that it's a new service and it takes some time to catch on everywhere.

I'm surprised by how many situations there are where it's impossible to use it, especially the fact that it will literally NEVER WORK for any situation where one has to tip (which covers almost every time I would use it). I'm not the only one who hasn't used actual money for years, most of my friends are the same. If one doesn't carry money the only way to tip is to use your card, not Apple Pay. Also, the number of terminals that require you to put the card into the machine first is fairly astronomical. If you've already pulled out your card to put it in the reader, why would you then pull out your phone when it came to the tap screen?

Very pleased to finally have Apple Pay here in Canada.
It's a great secure system, and will be happy to stop having to open up the wallet and find that debit or credit card.

This is great news, because I am going to Niagara Falls in a few weeks!!! Sent from the iMore App

Really excited for this. I've already added it to my iPhone. Gonna use it later today.

Used it this morning :) Sent from the iMore App

FYI, not all credit/debit products from the above banks work yet. For example, RBC business Visa and debit cards linked to business accounts are currently unsupported.

Yeah after almost 2 years of Apple releasing this feature, Canadian banks finally coming on board. Long enough wait and finally got to program my RBC card to Apple Pay. Time to start using and seeing if it's as convenient as everyone say it is

Tried it, both with the iPhone and the  watch. Very cool and seamless. Goodbye cash.
Thank you for signing up to iMore. You will receive a verification email shortly.
There was a problem. Please refresh the page and try again.