Top 100 Apple People to Follow in 2019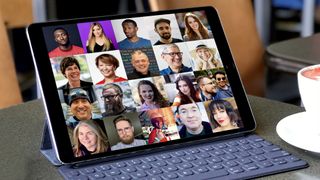 It's weird. I've blogged and done podcasts for a long time, and YouTube much more recently. And even when you're just talking about one company, like Apple, the analysts and journos don't always know the podcasters or bloggers, or vice versa, and the people on YouTube don't always know the people off, and also vice versa.
It's almost like we all exist in the same space but vibrate at different dimensional frequencies. And the intersection of people who read Daring Fireball, watch MKBHD, listen to Connected, and follow Above Avalon is way, way smaller than it should be.
So, let's fix that. These are all the Apple analysts, journalists, bloggers, podcasters, YouTubers, and more that you need to follow at Apple's WWDC 2019 event.
Updated Video
Original Video
YouTubers
You all probably already know the YouTubers that focus on or at least regularly cover Apple, at least some of the million sub plus ones:
But there are others who, every day, week, or month, cover Apple for upwards of hundreds of thousands of people on YouTube:
Apple
You probably know most of the major Apple people already, especially the executives. Tim Cook. Phill Schiller. Eddy Cue. But there are some others that are definitely worth keeping an eye on. I'm not going to include any personal accounts here, because Apple employees tend to be as privacy-centric the company they work for. But, if you dig around here a bit, you're bound to come across some of the more vocal ones.
There are a bunch of other people from other team, including Events that handles logistics, WWDR or world wide developer relations that handles a lot of the coordination, App Store managers and editors, all the engineers and designers who work the talks and labs, PR that coordinates the media, and, again, the amazing retail team that staffs the whole thing.
If you look carefully, you can find some of them sharing photos and stories that mean a lot to them as well.
Analysts
Financial Analysts, I avoid like that alien plague you know is just hiding, waiting for Mulder and Scully alike, at the bottom of a glacier. Their clients aren't us. We're just the people they use to manipulate markets for their clients. Industry analysts, though, can be pure gold.
Bloggers
As the internet rose so did blogs, or weblogs — pages on the internet that could post and host news and opinion faster than a traditional paper could ever go to press. There are far too many to count but there are a few that always seem to count.
Big Media
Traditional media might have been confused and offended when the internet first rolled around, with its unkempt, unregulated blogger type people, but it's long since evolved, adapted, and still often manages access and exploration bigger than any one-person, or few-people blog can do alone.
Tweeters
For some people, Twitter is, for all intents and purposes, their blog. Instead of writing out long stories on their own sites, they tweet out in a bunch of very short, very insightful bites.
Podcasters
The tech industry in general and Apple in particular helped lift podcasting from RSS obscurity to one of the biggest mediums in the world. So many bloggers and, increasingly, journalists and even YouTuber's have podcasts these days, sometimes several, sometimes even a dozen, that it's hard to keep it all separate.
Now, I've already rattled off like a dozen shows already and I could easily rattle off a dozen more like:
iOS Today with Mikah Sargent and Leo Laporte
Clockwise with Dan Moren and Mikah Sargent,
The iMore show with Lory Gil and Georgia Dow.
But, I'm going to focus on a few I haven't already mentioned, and also on news rather than developer shows… at least this time.
To be continued
Now, I'm sure I included a ton of people here that you already knew about, some you already rage about, but hopefully others that are new and fresh and interesting for you to follow, especially as we head into the new iPhone year.
But I'm equally sure I missed a bunch of the best, or at least your favorite top follows.
So, since I'm also looking for new, interesting, fresh people to follow, do me a solid and jump into the comments and drop their show or their social.
Rene Ritchie is one of the most respected Apple analysts in the business, reaching a combined audience of over 40 million readers a month. His YouTube channel, Vector, has over 90 thousand subscribers and 14 million views and his podcasts, including Debug, have been downloaded over 20 million times. He also regularly co-hosts MacBreak Weekly for the TWiT network and co-hosted CES Live! and Talk Mobile. Based in Montreal, Rene is a former director of product marketing, web developer, and graphic designer. He's authored several books and appeared on numerous television and radio segments to discuss Apple and the technology industry. When not working, he likes to cook, grapple, and spend time with his friends and family.
Any credibility you had remaining Rene went out the window the moment you mentioned Daniel Eran Dilger.

You could try being less offensive and still voice your opinion. Really, if you despise René so much can you please move on to another publication.

Never said I despised Rene, just that Rene's credibility went out the window when he mentioned Daniel Eran Dilger. Dilger is nothing more than a hack who never engages in debate, frequently insults and belittles anyone critical of his "work", reposts the same "Google bad, Apple good" trope in his screeds, rarely posts anything factual, frequently misinterprets (often times willingly) data to show Apple in a good light, never reports on anything bad Apple does, inserts his own political leanings into his "editorials" and sockpuppets under at least three different aliases (DED-Corrections-Prince McLean) in order to back his screeds up. Shall I go on?

I've never heard of Daniel Eran Digler before. Read a few of his articles and yes he is a complete joke.

OMG! You forgot The Macalope! Tsk, tsk!

I can't believe MacSparky didn't land on this list!

Thank you René for gathering this great list. I was already following several of them, but now I was able to complete the list ;)

This list is not complete without MacDailyNews
https://macdailynews.com
https://twitter.com/MacDailyNews

There's a belief among a few elite Apple pundits that only one person covers Apple accessibility. This is not accurate, and at the risk of being shaded as a self-promoter, I offer a few links for your consideration.
@shelly Parallel, a podcast on Relay FM: http://relay.fm/parallel
My book about iOS accessibility: http://iosaccessbook.com
My documentary about the birth of accessibility on iOS: http://36seconds.org
MacStories epic that expands on the same topic: https://www.macstories.net/stories/a-timeline-of-ios-accessibility-it-st...
My home on the web: https://brisbin.net I also write and talk about (Apple) things that are broader than accessibility, and talk and write about accessibility things that are broader than Apple.

Love Vector. Tolerate most of iMore. Great list, Rene. It needs the Macalope somewhere near the Top 10. Try Mac360.com. It's been around the Apple scene for more than 15 years; diverse group of writers skewering the anti-Appleholics, and helping to guide Tim Cook's efforts with zingy commentary.
Thank you for signing up to iMore. You will receive a verification email shortly.
There was a problem. Please refresh the page and try again.