Apple and publishers reportedly willing to abandon iBooks "agency model" to appease Justice Department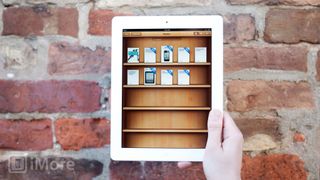 Under the traditional book-selling model, retailers like B&N, Amazon, and others could get 50% or more of the revenue from the sale of a book. Under Apple's "agency model", they get 30%. The traditional model is retailer-centric. Apple's model is publisher-centric.
This upsets the US Justice Department. Under the old model, the retailer set the price and so could sell the book at any price they wanted, even at a loss. Under Apple's model, the publisher sets the price, so there's no retailer discount. What's more, part of Apple's deal is a "most favored nations" clause that means publishers can't sell to competitors for less than they could sell to Apple, thus making deep discounts for consumers pretty much impossible.
According to Reuters, however, this may be about to change.
Publishers like Apple's model because they made more money but more importantly, they felt deep discounts devalued their books. Just like the App Store has lowered the price of software, they fear eBooks will lower the price of books. (TV executives fear low priced digital access will lower the value of video as well.) Once prices go down, it's very hard if not impossible to bring them back up.
Typically, however, the market decides the value of content. If it gets too low, creators go out of business (or switch businesses), quality suffers, customers stop buying, and the market crashes. Then supply diminishes, and prices rise again (often with new players involved, and/or new models).
Right now Apple uses the 30/70 model for the App Store, iBookstore, and subscriptions in Newstand. (I'm not sure if they use it for iTunes music, movies, or TV shows.) If the iBookstore changes, it will be interesting to see if and how Apple's ecosystem as a whole changes with it.
Rene Ritchie is one of the most respected Apple analysts in the business, reaching a combined audience of over 40 million readers a month. His YouTube channel, Vector, has over 90 thousand subscribers and 14 million views and his podcasts, including Debug, have been downloaded over 20 million times. He also regularly co-hosts MacBreak Weekly for the TWiT network and co-hosted CES Live! and Talk Mobile. Based in Montreal, Rene is a former director of product marketing, web developer, and graphic designer. He's authored several books and appeared on numerous television and radio segments to discuss Apple and the technology industry. When not working, he likes to cook, grapple, and spend time with his friends and family.
They use it for music too - at least for indie artists.

So is it OK for Big companies to fire up people cause of economic recession, but it's important and essential to maintain high prices to maintain high income margins... Books have always been overpriced, software too.

Overpriced??????? $9.99/$14.99. You remind me of that new commercial that's out(I forget the company). EVERYTHING CAN'T BE $0.05!!!!!! Cheap bastards.

I don't think books have been overpriced. Either on iBooks or traditional paper/hardbacks. Giving the power to the retailer seems ignorant of business for the publisher. The government shouldn't be involved and Amazon are a bunch of cry babies if they're the ones pushing for this. They can't make their .05% and undercut everyone else so they bitch and moan.

the thing that makes the books seem over priced is the established price was $10 for a long time. Apple got involved and prices went up and in several cases cost more then the paper copy. In the end, consumers lost as the prices generally went up across the board. Call me cheap, but I generally won't pay over $10 for an ebook. I didn't read much before I got an iPad but since then I have bought several books. After the price model change, I stopped buying as many book and looked for content on sale or indie authors.

I think the problem comes from comparing ebooks to traditional books. It's not a big deal when the hardcover comes out at $24 and the ebook is either the same price or less. Having a $14.99 option for the digital format is good.
But, a lot of times, the issue comes from older books, or once a book comes out in $7.99 paperback, and the ebook price remains $14.99. Many older paperback can be bought for a few dollars, but the digital version can be a lot more. Since the publisher is setting the price, it can take a while for them to adjust prices.
A lot of the discrepancy comes from the fact that books are sold wholesale to retailers, who set the retail price, while ebooks are priced by the publisher. It is quite easy for the two prices to differ since they both don't follow the same model.

It's never a good thing when the Government gets involved as they always end up screwing things up.

The Justice Department needs to get it's nose out of this because they aren't and won't be helping consumers -just Amazon and to a smaller extent other retailers. Amazon just wants it to go back to the old model where they set the prices -not the publishers(ie. content providers). If publishers can't set their own prices and make a profit they'll have less revenues to put into publishing new works by existing authors and most importantly new authors. Then consumers will have a literary market that resembles a high school library more than a thriving marketplace of ideas.

So let me get this right. Amazon can undercut just about every retailer out there (and I thank them for it) but Apple can't do the same for books? When you're on top everyone guns for you.

apple isn't trying to undercut anyone. They made a deal with the publishers that essentially fixed the price of ebooks and eliminated any pricing competition. As a result prices went up, publishers are making more money, apple is making more money and obviously consumers are paying more.

A lot of people seem to be angry by this development. I don't really care how this goes either way, but for those who are complaining that publishers might not be able to set the price in the future, I ask that you look at just about every other market of goods in the world: when you walk into a place like Walmart or Target, those stores have set the prices for the vast majority of the goods. When you buy items at a store, you're paying what the retailer thinks is a good price...not what the creator of the good thinks. MSRPs exist, but can be undercut (Amazon is a good example of this). I don't see why this is such a huge controversy.

Personally I don't think e-books should cost over $9.99 when you consider the near zero cost to download the item as compared to hard copy printing, shipping and warehousing. That said though I am a huge Apple fan their bookstore is an abysmal place to find anything. Not particularly easy to navigate and frustratingly small windowed view into the large book universe. Amazon is a lot better but they could do a whole lot better too.
I wish the iBookstore would list things in smaller text and a more useful UI that you can then expand instead of using the space foolishly and overly large with just a few books on display at any one time. This alone drives me over to Amazon.

I am just commenting to let you be aware of what a enepctioxal encounter my daughter enjoyed browsing yuor web blog. She realized a wide variety of things, with the inclusion of what it is like to possess a marvelous helping nature to let many others clearly master selected extremely tough things. You undoubtedly exceeded her expectations. Many thanks for showing these powerful, trusted, explanatory and also easy thoughts on the topic to Sandra.
Thank you for signing up to iMore. You will receive a verification email shortly.
There was a problem. Please refresh the page and try again.