Apple is releasing tons of "hidden" features in Shortcuts — what about everyday users?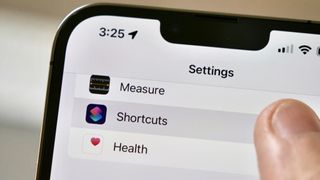 (Image credit: Matthew Cassinelli / iMore)
As Apple continues to develop the Shortcuts app experience across iPhone, iPad, Mac, and even Apple Watch, there are even more features and functionality that's possible on Apple's platforms, but only through the Shortcuts app.
As features like custom speaker groups become possible to create and break apart with Shortcuts, iOS often lacks a built-in, Apple-like way to activate the same functionality without using Shortcuts.
To put it another way, Apple is adding features to their OSes that otherwise don't fit into the platform itself, but they can get away with adding by putting it into Shortcuts.
For example, there's no elegant way to make combinations of speaker groups besides tapping around in Control Center, so instead Apple can ship it in Shortcuts, the power users are happy, and…everyday folks just…don't get the feature?
ShortcutsOS
As the resident "Shortcuts guy" at iMore, I'm obviously all for Shortcuts getting advanced functionality; after all, Shortcuts is part of iOS, iPadOS, and macOS.
Shortcuts is a system feature built in to the operating system — and not an app downloaded from the App Store like Keynote or Pages — and, as such, adding a feature to Shortcuts means Apple technically added it to the OS as well.
In practice, however, using Shortcuts and accomplishing tasks via shortcuts is not a mainstream way that most people use their Apple devices (yet?), and there are a lot of everyday users who might want to use a feature like speaker groups but don't use Shortcuts.
Enter App Shortcuts
To some degree, Apple has addressed this issue partly with their new feature App Shortcuts announced at WWDC22.
With App Shortcuts, actions from App Store apps are automatically turned into a folder of shortcuts in the Shortcuts app, ready to be triggered with Siri or show up as Suggestions throughout the OS as soon as you install the app. This helps a ton with discoverability for all the things those apps can do, both via Shortcuts and inside the app itself.
However, this is limited to third-party apps downloaded from the App Store, and Apple's own apps don't get the same treatment. While there are tons of native actions for Apple's own apps inside the Shortcuts app, as well as a Gallery of example shortcuts that users can download and utilize to take advantage of some of these "hidden" functionalities, it's still on the users to discover and set up shortcuts for all of the built-in features of their favorite iPhone, iPad, or Mac.
Once App Shortcuts are launched, it'll actually be easier to find what other apps can do via Shortcuts more so than Apple's own apps themselves. That almost exacerbates the problem of discovering Shortcuts-only features that aren't App Shortcuts, now even further down the list of things users might do in Shortcuts since they're busy seeing what every other app can do.
Much ado about Shortcuts
I'm not sure if there's an immediate fix to this overall problem, as to some degree it's a fundamental issue of adding an automation platform to Apple's OSes — there will always be much, much more that Shortcuts users can do and learn about than non-Shortcuts users can do.
However, Apple could alleviate the discover problem for system features by developing a first-party feature like "OS Shortcuts" or "Gallery Shortcuts." Similar to App Shortcuts, these groups could automatically appear in a user's All Shortcuts collection and provide bundles of shortcuts for system features or Gallery shortcuts into the same auto-generated folders.
Apple could also do more to educate users on the fact that, A) Shortcuts even exists and B) Advanced features work best combined with Shortcuts. Some of the reason Apple users aren't as familiar with Shortcuts is that Apple doesn't talk about Shortcuts much, with only brief mentions during keynotes and most often during developer keynotes where there's more attention on other features.
Adding educational materials like App Store stories about Shortcuts functionality across iOS and macOS would bring it to the forefront of many users' minds, making the act of packing the app with functionality less of an issue as it becomes more mainstream.
Plus, Apple itself highlighting the best ways to use what's already in Shortcuts, as well as how to take advantage of new additions to the app, would go a long way in providing resources for every user on how to maximize their Shortcuts and OS usage.
Extra features shouldn't be limited to just users of Shortcuts
I'm honestly quite curious what iMore readers think — this piece is somewhat a theoretical question that can only be answered through one's own experience of Shortcuts and Apple's platforms.
Do you think adding advanced functions via Shortcuts is a good solution, or do you wish the OS also provided affordances for the same kind of complex functionality, but with the potential trade-off of platform ease-of-use?
Let me know in the comments and on Twitter, as I want to know your thoughts. And, if you are having trouble finding good Shortcuts ideas, I might be able to help with that as well.
Get more iMore in your inbox!
Our news, reviews, opinions, and easy to follow guides can turn any iPhone owner into an Apple aficionado
Matthew Cassinelli is a writer, podcaster, video producer, and Shortcuts creator. After working on the Workflow app before it was acquired by Apple and turned into Shortcuts, Matthew now shares about how to use Shortcuts and how to get things done with Apple technology.
On his personal website MatthewCassinelli.com, Matthew has shared hundreds & hundreds of shortcuts that anyone can download, plus runs a membership program for more advanced Shortcuts users. He also publishes a weekly newsletter called "What's New in Shortcuts."
The Shortcuts app is a mainstream way for all users to use their iPhones. I use shortcuts and consider myself an everyday user. How the average user takes advantage of shortcuts may vary wildly depending on the shortcut. For example, I place an order on eBay: I can select "Add to Siri" from the order page in the eBay app. The eBay app adds a simple Siri shortcut to let me check order status whenever I say, "my recent order".

I'm glad to hear that, it's hard to tell how often people use it — I come from a place of being embedded in Shortcuts, so I can't tell if that's accessible enough or not since I'm so familiar with it.

Would you please introduce me to a source that I can get ready siri shortcuts?

The Shortcuts app has a gallery of pre-made useful Shortcuts.

Hey, author of the story here — I actually publish a ton of shortcuts on my own website!

I think what the author is missing here is that shortcuts are a feature that appeals to power users almost exclusivley. In that sense, the fact that regular users don't get the "features" that shortcuts provide is basically a nothing burger. It reminds me of all those users who get angry that Apple has "only" regular cut and paste (and not multiple cut and paste), even though the number of users who actually want anything besides basic cut and paste, is like 0.00001% Nothing is broken here. All is working as it should.

What happens if that gap gets further and further though? There's never been this problem on iOS before, everyone has the same experience more or less. Shortcuts absolutely enables power users, but I hope Apple pays attention to the things power users do and make them more available to everyday users in an accessible way. I'm also not upset or anything, just asking the question — I definitely appreciate your reply because the answer is based on more than my own experience.