Apple reportedly preparing 4-inch 'iPhone se' with Live Photo support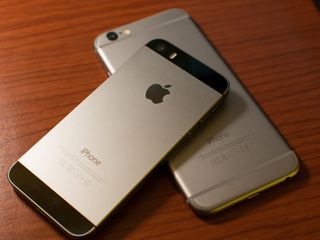 Update: While originally reported to have an Apple A8 system-on-a-chip with M8 motion co-proessor, 9to5Mac is now reporting that while such a model is in testing, it's more likely that the "iPhone 5se" will come equipped with the newer A9 and M9.
Original story: Apple is reportedly planning a launch in March or April for a new 4-inch iPhone. While previously rumored under the name "iPhone 6c," this new device will reportedly be called the iPhone se. This phone is said to resemble the iPhone 5s in most ways, though with curved edges in place of the chamfered edges of the older phone.
According to 9to5Mac, the iPhone 5se will feature the following:
The chamfered, shiny edges have been replaced with curved glass like on the iPhone 6 and 6s lines
The same 8 megapixel rear camera and 1.2 megapixel front camera systems from the iPhone 6
Support for larger panoramas and autofocus for video recording
Barometer for tracking elevation in the Health app
An NFC chip for Apple Pay
The A8 and M8 chips from the iPhone 6
Bluetooth 4.2, VoLTE, and 802.11ac WiFi chips from the iPhone 6s
Live Photos from the iPhone 6s
Same Silver, Space Gray, Silver, & Rose Gold color options as the 6s line
Even though the phone is said to have Live Photo support, it will apparently lack a 3D Touch display. Presumably, if this is indeed the case, the iPhone 5se will let users view Live Photos with a long press, as it does now on some other iOS devices without 3D Touch support.
The new 4-inch iPhone is supposedly heading for a March unveiling, with a release in late March or early April.
Joseph Keller is the former Editor in Chief of iMore. An Apple user for almost 20 years, he spends his time learning the ins and outs of iOS and macOS, always finding ways of getting the most out of his iPhone, iPad, Apple Watch, and Mac.
1 gigabyte as usual Posted via the iMore App for Android

Both current models have 2gb. Sent from the iMore App

Which I doubt this will have. Especially since it'll pretty much be an iPhone 6 mini and that had one gig Posted via the iMore App for Android

AGAIN!!! Making a crappy phone compared to the best ones out there. No one will buy it and their marketing team will go "SEE GUYS PEOPLE LIKE BIGGER PHONES." Perfectly negatively correlated Unreal how a company this good can keep making the same stupid mistake. Put the specs of the 6S into the smaller phone...good gawd! Good freaking gawd!!!!! Stupid, dumb, mo..... Sent from the iMore App

I know. In fact if they charge the same price for regular iphone 6s but with the small size factor of iphone 5s, it will sell quite well. I dont get them really. Sent from the iMore App

Actually, many of the iPhone users in my life are waiting for this exact phone. Both my parents think the current models are too big, and my partner is hanging onto her 5s until there's a 4" replacement. Not everyone needs absolutely top-tier specs, and not everyone wants a big phone.

Same here Sent from the iMore App

Agreed. My girlfriend hung on to her iPhone 5, despite a badly cracked screen, for ages until the battery was on its last legs. She's using my old Z3 Compact now, and even that's a little to big for her taste. If the price on this thing is right (which I'm sure it won't be, but a man can hope), it'd be perfect for her.

Well said. Just call it iphone classic and make the best 4" phone you can. New design but carry over from iphone 4. All sapphire, front and back. OLED since no 3D touch. And other exclusive classic features for now. Apple isn't even trying here so it's no wonder this 5se will be a flop.

This! Apple should have just put the latest chip and camera in 4" form and consumers waiting for a flagship 4inch iPhone would have gladly lapped it up. Instead Apple decided to go with an old technology - chip and RAM from 2014 version of iPhone 6. No one cares about Live Photos apple.. Just give us a Better chip and RAM. Sent from the iMore App

It does sound ridiculous...lol Sent from the iMore App

3D Touch on a smaller model; yes, please! Sent from the iMore App

Except it seems it won't have 3d touch Posted via the iMore App for Android

I am selling my iPhone 6 for this one. Really miss the small and handy phones like iPhone 5. Just give me the right price! $300-$350.

How dumb can you be Apple? Can u say flop? Sent from the iMore App

Terrible name. Sent from the iMore App

Tell me about it. A 5se? What kind of horrid name is that. Posted via the iMore App for Android

Well, Apple does have some history with this nomenclature though....
https://en.m.wikipedia.org/wiki/Macintosh_SE
But, yeah I agree that this is something that doesn't exactly 'roll off the tongue' as they say.

It's going to be Apple's version of a turducken. An iPhone 6 inside an iPhone 4 with an iPhone 5 wrapper. Sent from the iMore App

5se(Second Edition)! Name stolen from Nike(Fuelband SE) :D Sent from the iMore App

Hi I'm Bishal I really like iphone always support of apple because apple has best features ever and other mobile doesn't have I always see new video of iphone through net I have seen dream iphone

****, only A8 chip and 8Mpix cam... Sent from the iMore App

Welcome to 2014. Posted via the iMore App for Android

Seems like a strange positioning. I'd have thought the key objective would be to get 5S owners to upgrade. Bumping the processor by just 1 year seems like not enough to make the upgrade this year. Strange to call it a 5SE when in most regards it is like a 6.

Live photo? So it will have 3d touch? Sent from the iMore App

So it's basically an iPod Touch with cellular capabilities. Shame. I might have consider a "classic" sized iPhone for my next upgrade if the specs were in line with the current gen, provided battery life was adequate. I like my 6, but one-handed use requires a bit of cradling, while my 5 could death-gripped securely - makes all the difference when you're standing in a moving train or bus and it suddenly does a jerky turn.

A8 in 2016 when you have the iPod touch launched with that capability in 2015 seems dumb from Apple. Then again, probably will still be relatively successful because it's an iPhone. Posted via the iMore App for Android

(If this is accurate)
Goddammit Apple. At least give us the 2015 hardware and specs.
I have the 6 and didn't get the 6s bc it wasn't enough of an update for me and I'm not a big fan of the size and shape of the 6. But if I'm going to buy a new phone, I want an upgrade not a parallel. I would have considered this if it were released alongside the 6s's in 2015, trade in the 6, but I will absolutely not buy this in 2016.
I know this isn't all about ME, but there are obviously plenty of other people who want the smaller form factor, and still expect the best hardware.
Not to mention that my iPhone 6 is noticeably slower on iOS 9, even with a completely clean install from iTunes.
Maybe, just MAYBE this isn't the only 4" model they plan to release. Maybe this is just the "cheaper" version. Maybe they also release a 4" iPhone 7 "mini", with 2016 hardware. Fingers crossed. Sent from the iMore App

RE: "Not to mention that my iPhone 6 is noticeably slower on iOS 9" Really? iOS 9.2 on my 6 flies compared to 8.4.1. Other than that, I agree with you.

The iPhone 6s is a massive improvement over the 6 Posted via the iMore App for Android

Hold on... Same, if not throttled, hardware as the 6, but it can do Live Photos... Why can't I take Live Photos with my iPhone 6? F'n stupid. Sent from the iMore App

So like the new iPod touch, but with a cellular chip. Nice Sent from the iMore App

Im all over this!!! Been waiting 2 years for them to bring back a new 4incher!! Please make a 128gb or greater!!! Sent from the iMore App

If you're currently using the 5s then you might need to think twice from "upgrading" to this one. Unless they clock it differently and put in 2GB RAM like in the Apple TV, this phone would essentially be, performance-wise, similar to the 5s in many ways. The A8 just wasn't that big of a jump in performance compared to the A7 in the 5s. But of course if you already know this and still excited to make the jump then go ahead by all means. Posted via the iMore App for Android

He doesn't know that and neither do you. At the moment it doesn't exist. You're claiming rumours as fact. Sent from the iMore App

You're right. I don't. Which is why I put in a hypothetical situation. The comments were made before the article was updated, when they claim of a possible A8 device. IF it's true, we still don't know what kind of A8 chip they put in. That's what I was trying to put to light here. Of course nothing is certain at the moment. Posted via the iMore App for Android

I'll keep my 6s Plus Sent from the iMore App

I fine it hard to believe that there are are people that still want a 4-inch iPhone in 2016, but apparently there are, but people can't expect 2015 hardware (even though that would be nice to have), it is meant to be a cheaper 4 inch alternative for those that still prefer the 4 inch factor, in my opinion, the 5s is still just about good enough in 2016. I'd say the A8 they plan on putting in this so called 5se will be good for another 18 months at least, but 1GB of RAM is fine for iOS but for how much longer now? Sent from the iMore App

No, there are plenty of people who have tried larger phones and want to go back to smaller phones. My daughter upgraded to the iPhone 6 and now says she prefers the smaller phones as she can use them better one handed. I went from iPhone to HTC M8S because I wanted a bigger screen, Now I wish I had gone for the iPhone 5S as I find it fits in my pockets better (I don't wear cargo pants everywhere) and I find I can actually type faster and more accurately on its keyboard. My next phone will be of a similar size to the iPhone 5, regardless of actual screen size or OS. I have tried larger phones and now realise I do not need them. If I need a bigger screen I will use a tablet. Posted via the iMore App for Android

Need to call it the 5lp as in leftover parts

I'm somewhat curious if this will, or will not come with the 3.5mm headphone jack?
As that has been rumored to be removed for the fall flagship releases.

I think they should give it the same specs as the 6S. However I think most people probably wouldn't notice anyway. Also if it's only 4 inches maybe you could get away with 1 GB of ram. Sent from the iMore App
Get the best of iMore in in your inbox, every day!
Thank you for signing up to iMore. You will receive a verification email shortly.
There was a problem. Please refresh the page and try again.