Apple Music will now let you store your music library DRM-free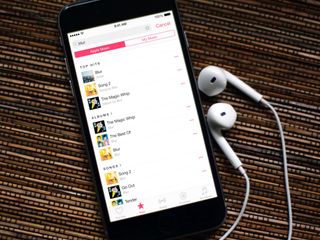 When Apple Music launched, the service boasted that in addition to the subscription catalog, you could listen to your personal music collection anywhere with iCloud Music Library. But unlike the company's iTunes Match service, tracks were matched with metadata only, and they were matched to the DRM-encumbered Apple Music catalog rather than the DRM-free iTunes Music catalog.
This led to many issues with track matching as well as people panicking that Apple Music was DRM-locking their libraries, and quite a few pleas from me for Apple to maybe just ditch matching altogether.
But there's good news ahead: While Apple may not have taken my advice exactly, the company is majorly fixing Apple Music's matching problems: Starting today, the company is rolling out iTunes Match's features to all of its Apple Music subscribers.
Wait, what does that mean?
In short: All non-Apple Music tracks you own are matching to the iTunes Store catalog, with audio fingerprinting for better results, and they will show up as Matched or Uploaded on your auxiliary devices. DRM matching is gone: The only tracks encumbered by DRM from here on out will be those downloaded from Apple Music directly.
Any personal tracks you purchased or ripped from CDs will display as Matched, or (if Apple can't match them to the iTunes catalog) Uploaded.
From Jim Dalrymple at The Loop:
This also means that the $25/year iTunes Match service is being deprecated; anyone who subscribes to Apple Music will now get it as part of their subscription.
Why is this a big deal?
Not only will your matched songs hopefully be more accurate thanks to audio fingerprinting, but not having DRM on your personal tracks is a gigantic win for users and greatly simplifies Apple Music headaches.
While I still encourage everyone to have a full backup of their iTunes library before subscribing to any cloud service, this now means that even if you accidentally (or intentionally) delete your personal iTunes library on your main Mac, you'll be able to re-download copies of those songs that are DRM-free. I'd still love to see a force-upload option for tracks, but this is a huge step in the right direction.
How does this personally affect me?
Got lost in the mumbo-jumbo above? Here's the deal for your specific situation.
If you don't use Apple Music or iTunes Match
Not much, but if you're considering signing up for Apple Music, the matching algorithm just got a whole lot more reliable and doesn't involve DRM-locking secondary copies of your music library.
If you only use iTunes Match
Currently, the iTunes Match service still exists, and your active subscription won't go away without you cancelling it.
If you only use Apple Music
Any music you purchased from iTunes, ripped from CDs, or had in your library will soon be classified as Purchased, Matched, or Uploaded, and will not have DRM applied to it. When you download one of those tracks on another device you own, it's yours forever and won't disappear if you cancel your subscription. (Apple Music tracks and playlists will disappear or become unplayable if you cancel, because they weren't your songs in the first place.)
If you use both Apple Music and iTunes Match
You will soon no longer have to pay for both services: Apple Music is getting iTunes Match bundled inside of it.
What isn't changing?
Any tracks or playlists you download from the Apple Music subscription library will be DRM-encumbered, because you don't own them, and will disappear if you cancel your subscription.
If you cancel Apple Music, any iCloud Music Library tracks you don't have stored on a device will disappear. (Matched or uploaded tracks you did download will stay the same.)
When can I get the new version of Apple Music matching?
Apple is taking a steady approach to the iTunes Match rollout for Apple Music subscribers, moving over 1-2 percent of its users every day. The rollout will happen automatically, so you won't need to do anything; once you are rolled over, expect to see "Matched" instead of "Apple Music" on your iCloud Music Library tracks.
Other questions?
Let me know below.
Sweet Music
Millions of songs in your pocket.

Apple's music streaming service boasts over 70 million songs, live radio stations anchored by renowned personalities, and thousands of curated playlists spanning every genre you can imagine.
Master your iPhone in minutes
iMore offers spot-on advice and guidance from our team of experts, with decades of Apple device experience to lean on. Learn more with iMore!
Serenity was formerly the Managing Editor at iMore, and now works for Apple. She's been talking, writing about, and tinkering with Apple products since she was old enough to double-click. In her spare time, she sketches, sings, and in her secret superhero life, plays roller derby. Follow her on Twitter @settern.