Apple made a robot named Liam that disassembles your iPhone for recycling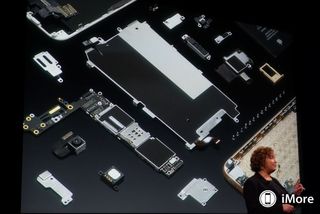 During Apple's March press event, the company offered an update on its efforts to improve its impact on the environment. One thing that was revealed is a robot called Liam that can disassemble an iPhone for recycling..
Apple's Lisa Jackson stated that Liam can separate the cobalt and lithium materials from the battery of the iPhone, along with gold from the camera, and silver and platinum from its logic board. The company has launched Apple Renew that allows anyone to bring an iPhone to Apple Store for recycling, or they can go to apple.com/recycling to print a pre-paid mailing label. Jackson added that the vast majority of iPhones that are traded are reused instead of being scrapped.
Jackson also said that 93% of its global facilities are now running on renewable energy sources, with 100% in 23 countries, including the U.S. That number does not include factories. 100% of its data centers are running on renewable energy. Apple's efforts include creating a 40MW solar farm in China that doesn't disturb yak grazing lands, along with placing olar arrays on more than 800 rooftops in Singapore. Finally, 99% of Apple's product packaging comes from recycled paper or sustainably farmed forests. Apple is now moving to all-paper packaging and the company has helped to preserve 36,000 acres of forest in the U.S. Northeast.
For more from the event, be sure to tune in to the iMore liveblog.
I have been writing professionally about technology and gaming news for 14 years.
Yay! A robot that can break things. Best news all day!

They have a robot to take it apart... How long until they have the ones to put it together? The only way manufacturing could move out of China would be robot assembly... Soon, very soon...

The title says "Apple made a robot named Liam that disassembles your iPhone for recycling" but the url is "apple-says-93-its-global-facilities-are-running-renewable-energy-sources" did something change along the way?
Get the best of iMore in in your inbox, every day!
Thank you for signing up to iMore. You will receive a verification email shortly.
There was a problem. Please refresh the page and try again.