Apple is spending a record amount on research and development as it searches for the next hit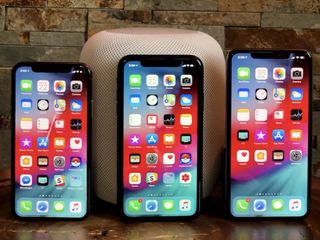 (Image credit: iMore)
What you need to know
Apple is spending more than ever on research and development.
R&D account for 7.9% for its revenue this part quarter.
Apple is now on pace to spend $16 billion in R&D in 2019 as it preps for life after iPhone dominance.
Apple is spending more than ever on research and development. According to a CNBC report, Apple dropped $4.2 billion on R&D during the third business quarter of 2019, accounting for 7.9% of its revenue, the highest percentage since 2003.
The rising cost isn't out of the ordinary for most big tech companies, but it is for Apple who usually keeps the overall R&D number down. Microsoft and Google, for example, spent 13.4% and 15.7% of their revenue on R&D respectively. But as Apple moves to a future that relies less and less on the iPhone, it must spend money to find ways to offset declining revenue.
During the third quarter, iPhone revenue fell 12%, continuing an ongoing slide. Luckily, services and wearables picked up the slack. However, Apple wants to continue balancing its product and service offering and for that, it is spending more on R&D than ever and it has already stated that will continue moving forward.
Here's what Apple CFO Luca Maestri had to say on R&D spending during the Q3 earnings call:
Apple is now on pace to spend $16 billion on R&D in 2019.
Part of that was the recent Intel purchase and the continuing development of services like Apple Music and Apple TV+. Look for Apple to invest even more on its product lineup as it tries to establish new hit products for years to come.
Get the best of iMore in in your inbox, every day!
What I take from this article is apple is throwing in the towel on iphone development, and just releasing the same stuff over and over. Sure, look for new ways to make things, but don't forget how you got here. I was all due to iphone. If you don't keep up on iphone, you are done. As sales show. Mr thinner and lighter put apple in this position. Instead of makeing the iphone the best personal device, he wanted to make it the thinnest lightest personal device....NOT THE BEST. Hence what we have now, A device, that does not sell, lacking many features dozens of mid tier android phones have, and 1 or 2 thinner and lighter versions in the pipeline before he left. IMO, the iphone should always have been the imaging champ, the fastest (since apple makes the chipset and software), and have a wide variety of colors like the original apple logo. However, Mr. Ive, wanted to have the iphone as a status symbol, not a top performing device.
Thank you for signing up to iMore. You will receive a verification email shortly.
There was a problem. Please refresh the page and try again.