Apple Store workers are reportedly ditching lanyards and switching shirt colors for holiday shoppers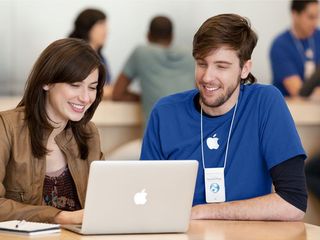 Apple Stores are once again gearing up for the holiday season, and this year that reportedly includes not only red shirts and gold, silver, and space-grey gift cards, but a few new twists as well. According to MacRumors:
While a lot of this has become traditional for Apple during the holiday season, it's also supposedly part of a larger plan by senior vice president of Apple Stores, Angela Ahrendts to breathe new life into the retail operation.
Black Friday will be big, as will the holiday quarter. Then, of course, with the new year comes the Apple Watch and maybe more.
Get the best of iMore in your inbox, every day!
I have been writing professionally about technology and gaming news for 14 years.
This is not blue-state vs. red-state political maneuvering, I assume... Just a simple holiday gimmick.

Let's not bring up political "colors", shall we? It's a gimmick to bring it up in the first place.

Golly... Humor isn't your thing, I guess.

Really? You can't just admit you misread the intent and move on? Taking a personal shot? Wow. Posted via the Android iMore App!

All Of you are wrong, it's clearly a RvB reference. Everyone knows Tim Cook is a Rooster Teeth/Halo fan.

Won't make any difference to the rubbish service and products what colour shirts they wear. Apple products are the most overpriced and overrated on the planet.

Says the guy reading a site about apple products. Sent from the iMore App

Good thing this isn't Star Trek. Sent from the iMore App

I understood that reference!

Stay out of Target in that red shirt unless you want to get asked a lot of questions. Sent from the iMore App

Does this RRALLY MATTER to customers? All i care is the quality of the items and price!!
I am saying this because I think a majority of apple fans know their products before shelling out hard earned $$ before buying so changing shirts and introducing their names will not help me in ANY way!!

I was in an Apple Store over the weekend and trying to purchase something there reminded me just how horrible the place is to shop. Lots of Apple employees around, yet none seemed willing or interested in helping me actually purchase something. One employee after another told me "My colleague can help you." Most colleagues just ignored me as I looked for someone to process my purchase. I miss the days of a cash register. At least then you could get in line to buy something instead of playing "Whack-a-Mole" withe the blue shirts to find one willing to help.

I couldn't agree with you more. While I believe there are many things that Apple does well, retail is certainly not one of them. I don't go in there unless I have absolutely no other choice. It's a disorganized and chaotic environment, that makes me want to get out of there as fast as I possibly can.

I have the opposite problem. I have to tell at least 5 employees that I'm just browsing. And that's as soon as I open the door. Sent from the iMore App

This is the VP's big change? So far she's been disappointing. Maybe a red shirt will help em. I remember having to take the kiddo trick or treating at the mall a few years ago. Last minute change. But anyways, all the stores went all out giving candy away and getting into the spirit. Except for Apple. They had a couple of greeters out there but nothing Halloween. They were turning kids away having to apologize. "Sorry, we don't give out candy." That's the Apple I know.

And why does this matter? Sent from the iMore App

Because Apple's retail dollars per square foot are among the highest in the industry, if not THE highest. So everyone carefully watches what they do to learn from them. I suppose from a consumer standpoint it may not be as interesting, but trust me, in the business world, everyone is watching. I guarantee Samsung is. Robert Perez
www.perezonomics.com

How many pixels had to die in order to bring an article that has zero net worth? Seriously, this was a waste of Internet space. Sent from the iMore App