Apple TV Remote comes to iPad!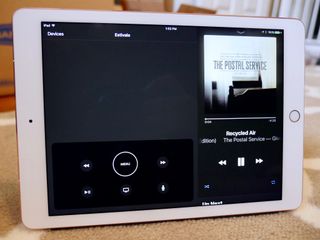 The Apple TV Remote app is a great way to control your Apple TV because it offers almost all of the functionality the Siri Remote offers. The app has been available for iPhone since August 2016 and it's now available for iPad. Now you can control your Apple TV with plenty of room for tapping, navigating chapters, reading lyrics, and more!
Apple TV Remote - Free - Download Now (opens in new tab)
How does the app compare to its iPhone counterpart?
The app is very similar to the iPhone version, it's just a bit more stretched out! The main control buttons are persistent — whether you've got a video playing, music blasting, your iPad rotated in landscape or portrait, you'll still see the main controls — Menu, TV, Siri, Play/Pause — along the bottom of the screen. The empty space above the controls is like a giant touchpad. You can tap and swipe EVERYWHERE!
You mentioned something about lyrics and chapter control. What's that all about?
Playing a song with lyrics on Apple TV? You'll be able to see those lyrics on iPad within the Apple TV Remote app. You can also re-order playlists, skip forward and back in videos, and change chapters in movies.
To see these extra details, just tap Details in the top right corner of the app.
Anything else I should know?
One thing: The persistent controls can be moved around on the screen!
Cool, cool. So how do I get it?
It's an app updated that's rolling out to users. If you've already downloaded the iPhone version to your iPad (like me), just launch the App Store app on your iPad and check for an update!
Did we miss anything?
If you come across any cool features we missed, be sure to let us know in the comments! The app seems to be very similar to its iPhone counterpart, but Apple may have added some tidbits we've yet to come across.
Mikah Sargent is Senior Editor at Mobile Nations. When he's not bothering his chihuahuas, Mikah spends entirely too much time and money on HomeKit products. You can follow him on Twitter at @mikahsargent if you're so inclined.
It's been a nice app on the iPhone. Can't wait to try in on my iPad.

They really need to do more with this. You should be able to control the Apple TV **directly** with a touch interface. Manage your next shows, open apps/shows directly, search for tvOS apps, rate shows (e.g. speeches, art, conedies); no reason you can't do all that from an iPad or even an iPhone. And only Apple is in a position to make a system like this just work.

Kind of like a reverse AirPlay. Just have the entire AppleTV interface appear on an iOS device, without disrupting whatever is playing on the AppleTV at the time.

No volume control is soooo annoying! Sent from the iMore App

How can you control the volume of your tv/stereo/whatever from an iPad when it doesn't have infrared to act as a remote? The AppleTV doesn't control the volume of your audio device.

Why do I feel like Apple is marginalizing those of us with local music collections, or with music not purchased from Apple? Music lyrics only display for songs bought from iTunes - will not display when playing my iTunes library via the My Computers TVos app. The iTunes Remote app for iOS, does not display my lyrics either... https://twitter.com/zenwave/status/846857015263744001
Get the best of iMore in in your inbox, every day!
Thank you for signing up to iMore. You will receive a verification email shortly.
There was a problem. Please refresh the page and try again.