Apple Watch versus Fitbit Blaze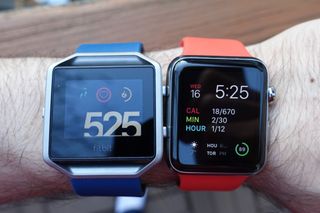 (Image credit: iMore)
Fitbit's EMEA general manager, Gareth Jones, once said that anything Apple does in the wearables space is good for all the players, Fitbit included. But he also said it is unfair to compare the $200 Blaze with the at-minimum $350 Apple Watch Sport, since the latter is less fitness-focused and more a "jack of all trades" product.
It's also true that Fitbit makes a wide range of fitness-focused wearables and Apple currently makes only few internally identical models of Watch. That is exactly why we should compare them, though.
Humans only have two wrists, and space is increasingly at a premium on both. The Fitbit is usually a funnel for smartwatches, but not necessarily vice versa. As smartwatches like the Apple Watch gain the features that at one time cemented the Fitbit brand as the de facto tracker, and cheaper fitness trackers from companies like Xioami squeeze Fitbit's margins from the bottom up, it's important to take a look at where the two products — and their brands — stand in the eyes of consumers.
Design
The Apple Watch is a known quantity at this point. Its squircle design has been divisive, certainly, but there is consensus among astute observers that Apple got it mostly right. From the infinity pool OLED display, which meets the aluminum, stainless steel, or 18-karat gold frame, to the intuitive band release mechanism, the only major knock against the Apple Watch is its thickness, which will certainly be addressed in the second-generation version.
The Fitbit Blaze, on the other hand, is both thinner and lighter than the Apple Watch. It's made from tough plastic that, when encased in its swappable shell, appears hardy. Fitbit has two buttons on the right side and one on the left, and its underside is pierced with a heart rate sensor that, similar to other products in the category, emits a faint green light when enabled.
The Blaze is not particularly attractive; the module, for lack of a better term, sits flush with the metal frame that holds the replaceable watch-like bands in place, but there is space above and below, an aesthetic quality I would classify as "cheap futurist". Compared to the Surge, which was previously characterized as "smartwatch-like," the Blaze certainly has a more mainstream appeal, but it is when one compares it to the Apple Watch itself — or any actual watch, for that matter — the deficiencies become clear. Because it is thinner than the Apple Watch it does sit slightly more comfortably on the wrist, but the awkward shape of the frame undoes any advantage
If Fitbit wanted to avoid comparisons to the Apple Watch, as its executives have said numerous times, it shouldn't have walked right up to the door and forgotten to knock.
Interaction and interface
Like the Apple Watch, the Fitbit Blaze relies on a combination of touchscreen taps and button presses, and in a similar fashion, it can get confusing. While the Blaze lacks the same app constellation as the Apple Watch, it does posses a series of swipe-based menus that aren't obvious to the the novice, especially those coming from existing Fitbit products.
From the home screen, which shows a watch face by default, you can swipe down to toggle notifications or, on iOS and some Android devices, control music, or you can swipe up from the home screen to check the latest notifications. This is where the "smart"ness dissipates somewhat: the Blaze is only set up to redirect call, text, and calendar notifications, so don't expect it to convey WhatsApp or any other third-party app. Other non-Apple smartwatches, like Android Wear or Pebble devices, have the same limitation, but it's a big one, and certainly advantages Apple's own solution if notifications are a key reason for purchasing the product.
It's easy enough to begin a workout or set a timer or alarm on the Blaze, as swiping horizontally from the home screen cycles through the available choices. The LCD screen is neither as bright nor as dense as the Apple Watch's excellent OLED panel, but it's a big step up from the monochrome displays of Fitbit's past.
The Apple Watch is much more versatile in this regard, but with great potential comes inevitable confusion, at least for new users. While much of the Apple Watch's interaction is done using a combination of the Digital Crown and touch swipes, it adds another dimension with the presence of Force Touch, which is used inconsistently across various first- and third-party apps. Unlike the Blaze, progressing through menus is done entirely on the screen itself, with the press of the Digital Crown acting as a home button.
Exchangeable bands
One area to which Fitbit made considerable improvement in this fifth generation, which includes the cheaper, less capable Alta, is accessories. The Blaze is compatible with three lines of first-party bands: Classic, a $29.95 rubberized plastic that comes in the box in one of three colors; Leather, a $99.95 option available in black, camel brown, and "mist" grey; and a $129.95 metal link. The latter two come with the "frame" that holds the Blaze module, and the quick-release straps, in place, while the former doesn't, since Fitbit believes customers will have one default sport color and a nicer leather or metal (or both) for evenings out.
The strategy is similar to Apple's with the Watch, though Fitbit doesn't offer two sizes of timepiece itself. Apple's approach has been somewhat more diffuse, opening up its proprietary lug design to third-party designers, though the vast majority of sales constitute Apple's lineup of fluoroelastomer, leather, and metal straps, some rising as high as $500.
But it's clear you get what you pay for. Comparing Apple's Classic Buckle band to Fitbit's is akin to comparing a business class seat to coach: technically, they're both seats, but one is considerably more spacious and supple than the other. That said, and as will be my caveat for most of these comparison sheets, Fitbit's leather band is two-thirds the cost of Apple's, and there is tremendous value there. The main issue isn't the quality of the leather, but how the band doesn't seem to fit with the plastic module; there's a reason Apple has positioned the aluminum Sport line alongside the plastic straps, while reserving the metal and leather ones for the higher-cost stainless steel versions.
Choice is good, though, and by providing the choice at all, Fitbit has not only made the Blaze stand out from its competitors, but, provided the gambit is successful, opened up a significant potential revenue source in an industry that is quickly saturating.
Fitness tracking
Obviously, the Fitbit's lifeblood is its fitness tracking abilities, and paired with an iOS, Android, Mac, or Windows device, it is considerably more accessible to the entire market than Apple's iPhone-only Apple Watch.
Basic functionality includes automatic step counting, automatic exercise tracking — including the ability to distinguish between running, walking, cycling, elliptical, and even some sports — but there is also built-in FitStar support, offering a modicum of pre-determined workouts. It's nice being able to get into one of those (debatably useful) 7-minute workouts, but there are only three pre-loaded workouts.
Fitbit's app is a portal for all of the company's products — it assumes you may have a Blaze and an Alta for different occasions, for instance — and conveys walking, exercise and sleep data in simple but data-rich charts.
Where the Blaze carries its biggest advantage over the Apple Watch is with its automatic exercise tracking. Not only does the heart rate monitor take measurements more regularly than the battery-constrained Apple Watch, but Fitbit is able to better turn a brisk walk into a statistically-significant workout.
Apple's Activity app is relatively bare, though it, with its Watch-like black color scheme, conveys the relevant information needed for glancing.
Apple's advantage, however, is in its app ecosystem. Companies like Runkeeper and even Fitbit-owned FitStar offer Apple Watch apps that allow the wearable to perform almost the same functions as the Blaze. Third-party apps may be relatively slow to load, even those built on the company's native watchOS 2.0 platform, but they work, and often work well.
Charging and battery life
Here's where the Fitbit Blaze owns the Apple Watch. Despite sporting a color, touch-enabled LCD panel, the Blaze ekes four to five days of battery life, compared to the Watch's one to two. The Apple Watch is certainly more versatile, but there is something to be said with being able to leave the Blaze on-wrist while sleeping.
Some Watch apps, such Sleep++ (opens in new tab), allow users to track sleep, but that exposes a predicament of Apple's daily-charging routine.
Charging the Blaze is not nearly as intuitive as the Apple Watch. It requires removing the module from the frame and inserting it into a clumsy plastic enclosure. The Apple Watch's magnetic MagSafe charger is not only more attractive, especially when paired with a nice metal stand, but much more versatile, allowing the Watch to be used as a bedside alarm and more.
Which one should you buy?
The Fitbit Blaze and the Apple Watch are two very different products, but need to be compared because humans only have two wrists, and while some might wear a fitness band and a watch, few will choose to wear two watches.
While the Apple Watch is a more comprehensive smartphone companion, able to convey notifications, route phone calls, and perform basic tasks from its growing pool of apps, the Fitbit Blaze is an evolved fitness tracker, with a heavy focus on doing one thing well. It is in the places it broaches smartwatch territory that it falls flat, and shouldn't be considered a smartwatch replacement.
At $200, the Blaze is too expensive for casual Fitbit owner looking to upgrade — as Jan Dawson pointed out in his excellent piece, the company's average sales price is around $90 — and not smart enough to warrant the superseding of an Apple Watch in a purchase decision. It's a great fitness tracker, but unless accessories like a leather or metal strap (which quickly bring the price to Apple Watch territory) are important, the simpler and cheaper Fitbit Alta is probably a better deal.
The Apple Watch, on the other hand, is approaching the end of its first-generation life cycle, but it is still a wonderful addition to any wrist. It doesn't do fitness tracking quite as well as the Blaze, but its inherent deficiencies in that regard are counteracted by the presence of the App Store.
Fitbit
○ Fitbit Buyers Guide
○ Fitbit Users Guide
○ The Best Fitbit to Buy
○ Fitbit News
○ Fitbit Forums
○ Buy on Amazon (opens in new tab)

Daniel Bader is a Senior Editor at iMore, offering his Canadian analysis on Apple and its awesome products. In addition to writing and producing, Daniel regularly appears on Canadian networks CBC and CTV as a technology analyst.
Tune in tomorrow while we compare a Porsche to a hot wheels car.

When I got Apple watch last year, I thought great only one device for all things. reviews were not small part of that conclusion. How Apple watch has so much better sensors than anything. oh boy, you should not believe people who have not actually used activity wearable or sport watches. The tests were just idiotic after studying them. So after a while I still use apple watch and love it in basic functionality. But Fitbit charge has returned to my other wrist because its heart rate sensor is more accurate (apple watch is semi accurate in workout mode (green lights) and totally off the charts in other times. The step count is easily fooled and not even close to accurate. And running with it is idiotic. It is so inaccurate that it is funny. And the data is presented in activity and health app in a way that it is worthless. And of course data is held hostage in device. So it is not useful. The data is in summary level. If you run the same route, with same distance on same speed and you are only interested that you have green round thingy in every day you can enjoy watch as an fitness device. And you have no desire to become better at what you are doing it is fine. For some this might be enough. But this is like for this article there would be only counts how many words there or instead of the actual painting there would be only text that would tell how many colors are in the painting. And no app will correct this because the sensors are just not very good for fitness. (then there is the fact that everything is wrong about the interface when you are running and have moist fingers.) So during the day I have apple watch. There is only a handful apps in it. They are just too slow (remember 2.0 will correct this with native apps, guess again). But the basic functionality and notifications make it worth using it and I am happy with it. I still rise once a hour on notification because there is enough studies that show this is actually important. All the time I have fitbit charge which gives me plenty of data how my body is currently working. Even thought the sleep tracking is not 100% accurate it is in ball park enough to make corrections and it correlates how i feel. The rest heart rate has became my main data point, it always predicts what is going on. If it rises from 50 - 55 level I have not slept enough in multiple nights or have flue coming or have to have rest from running. And for running I use tomtom spark which is very good running watch with optical heart rate sensor. It automatically syncs you data with almost any service you can think of. And it has all basic files included so even if you can import data with those to service of your choice. That is a lot to wear on a wrist but I find that combination satisfying my needs. Like Cook said refrigerator toaster might sound great idea it usually is not. Apple watch is good in many things. It is not great at anything. If you are enjoy sports the somewhat good is not enough.

"This is where the "smart"ness dissipates somewhat: the Blaze is only set up to redirect call, text, and calendar notifications, so don't expect it to convey WhatsApp or any other third-party app. Other non-Apple smartwatches, like Android Wear or Pebble devices, have the same limitation, but it's a big one, and certainly advantages Apple's own solution if notifications are a key reason for purchasing the product." This is inherently false. My Pebble Steel shows notifications for any app that I allow. I get Sportsnet, email, and CNN notifications without issue. The latest version of the Pebble Time iOS app allows for toggling of which apps can send notifications to the watch.

Uh, Android Wear delivers 3rd party notifications. This site has the worst reporting, I swear. It's like Amateur Night every night. Sent from the iMore App

I've heard lots of people talking about the Apple Watch. I think people have become spoiled by devices. They don't want to wait for new models, new features, new hardware. They expect everything to work on day one. The iPhone didn't have cut and paste in the first model but no one remembers that now. They think of the iPhone based on the generation almost a decade later that's in their hands. I remember the Pentium 90 computers and the Mhz wars. Now we have multicore i5s and i7s. It is inevitable that the Apple Watch 7 or 10 years from now won't face the same criticism and complaints. The way I see it the Apple Watch could be so much more but it's not from Apple's lack. Developers just don't have a handle on it yet fully. As an example I have an app that tells me the arrival time and platform of my arriving train. Yet there is no Apple Watch anything. I have to reach into my pocket for my watch and launch the app. It would be much easier to get a notification and raise my wrist but unless the developer does something that doesn't matter. I also think a lot of people won't admit that they aren't looking for a usable wearable but instead for an iPhone on their wrist. I've used the Fitbit and own an Apple Watch. I have a Fitbit One and the best thing about the Fitbit for me is the social aspect of the app. I would never spend over $100 on their watch and personally the style of their watch is ugly. Still I like the fact that it exists and there is choice. Sent from the iMore App

I have them both. AW is superior is many ways except the social aspect of challenges, sleep tracking, having a very uniform measurement of tracking (see Fitbit app) and stand alone exercise guides where the phone does not need to be present in order for it to work ie 7 min workout and 10 minute abs. The AW needs to have the phone nearby to for any exercise guide and the AW LAGS when it relies on the phone. I also thing the AW workout experience is very fragmented and disjointed because none of the 3rd party devs use a uniform standard for calorie burn, he measurement, and distance. Sent from the iMore App

I feel like this was a pointless comparison. The FITBIT Blaze does fitness related things better than the Apple Watch. That is obvious and anyone with any knowledge of the products and the companies know this. FitBit is a fitness company. Thats what they do. That's what their products are geared towards. The Apple Watch is a smartwatch with fitness functionality. I wouldn't expect it to handle fitness better than the company that has been exclusively focusing on fitness for so long.
Get the best of iMore in in your inbox, every day!
Thank you for signing up to iMore. You will receive a verification email shortly.
There was a problem. Please refresh the page and try again.