Apple gets more than a third of the revenue made from Google in Safari, according to Google expert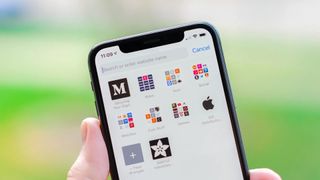 (Image credit: Future)
Google is currently embroiled in a huge antitrust case that has given us a glimpse behind the curtain at the company. One of the most interesting pieces of information to come out is Apple's role in the tech giant becoming the huge name it is today. According to recent reports, Apple has seen over a third of the revenue Google has made from Safari.
As originally spotted by Bloomberg, a professor from the University of Chicago named Kevin Murphy, reported in his testimony that Google pays Apple 36% of the revenue made from its search engine in Safari. This is a number big enough that Google initially tried to block this information from being shared last week.
In its court filing to block that information, Google said revealing those numbers "would unreasonably undermine Google's competitive standing in relation to both competitors and other counterparties." This is likely to prevent other companies from renegotiating their own rate, as well as revealing fees to competitors.
No competition – iMore's take
It has long been a point of controversy that Google pays a lot of money to be the default search engine on the iPhone. Now, we can see Apple has directly profited from Google's role as the search engine market leader, as this figure reveals. This information is important to the Justice Department as it wants to make the argument that deals made with Google are indicative of unfair competition practices, making Google's dominance over the market seem less ethical.
Ultimately, Google is a competitor to Apple in many ways due to its own smartphones and Apple trying to make a search engine itself. The funding that comes from Google is something that incentivizes Apple to continue using Google as a default browser, despite Apple being critical of Google in internal files in 2013. This antitrust case takes aim at Google and Apple has somehow found itself in the crosshairs too.
More from iMore
Master your iPhone in minutes
iMore offers spot-on advice and guidance from our team of experts, with decades of Apple device experience to lean on. Learn more with iMore!
James is a staff writer and general Jack of all trades at iMore. With news, features, reviews, and guides under his belt, he has always liked Apple for its unique branding and distinctive style. Originally buying a Macbook for music and video production, he has since gone on to join the Apple ecosystem with as many devices as he can fit on his person.
With a degree in Law and Media and being a little too young to move onto the next step of his law career, James started writing from his bedroom about games, movies, tech, and anything else he could think of. Within months, this turned into a fully-fledged career as a freelance journalist. Before joining iMore, he was a staff writer at Gfinity and saw himself published at sites like TechRadar, NME, and Eurogamer.
As his extensive portfolio implies, James was predominantly a games journalist before joining iMore and brings with him a unique perspective on Apple itself. When not working, he is trying to catch up with the movies and albums of the year, as well as finally finishing the Yakuza series. If you like Midwest emo music or pretentious indie games that will make you cry, he'll talk your ear off.
More than a third of revenue and users can change search engines, Apple is making out like a bandit.

Reply