Internal doc reveals Apple called Android a 'massive tracking device' in 2013
'Google's Policy is to get right up to the creepy line but not cross it'.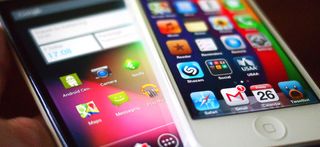 (Image credit: Future)
Google's antitrust lawsuit has revealed, ironically, how little trust Apple has in the creator of the iPhone's most popular search engine. In an internal document from 2013, Apple reported on its privacy plans, claiming 'Google's Policy is to get right up to the creepy line but not cross it'.
As part of the findings of the Google antitrust case, The Register spotted an Apple Slide Deck going over Apple's privacy strategy. It has a 'Privacy Timeline' pointing out the places where Facebook, Microsoft, Google, Amazon, and Twitter (now X) have engaged in privacy behavior it is critical of.
Most importantly, Apple dedicates multiple slides to directly comparing itself to Google. These include key sectors like account security, Siri and Voice Search, Maps, and Search and Ads. It then finished off the comparison by stating 'Android is a massive tracking device'.
Actions speak louder - iMore's take
It's important to note that the landscape of privacy has changed significantly since this was first published back in 2013. There are no recent signs Apple executives still feel this way about Android devices or the company as a whole. However, the concerns Apple has raised can be linked back to the Google Antitrust case. Essentially, the US government believes that Google has been acting in ways that have solidified its grip over the search engine market, forming a monopoly of a kind.
Apple is linked to this case due to their implementation of Google's search engine into Apple iPhones and the large amount of money Google pays for the privilege, yet these slides show a distrust of Google's privacy precautions. As of last month, Bloomberg confirmed that Apple has what it needs to make its own search engine, and Microsoft even tried to help make it. Perhaps this antitrust case will give Apple the last push it needs to build its own competing search engine.
More from iMore
Master your iPhone in minutes
iMore offers spot-on advice and guidance from our team of experts, with decades of Apple device experience to lean on. Learn more with iMore!
James is a staff writer and general Jack of all trades at iMore. With news, features, reviews, and guides under his belt, he has always liked Apple for its unique branding and distinctive style. Originally buying a Macbook for music and video production, he has since gone on to join the Apple ecosystem with as many devices as he can fit on his person.
With a degree in Law and Media and being a little too young to move onto the next step of his law career, James started writing from his bedroom about games, movies, tech, and anything else he could think of. Within months, this turned into a fully-fledged career as a freelance journalist. Before joining iMore, he was a staff writer at Gfinity and saw himself published at sites like TechRadar, NME, and Eurogamer.
As his extensive portfolio implies, James was predominantly a games journalist before joining iMore and brings with him a unique perspective on Apple itself. When not working, he is trying to catch up with the movies and albums of the year, as well as finally finishing the Yakuza series. If you like Midwest emo music or pretentious indie games that will make you cry, he'll talk your ear off.
From what I can tell, Apple doesn't appear to be in a rush to give up all the money it's getting from Google.

Reply