Apple looks to expand sports coverage on Apple TV with College Football Playoff streaming rights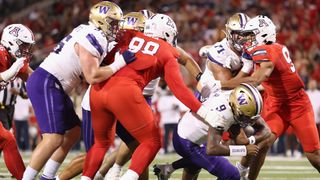 (Image credit: Getty Images . Christian Petersen)
With Apple now having both Major League Soccer on Apple TV via MLS Season Pass and Friday Night Baseball on Apple TV Plus, it is looking to add even more sports to its catalog, a recent report claims. In 2026, we might finally see American College Football join the service.
As originally reported by FrontOfficeSports, Apple and Amazon have both had conversations with the College Football Playoff organizers, a yearly knockout tournament to determine the best College Football team of the season that has aired on ESPN since 2014. Though we still haven't seen confirmation of the figures, The Wall Street Journal estimated ESPN's deal in 2012 at $5.64 billion.
In 2024, the tournament is set to move from a four-team slate, comprising three games, to a twelve-team slate, making up eleven games. These extra eight games don't yet have a buyer, but many parties are interested in the streaming rights. The last three games of the tournament will air on ESPN until 2026 but, with their rights to the tournament expiring the same year. It is unsure who will air the semi-final and championship game from 2027 onward.
Diversifying a portfolio — iMore's take
I've never really been that into sports. Every now and then, I may watch a compilation or documentary as I find athletes' dedication admirable but I'd never really consider myself someone who regularly watches sports. Despite this, I'm happy to see Apple approach these deals with interest.
Fundamentally, I want to see Apple TV and Apple TV Plus diversify its catalog — I want to see them make big plays. Recently, many of the best Apple TV Plus movies, from Coda to Causeway, have focused on unique stories from unique perspectives. Apple hasn't cemented a style, instead opting for a range of genres and perspectives to meet wider tastes. Recently, we have seen Netflix criticized for shutting down shows too early, and Disney, while great at what they do, has a habit of relying on a handful of major studios. Apple is in a unique position to focus on a broader and more creative catalog of films and tv shows.
This potential expansion into more sports gives me some faith that Apple isn't creating a niche with its streaming platform but instead a broad grouping of great shows, movies, and sports.
Master your iPhone in minutes
iMore offers spot-on advice and guidance from our team of experts, with decades of Apple device experience to lean on. Learn more with iMore!
James is a staff writer and general Jack of all trades at iMore. With news, features, reviews, and guides under his belt, he has always liked Apple for its unique branding and distinctive style. Originally buying a Macbook for music and video production, he has since gone on to join the Apple ecosystem with as many devices as he can fit on his person.
With a degree in Law and Media and being a little too young to move onto the next step of his law career, James started writing from his bedroom about games, movies, tech, and anything else he could think of. Within months, this turned into a fully-fledged career as a freelance journalist. Before joining iMore, he was a staff writer at Gfinity and saw himself published at sites like TechRadar, NME, and Eurogamer.
As his extensive portfolio implies, James was predominantly a games journalist before joining iMore and brings with him a unique perspective on Apple itself. When not working, he is trying to catch up with the movies and albums of the year, as well as finally finishing the Yakuza series. If you like Midwest emo music or pretentious indie games that will make you cry, he'll talk your ear off.