Ex-Apple Chief Design Officer Jony Ive working on 'new hardware for the age of AI'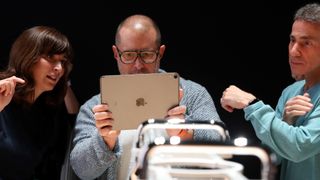 (Image credit: Getty Images)
Jony Ive helped create some of Apple's most iconic devices, like the iPod, iPhone, iPad, and even the oft-forgotten Apple Newton message pad.
Now, a recent report suggests that his latest venture is an OpenAI-backed piece of hardware. With over $11 billion dollars behind OpenAI, they certainly have the funds and vision to rock the hardware space.
As originally reported by The Information, citing two people familiar with the situation, Sam Altman, the OpenAI CEO has been in talks with Jony Ive but an official confirmation has not been made.
OpenAI, known for creating the popular AI chatbot ChatGPT, has already exceeded $1 billion in annual revenue due to subscription services baked into its AI suite. It is currently unclear what this hardware device could be but it is likely to take advantage of OpenAI's own chatbot. Jony Ive has worked on a whole host of hardware projects for Apple so there isn't an obvious hardware choice for his expertise.
A competitive market
Though OpenAI is the market leader in regards to chatbots, they aren't the only one heavily investing in the space. Microsoft and Google are both working on chatbots to integrate into their respective web browsers, while NetEase is working on a video game with chatbot-like functions for its NPCs.
All these major companies trying to get to the market have seemingly had an effect on Apple as even Cupertino is putting resources into AI development. Apple is currently planning for the use of its own 'Apple GPT' in 2024, complete with search functions and Siri upgrades.
Though it is very early on, a collaboration between Jony Ive and Open AI could potentially be huge, down to initial funding, the creativity of Ive, and the brand recognition of ChatGPT. Though you can use ChatGPT on all major mobile phones, laptops, and PCs, a device with baked-in ChatGPT 4 support could beat out the rather pitiful Siri or Bixby. Siri is currently one of the worst parts of getting a new iPhone
Master your iPhone in minutes
iMore offers spot-on advice and guidance from our team of experts, with decades of Apple device experience to lean on. Learn more with iMore!
James is a staff writer and general Jack of all trades at iMore. With news, features, reviews, and guides under his belt, he has always liked Apple for its unique branding and distinctive style. Originally buying a Macbook for music and video production, he has since gone on to join the Apple ecosystem with as many devices as he can fit on his person.
With a degree in Law and Media and being a little too young to move onto the next step of his law career, James started writing from his bedroom about games, movies, tech, and anything else he could think of. Within months, this turned into a fully-fledged career as a freelance journalist. Before joining iMore, he was a staff writer at Gfinity and saw himself published at sites like TechRadar, NME, and Eurogamer.
As his extensive portfolio implies, James was predominantly a games journalist before joining iMore and brings with him a unique perspective on Apple itself. When not working, he is trying to catch up with the movies and albums of the year, as well as finally finishing the Yakuza series. If you like Midwest emo music or pretentious indie games that will make you cry, he'll talk your ear off.