£1.6 billion 'throttling' lawsuit to go ahead against Apple
It's not out of juice yet.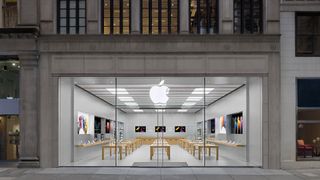 (Image credit: Apple)
Apple has failed to block a lawsuit in London as Justin Gutman, a consumer advocate, has been given the go-ahead on his mass claim of up to £2 billion. If he wins, up to 25 million users in the UK can claim some form of compensation from Apple.
Essentially, Justin Gutman claims that Apple put out iOS updates that throttled CPUs to artificially extend battery life, which may have resulted in consumers believing their phones were slowing down over time and potentially due for an upgrade. The update also made users believe their battery health was stronger than initially thought. He alleges this affects phones from the iPhone 6 all the way up to the iPhone X.
Originally filed back in June 2022 for £750 million, the claim has since gained traction, doubling the cost of the suit. According to Reuters, Apple has attempted to block it quickly, with the company claiming it was 'baseless.' This has not succeeded, and the lawsuit will be going forward to trial once some prerequisites have been met.
What does this mean? — iMore's take
In that same Reuters article, it states that the CAT (Competition Appeal Tribunal) has said that there was a "lack of clarity and specificity' in the case that must be fixed before it goes forward to trial. When Apple aimed to block this case, it intended to stop the case from being heard by a judge due purely to the frivolity of the suit itself. The case not getting blocked means there is enough in there to justify a more thorough investigation.
It's important to note that the case going forward is not a measure of quality other than that it is not purely litigious or outright wrong. There is a degree of merit to the investigation even if, months down the line, the court does not side with Gutman and his allegations. Apple told Reuters, 'We have never – and would never – do anything to intentionally shorten the life of any Apple product, or degrade the user experience to drive customer upgrades.'
Unfortunately, we may be a while off figuring out the truth of the matter, but both parties have quite a lot of work ahead of them for a more formal case.
More from iMore
Master your iPhone in minutes
iMore offers spot-on advice and guidance from our team of experts, with decades of Apple device experience to lean on. Learn more with iMore!
James is a staff writer and general Jack of all trades at iMore. With news, features, reviews, and guides under his belt, he has always liked Apple for its unique branding and distinctive style. Originally buying a Macbook for music and video production, he has since gone on to join the Apple ecosystem with as many devices as he can fit on his person.
With a degree in Law and Media and being a little too young to move onto the next step of his law career, James started writing from his bedroom about games, movies, tech, and anything else he could think of. Within months, this turned into a fully-fledged career as a freelance journalist. Before joining iMore, he was a staff writer at Gfinity and saw himself published at sites like TechRadar, NME, and Eurogamer.
As his extensive portfolio implies, James was predominantly a games journalist before joining iMore and brings with him a unique perspective on Apple itself. When not working, he is trying to catch up with the movies and albums of the year, as well as finally finishing the Yakuza series. If you like Midwest emo music or pretentious indie games that will make you cry, he'll talk your ear off.