Samsung's new iPhone app lets you use its inferior OS without paying for an Android phone
You can even add two phones together to make a Samsung Fold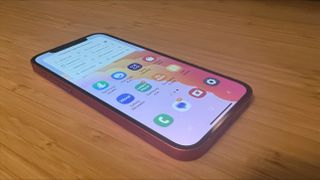 (Image credit: Future / Apple / Abigail Shannon)
A new Samsung app has just launched that shows you what it's like to use an Android operating system from the comfort of your iPhone. This is an effort to bring over new customers ahead of the launch of the iPhone 15, iPhone 15 Pro, and iPhone 15 Pro Max.
Given one of the most daunting parts of changing phones is getting used to a new OS, this is quite a smart bit of tongue-in-cheek advertising. You get a spoof of an Android phone complete with texts from "Generic Friend 1" and subtle tutorials of Samsung phone features. It's cute but hasn't convinced the iMore team to swap over.
Try Galaxy
Entitled "Try Galaxy" this new app isn't available in the App Store as you might expect. Instead, you have to go to the website itself, scan a QR code, click the share button, and add it to your home screen. From here, you can boot up the app and see what it's like to use an Android phone.
It's essentially a glorified slideshow, giving you brief pitches on a handful of apps from messaging tools to the Galaxy Store, all the way over to Smart Switch. When you click on the camera, you are given a handful of repeated videos going over a few key features of Samsung and the Galaxy Wearable app shows you Samsung's line of watches and earphones.
Perhaps one of the most interesting features of this app is that you can line up two iPhones to become a Galaxy Fold. It really shows off how big the Fold can be and how many use cases there are. It's hard to really account for the size of a Galaxy Fold or Galaxy Flip when you don't have one in front of you so this is a fun way of visualizing it.
Though it likely won't convince you to make the swap, it's worth testing out just to play Galaxy Fold's rudimentary air hockey game. It's not good enough to beat out the best iPhones.
Master your iPhone in minutes
iMore offers spot-on advice and guidance from our team of experts, with decades of Apple device experience to lean on. Learn more with iMore!
James is a staff writer and general Jack of all trades at iMore. With news, features, reviews, and guides under his belt, he has always liked Apple for its unique branding and distinctive style. Originally buying a Macbook for music and video production, he has since gone on to join the Apple ecosystem with as many devices as he can fit on his person.
With a degree in Law and Media and being a little too young to move onto the next step of his law career, James started writing from his bedroom about games, movies, tech, and anything else he could think of. Within months, this turned into a fully-fledged career as a freelance journalist. Before joining iMore, he was a staff writer at Gfinity and saw himself published at sites like TechRadar, NME, and Eurogamer.
As his extensive portfolio implies, James was predominantly a games journalist before joining iMore and brings with him a unique perspective on Apple itself. When not working, he is trying to catch up with the movies and albums of the year, as well as finally finishing the Yakuza series. If you like Midwest emo music or pretentious indie games that will make you cry, he'll talk your ear off.
Seems like Samsung is getting desperate I wonder why


Reply