The next big Apple chip innovation coming as soon as 2026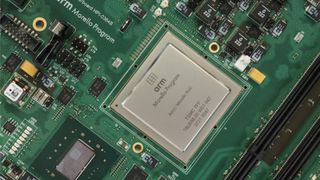 (Image credit: Arm)
Though we are getting some pretty great upgrades in this year's iPhone 15 Pro and iPhone 15 Pro Max line with the introduction of a 3nm chip in the form of the A17 Pro, we won't get a similarly big manufacturing upgrade until 2026. The introduction of 3nm technology will further benefit the current MacBooks, where 2nm chips will only further improve it.
As originally reported by renowned industry analyst Ming-Chi Kuo, Apple aims to use 2nm technology to make iPhone processors 'as early as 2026'. Apple is a long-term partner of Taiwan Semiconductor Manufacturing Company Limited (TSMC) which produces and manufactures the 3nm chip we've seen in this year's lineup.
Smaller is better — iMore's take
The race to smaller chips has been beneficial to customers for years. The iPhone 15 Pro and iPhone 15 Pro Max's 17 Pro chip is 3nm making it more efficient and powerful with the same space. This allows Apple to cram just a little more into each phone. Smaller chips are achieved through shrinking components on that chip, making room for more additions.
With the introduction of a 2nm chip, Apple will be capable of making their devices much more powerful, without having to increase the size or cooling. However, the introduction date of 2026 or later means that the iPhone 16 in 2024, the iPhone 17 in 2025, and possibly the iPhone 18 in 2026 will all be based on 3nm architecture. This does not mean that future chips won't get more powerful as they have continued to do so every year. 3nm chips will get bigger and better as new tech is designed but will get another bump with the arrival of 2nm chips.
Nvidia also has plans to secure 2nm chip orders so it seems likely Apple aren't the only manufacturers aiming to take advantage of this tech. In response to this interest, TSMC is strengthening its partnership with Arm Holdings PLC (ARM) to secure these chips. 2026 is sure to be a big year for the mobile marketplace.
Master your iPhone in minutes
iMore offers spot-on advice and guidance from our team of experts, with decades of Apple device experience to lean on. Learn more with iMore!
James is a staff writer and general Jack of all trades at iMore. With news, features, reviews, and guides under his belt, he has always liked Apple for its unique branding and distinctive style. Originally buying a Macbook for music and video production, he has since gone on to join the Apple ecosystem with as many devices as he can fit on his person.
With a degree in Law and Media and being a little too young to move onto the next step of his law career, James started writing from his bedroom about games, movies, tech, and anything else he could think of. Within months, this turned into a fully-fledged career as a freelance journalist. Before joining iMore, he was a staff writer at Gfinity and saw himself published at sites like TechRadar, NME, and Eurogamer.
As his extensive portfolio implies, James was predominantly a games journalist before joining iMore and brings with him a unique perspective on Apple itself. When not working, he is trying to catch up with the movies and albums of the year, as well as finally finishing the Yakuza series. If you like Midwest emo music or pretentious indie games that will make you cry, he'll talk your ear off.