This one oversight may cost Apple the smartphone lead
Artificial unintelligence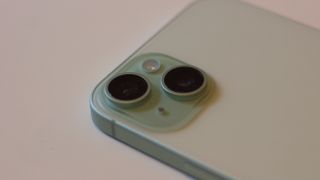 (Image credit: Future)
In 2022, Apple sold 8 of the 10 best-selling smartphones, yet despite this huge lead, Apple may start to fall behind due to its unwillingness to adopt AI. A great chip can only get you so far if your competition is all doing things you just can't.
According to a new report from Digitimes Asia, AI development will be one of the biggest factors consumers consider when purchasing a new smartphone, and they make a pretty good argument. They cite a report that states US consumers are delaying their upgrade cycle "massively", partially because hardware upgrades are minimal enough to not justify the cost.
This is partially related to a slowing down of upgrades. In turn, many companies are looking to AI and its related software as the place where consumers will notice a bigger upgrade. As such, if the iPhone 16 can't compete with equivalent Android devices in AI implementation, Apple may fall behind the competition.
A big few years – iMore's Take
Apple is desperately trying to catch up with the competition and, with it set to spend $4.75 billion on AI servers next year, it certainly has the funds to do it. As well as this, Apple has already made some hardware changes to accompany AI development like the four-core Neural Engine present in the Apple Watch Ultra 2 and the 16-core Neural Engine in the iPhone 15 Pro.
One of the more complicated parts of this process is figuring out how it will be implemented into Apple software. For the likes of Siri, this is obvious. Apple could just make it smarter and more capable of answering questions, something the company is already exploring with on-device capabilities added in recent years. With the likes of Notes and Reminders, it could be used to set a template which you could then refine.
As of right now, the iPhone 15 line is selling well but the effect of AI is still a year away or more so the hopes are that Apple will catch up in time to make up for the mistake of not committing early. Hopefully, the iPhone 16 will make some necessary changes here.
More from iMore
Master your iPhone in minutes
iMore offers spot-on advice and guidance from our team of experts, with decades of Apple device experience to lean on. Learn more with iMore!
James is a staff writer and general Jack of all trades at iMore. With news, features, reviews, and guides under his belt, he has always liked Apple for its unique branding and distinctive style. Originally buying a Macbook for music and video production, he has since gone on to join the Apple ecosystem with as many devices as he can fit on his person.
With a degree in Law and Media and being a little too young to move onto the next step of his law career, James started writing from his bedroom about games, movies, tech, and anything else he could think of. Within months, this turned into a fully-fledged career as a freelance journalist. Before joining iMore, he was a staff writer at Gfinity and saw himself published at sites like TechRadar, NME, and Eurogamer.
As his extensive portfolio implies, James was predominantly a games journalist before joining iMore and brings with him a unique perspective on Apple itself. When not working, he is trying to catch up with the movies and albums of the year, as well as finally finishing the Yakuza series. If you like Midwest emo music or pretentious indie games that will make you cry, he'll talk your ear off.
That's pretty inaccurate.

Apple ahas been working on machine learning or Ai since 2014, and they are the only company that has been releasing hardware with a neural engine/npu since 2017, or 6 years.

While other companies might seem like they have a head start on software they currently lack the hardware to run it on the device. And will take years for them to catch up to Apple.



Reply