Apple's love note to education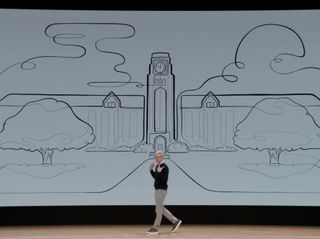 Expectations maketh the event. "Let's take a field trip" was the tagline to Apple's March event this year. "Join us to hear creative new ideas for teachers and students" was the pitch.
An education event. Not an iPad event. Not a Mac event. Certainly not an iPhone event. But an event centered on creativity and the classroom, held not at the still shiny-new Steve Jobs Theater at Apple Park in Cupertino, but at Lane Tech College Prep High School in Chicago.
Despite that, as usual, we piled upon the event's agenda the sum of all our Product RED hopes and the expectations felt by the whole tech community from media to masses; and then, as if our chests had been wish-lists, we added new Macs upon it.
That resulted in the, just as usual, expectational debt: The angst and anger over what the event wasn't and was never going to be, rather than what it was — Apple celebrating 40 years in education with a love note passed in class to the teachers and students in attendance, the rest of us watching on.
And structurally, from beginning to end, that was terrific. Even if not everyone was happy with every beat in between.
Lane Tech College Prep
No, Jony Ive wasn't just repainting the Steve Jobs Theater in a more proper shade of space grey. And, no, the iTunes team didn't have it booked off for an early Infinity Wars screening. For this event, Apple wanted to go back to school. Literally.
Lane Tech College Prep is one of the biggest facilities of its kind in the U.S. It's also one of the most beautiful, filled with old woods and long legacies, but crackling with the energy of its students and faculty.
It was also spotless and looked freshly repaired and spruced up in a way only Apple Event resources can achieve. It's incidental, but a terrific bonus to all the staff and students for welcoming Apple into their scholastic home. (I heard more than one group of students remark how shiny everything looked as they walked by.)
Steve Jobs Theater is likely the best presentation venue in the world right now. But for several hours yesterday, Lane Tech College Prep was something very different and very much more: A venue perfectly, centrally suited to host a keynote about education along with in-class sessions and hands-on labs. An Apple Educational Conference, so to speak, showcasing what Apple's technology could do for teachers, students, and the world.
Apple and Education
Apple's special event kicked off with a video of kids in the playground. As they ran and jumped rope, and blew bubbles, the voice-over featured children talked about creativity: You make something no one ever thinked of; you can make anything you want and it can change the world. Like one person could change the world.
There was the theme. Right up front.
Tim Cook, Apple's CEO, took the stage first. He briefly addressed the marches that had taken place over the weekend in Washington and other cities, and what he called the power of children to use their voices to bring about change. That was, perhaps, Apple's vision taken to its grandest scale.
Cook explained that the Chicago School System, one of the biggest and most diverse in the nation, shared Apple's belief that technology had an important role to play in the classroom.
It fit not only Apple's model of selling iPad and Mac, but of promoting coding as a primary language in education — hundreds of thousands of students in the area are already using Apple's curriculum for that.
Then Cook laid out Apple's focus: Creativity.
Apple has lot enormous ground to Google in the classroom. The combination of ultra-cheap Chrome Books and ultra-easy Google Accounts and GSuite and management services have catapulted it into schools across the country and around the world.
There's no way Apple can achieve any victories in education by fighting on Google's terms. Not without effectively becoming Google and more aggressively than Google itself. And Apple, as it exists today, would never do that.
So, rather than hit that train head-on, Cook took to the flank. Much as Apple had brought iOS user experience to an Android specs fight a decade ago, Apple was bringing creative empowerment to a budget docs fight now.
It wasn't just going to be about typing words or running numbers. It was going to be about music and art and photography and video and code and robots. It wasn't about massive sameness. It was about empowering the ability to be unique and custom at scale.
It's a magnificent sentiment but it's also one that will likely prove realistic to only a subset of schools that either already focused on the arts or are looking to differentiate themselves by adding that focus. Most schools are probably so budget-starved and standardized test burdened that, while Apple's message might appeal to their hearts, it remains out of reach of their day-to-day reality.
40-years of Apple in Education
Seeing Apple's slides of its 40-year history in the classroom brought back all the Apple and Wheels for the Mind feels. Apple seldom gets nostalgic, and typically only at pivotal moments before leaping forward. This wasn't that. But, in the education setting, it really resonated in terms of the company's history and evolution.
Apple's one advantage here is that it has more than just technology to offer. Beyond the hardware, software, and services, Apple fields several real-world initiatives at Apple Stores and in the school systems. Apple Stores remain one area in which Apple has little to no competition.
As much as mail, messaging, and social have become our new village, humans still thrive best when in the presence of other actual humans, and the combination of Apple Store creative classes — now including coding — and in-school outreach is powerful.
And once students get their hands on Apple's technology, even if they have Chrome Books in school, no matter how many IT and budget boxes those Chrome Books tick, they're going to instantly look and feel profoundly limited.
In-house — and in-school — experts
Kathleen Richardson, a former teacher who now works for Apple in ConnectEd and travels across the country working with teachers and students who use Apple technology in classrooms, who spoke at the event, is a great example of Apple's approach.
While the company sometimes gets knocked for not consulting outside domain experts, Apple actively hires the domain experts it thinks will best help shape its products and initiatives.
Instead of just having a few consultants a few times a year, Apple has experienced, insightful staff not only throughout the process but with skin in the game.
iPad 2018
Apple's updated 9.7-inch (non-pro) iPad — it's most affordable and hence most popular iPad in education and overall — is almost identical to last year's version but for two major additions: The iPhone 7's Apple A10 Fusion processor inside and the iPad Pro's Apple Pencil tech support in the touch layer.
Even the price is the same: US$329 retail, US$299 education. And no, Apple didn't keep last year's version around at a discount, which would have pleased everyone who hoped Apple would get more aggressive at fighting Google and Microsoft at the cheap hardware level.
It's not surprising, though. Apple has never been willing to compete for customers for whom price is the most important feature. Not in netbooks yesterday or iPads today.
Google and Microsoft typically have partners who make and zero-margin hardware for them, so if few or none of those partners remain profitable or even in business, it doesn't matter. That's the huge advantage services and software companies have. They just need cheap vassals. Any one will do.
Apple makes almost everything itself, so it carefully chooses the segments where it thinks it can provide the most value while maintaining its slightly-lower-than-retail margins.
There's an argument to be made that Apple could use retail margins to better subsidize education margins — and it's doing that now to some extent with 200GB of free storage for every Apple ID in Education. It wasn't the "unlimited for free" option some were hoping for but it was still huge. And Apple could theoretically push it even further. It could even be considered a long-term investment: Lose some education margin now in exchange for gaining even more retail margin later as students transition from school loaner into personal and business bought-and-paid-for products with Apple logos on them. I'm not sure how far that scales, especially internationally, but I'd be surprised if Apple hadn't at least modeled it.
Against Google's TCO (total cost of ownership), though, Apple is currently positioning its TVD (total value delivered). Even though an iPad costs more than most Chrome Books, it also offers much more. It can be a traditional computing device, yes, but it can also be a still camera in the woods, a video camera in the playground, a piano in the auditorium, a canvas in the studio, and more.
With the power of the A10 Fusion processor, it outperforms just about any Chrome Book and many Windows laptops for education, and with the App Store, it has over 200,000 unique, native ways for students to learn and create.
Given how much exists on the web, it's tough to weigh the advantages of apps. But, for everything the web makes available, it doesn't always do it in easy to find and persist ways, or in ways that take full advantage of the hardware. And it doesn't always do it with a lot of care, consideration, and respect. Especially when it's doing it all for "free". It also doesn't typically do it with a high degree of accessibility for everyone, much less every student.
That's Apple's pitch. Especially now that the new 9.7-inch iPad works with Pencil, which costs $99 retail and $89 education, and the upcoming Logitech Crayon, which costs $49 and uses the exact same technology to provide everything but pressure sensitivity in a more child-friendly form.
It's an incremental hardware update, to be sure. But absent a triangular display or built-in keyboard, those are the kind of year-over-year updates that push products forward.
Greg Joswiak, Apple's Vice President of product marketing, hammered on all of this: iPad's versatility, creativity, and immediacy. And with guest speakers like Cassey Williams from the Woodberry Down Primary School in London, he made the case that these differences lead to demonstrably better results in practice. (At least for the schools that can and choose afford to invest in it .)
iWork
Along with Pencil support for the new iPad comes Pencil support for iWork, Apple's productivity suite that includes Pages for documents, Numbers for spreadsheets, and Keynote for presentations.
That it took until almost two years after Pencil launched for iWork to gain that compatibility is a devastating critique of Apple's ability to keep all the balls it's currently juggling in there air. As much as hardware like Mac mini suffers from neglect, so does software, and it's something that Apple can't ignore away.
Still, iWork remains a great blend of power and presentation. It can't do everything Microsoft Office or even GSuite can do, but it can do an important subset in a way that's far better looking and often far less frustrating.
iWork has also proven valuable for creativity as well as productivity, used for everything from app and web design to animation to interactivity modeling. (Apple's prototype team once demonstrated the process of UX tweaking a theoretical toaster popping app using iWork.)
But, like so many other things, productivity has moved to the cloud and because Apple hasn't been updating it regularly, iWork hasn't kept up. There is iWork for iCloud. And there is collaboration, but they're not being relentlessly updated the way GSuites and Office 365 are.
iWork is already part of Apple's services organization, so the potential is there. But unless and until Apple starts treating iWork like a service and starts updating it just as constantly and relentlessly — instead of in monolithic, once-every-few-years cadence — I fear it's just going to fall further and further off most school's — and most people's — radar.
The one new feature that showed Apple continues to have magic up its collective sleeves was Smart Annotation. It's still in beta, but it already looks terrific. It's markup right inside Pages that, rather than adding a static graphics layer on top of the content, anchors dynamically at the element level to the content.
It's also accessible — if it recognizes hand-written words, those words will render via Apple's VoiceOver technology. Apple continues to treat accessibility not as an afterthought but as integral to everything and everyone.
The slides Apple used for this presentation were among the best I've ever seen. Especially on the big, beautiful, Apple Store-style display the company had up on stage.
A break from the classic keynotes of old, they instead used magnificent single-line drawings and a fancy, whimsical cursive writing that came together marvelously.
Rumor has it much of the work was done with Apple Pencil on iPad. I don't know if Apple will keep using the style, but I hope they keep experimenting and pushing the boundaries of the keynote presentations.
And I hope Apple gets T-shirts with that art into the Infinite Loop and Apple Park stores soon.
Books
Years ago, Apple introduced iBooks Author. And then promptly treated it as pseudo-abandonware. Whether it became apparent early on iBA wasn't the right solution but there was no timeline on a better replacement or not, I'll echo what I said previously about Apple not showing it can effectively juggle all the balls it has in motion. As a single provider, that's bad for everyone. It makes it difficult to trust at any time that an Apple device or service critical to you will be treated as such by the only company in control of its destiny. It's something Apple will have to reckon with — sticking to its "thousand nos for every yes", and making firm choices about all the "ah... dunnos?" that are piling up.
Hopefully, digital books is a sign the company is starting to do just that: Gone is iBooks Author and, in its place, digital book creation is moving into Pages — and for both iOS and macOS. That brings it, finally, to iPad.
It also feels like where Books should always have lived. It's one less app to develop, maintain, and advance for Apple and one less app to learn and manage for users.
There's some real transitional pain right now when it comes to formats and legacy files supported, and capabilities in general, but hopefully Apple will address that quickly.
If, soon enough, I can quickly put together a digital book in pages and push it either to friends (or classmates in education) or to the iBook Store (or Book Store) I will be ridiculously happy.
And so will everyone else who uses it.
Schoolwork & ClassKit
Apple marketing VP Susan Prescott took the stage to announce several features geared directly at education technology and teachers. Joz had previously gone over Classroom and Shared iPad, which Apple has offered for a couple years now. Prescott announced the new tools: Schoolwork and the associated ClassKit.
Schoolwork is basically a way for teachers to distribute and collect assignments, track student progress, and collaborate with students as and when needed. Conversely, students can use it to turn in assignments, track their own progress, and collaborate right back with teachers.
ClassKit lets developers make apps that work with Schoolwork.
Apple has success with these types of models before, from Health and HealthKit to Home and HomeKit. If it adds complexity to the already strained teaching model, that won't be great. If, instead, it makes life easier for teachers and students alike, then it'll be a huge win. It'll all depend on how well it integrates into the schools and how well and fully developers start offering support.
Here's where the education IT section ended, though. Which means many of the educational IT people at the event didn't get what they'd been hoping for — an end-to-end solution from Apple that included management, identity, documents, storage, services and everything else — one that could fully replace what Google or Microsoft offers.
Not everyone is comfortable with Google's business or Microsoft's experience and want a complete alternative from Apple. They want to go all in on iPad and Mac, but they feel they can't because it's Google and Microsoft providing the tools.
Apple can't do everything for everyone, but if education is really a core focus, figuring out as good an education story as it has a consumer story would be worth the company's attention.
My guess is, like in other areas such as enterprise, Apple will concentrate only on what it feels it can do best and partner with other services and integrators to get more deeply into schools. That's the efficient approach if not the ideal one for everyone.
I'm by no means an expert in Apple in education, though, so I'll link to two other takes, one optimistic, the other not so much:
Everyone Can Create
Apple believes coding is a primary language that everyone needs to learn. Not that everyone needs to become a coder but that everyone at least needs to be familiar with code. In a world where automation will change the way we work, and jobs will move from real-world to digital, it provides a mechanism for us to change and adapt with it.
So, for a while now, Apple has been working with schools to offer Everyone Can Code, a program that helps provide training in programming for everyone of any background. (Apple recently began holding and promoting accessibility-focused versions of Everyone Can Code as well, making it truly for everyone.)
Everyone Can Create is yin to Code's yang. It's what you can do with all the apps and tools that are made. It focuses on art, photography, video, and music, and aims to give teachers a curriculum and students the access they need to develop the skills to create.
I love this stuff. I don't know how many schools will have the will or the way to implement it, but that it's available is fantastic. It means, just like with code, kids and families can also pick it up and engage with it themselves. For them, they have the will and this provides the way.
Apple has been great about driving its coding agenda. Hopefully, it'll be just as great about driving its creative agenda. It's something many schools have abandoned over the years but it's something that's just as important as math and language.
The classes and the labs
Apple's education event didn't end with the presentation. That was only the beginning. After being dismissed from the auditorium, we all split up and went to classes that covered topics like Clips and GarageBand.
The classes were run by actual educators and just like they would be in an actual classroom. I'm super-familiar with those apps already, but many people weren't. Either way, it was informative to see the topics not just talked about on stage but actually implemented in practice.
There were also labs where you could try out the Everyone can Code and Everyone can Create curriculums, and go hands on with VR, Swift Playgrounds — and drones! — and more.
And Apple didn't hold back. Helping out in the Swift Playgrounds lab was the VP of software engineering, the marketing lead for developer tools, and the engineering lead for developer publications. The product lead for iWork was there as well. And the list went on and on.
Developers were there as well, showing off and discussing their education apps. It made the event, in the words of my colleague Serenity Caldwell, feel like a mini WWDC.
School's out — but for how long?
For media types who just wanted to get in, film their hands-on, and get out, the event was probably a drag. Possibly even a non-event.
For anyone who cares about education, though, or who likes seeing Apple being Apple, it was one of the best event experiences the company has ever run.
Looking at the products, the updates were iterative and relatively minor compared to an iPhone event. Looking at the company and, more importantly, the ongoing story of Apple, the event was huge.
In terms of education specifically, it really did feel like a love note, but one passed in school. One that's full of romance but short on details. Run away with me — I'll figure out getting a car and where we're going later! It's fantastic that Apple has this vision, but it's going to be the consistency and expansion of that vision that's key.
In terms of the event, like I said at the top, it was terrific. One of the best, freshest, most creative, I've been to. It was Apple getting out of its box and doing something different. It worked beyond well and I hope we see more like it. I think we need to see more like it. If, for no other reason, than Apple having to put on events like this means the company has to keep the momentum going on all the products, software, and services, that go into them.
Master your iPhone in minutes
iMore offers spot-on advice and guidance from our team of experts, with decades of Apple device experience to lean on. Learn more with iMore!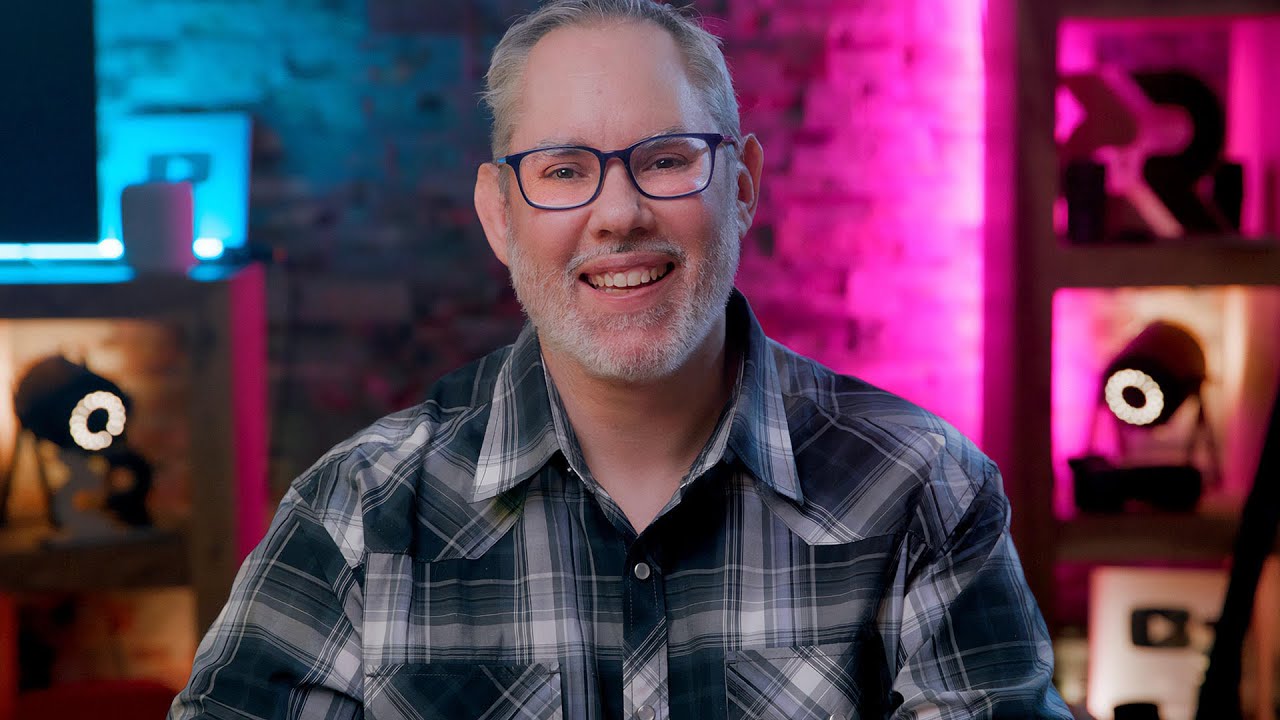 Rene Ritchie is one of the most respected Apple analysts in the business, reaching a combined audience of over 40 million readers a month. His YouTube channel, Vector, has over 90 thousand subscribers and 14 million views and his podcasts, including Debug, have been downloaded over 20 million times. He also regularly co-hosts MacBreak Weekly for the TWiT network and co-hosted CES Live! and Talk Mobile. Based in Montreal, Rene is a former director of product marketing, web developer, and graphic designer. He's authored several books and appeared on numerous television and radio segments to discuss Apple and the technology industry. When not working, he likes to cook, grapple, and spend time with his friends and family.