Apple's new West Lake store in China is simply stunning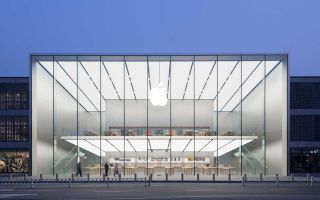 Apple's retail stores have always been attractive places, but their newest store in at the West Lake shopping center in Hangzhou, China, is more than attractive: it's gorgeous. Nearly nine years after the opening of the iconic Fifth Avenue cube, the West Lake Store continues Apple's traditions of glass, steel,and light, but in a striking cantilevered design by Foster + Partners architects (the same firm behind the design of the enormous ring-shaped Apple Campus 2). The store is the largest Apple Store in China and opened late last month.
Tucked on either side of that impressive cantilevered upper floor are a pair of glass stairs — the treads and the stringer (the vertical portion that runs perpendicular to the steps for the length of the stairs) are both made of sheets of laminated glass.
Image 1 of 5
Source: Foster + Partners; Via: Cult of Mac