Ask Rene: New iPod touch, Jony Ive reports, Skylake Macs, and more!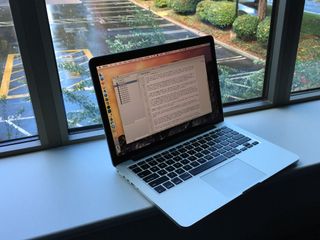 (Image credit: Rene Ritchie / iMore)
When you combine Twitter, email, forums, and all the other channels, Rene gets sent dozens and dozens of questions a day. Since it's not even inhumanly possible to answer, let alone research, them all, we're starting a new column where he can post answers for everyone. So, if you want to share your questions and concerns, hopes and gripes, send them to askrene@imore.com or tweet them to @reneritchie with #askrene.
Apple Music madness
We've received hundreds and hundreds of questions about Apple Music this week, which makes total sense. Rather than repeat answers we've already posted, however, I'll point everyone to our frequently asked questions piece. We're updating it all the time:
Skylake Macs: To wait or not to wait?
My typical answer to this question is: Wait as long as you can possibly wait, then upgrade and be happy with whatever you upgrade to. The longer you wait, the more computing bang you'll get for your buck, but no matter when you buy, there'll always be something better coming down the pike. Such is technology.
The 13-inch MacBook Pro with Retina display did get a Broadwell update this year. That's better than the 15-inch MacBook Pro which, due to the trouble Intel had with its new 14 nanometer process, stayed on the previous Haswell process.
Intel has said the delays with Broadwell won't affect Skylake, it's next-generation chipset. Skylake won't have another die-shrink but rather an architectural change that could offer significant improvements for power efficiency, and will also support Thunderbolt 3. Intel could be completely sincere about that, but at this point I'll believe it when they ship it.
If everything happens at ludicrous speeds, we could theoretically see Intel show off Skylake as soon as August and Apple ship something with Skylake as soon as October. Otherwise we're probably looking at sometime between next spring and next summer.
And that's if you're the kind of person who doesn't mind jumping on new platforms. Some people prefer to avoid "Rev A" and wait for second generation. That would stretch the timeline out further for you.
Personally, if it were me, I'd try my best to wait. But your needs might be more immediate than mine.
Why are Apple's new VPs of design reporting to Tim Cook?
Alan Dye, new vice president of human interface design (HI) and Richard Howarth, new vice president of industrial design (ID) reporting to Tim Cook means nothing more nor less than where they've been positioned on "paper". (In quotes because Apple never publishes an org chart for the general public.) And who they report to is identical to who all the other vice presidents listed on Apple's company leadership page report to — the CEO.
There are plenty of other vice presidents at Apple who don't report to Tim Cook and aren't publicly listed on that page, but Dye and Howarth do, and so they are.
There are all sorts of theories as to why, from Apple not wanting Jony Ive to have any direct reports so they don't have to disclose his compensation, to Ive not wanting to have any official management duties so he can devote all his time to what he's best at—design.
For a while at Apple Steve Jobs reportedly had no direct reports aside from Steve Wozniak. Anyone think he had any trouble running any division anyway?
Apple isn't like most other companies, so trying to read into the reporting structure is an exercise in futility.
Mail, and the bulk deleting thereof
You can already tap Edit in the mail list, then check off all the mail you want, then tap Trash (or Archive depending on your settings) and banish it from your inbox. Is that the kind of bulk delete you're looking for, or something bulkier?
Will there be any Force Touch magic for the Magic Trackpad?
I'm guessing you mean the external Magic Trackpad? I certainly hope so. I've been using Magic Trackpads for years and the idea that I could access the Force Click and other forms of press-sensitive input on my iMac holds a lot of appeal.
This spring was all about getting the Force Touch trackpad into the Retina laptop line. That's been done. So, it's simply a question of how high the Magic Trackpad is on the priority list. Apple typically wants its new technologies available on all its major products, and it's rumored we'll see Force Touch on the iPhone 6s this fall.
While a Force Touch Magic Trackpad could just show up in the store or in a press release at any time, we could also see it announced alongside the next updates for the Mac mini, iMac, and/or Mac Pro.
Multicolor mail flags in iOS
Apple hasn't announced anything, so odds are Flag remains a binary state in iOS 9.
Will the new iPod touch really be new?
Freak not! While nothing is for certain until Apple shows it off on stage or details it in a press release, my understanding is that the next generation iPod touch will finally leave the A5 processor behind and leap ahead, at least as far as the A7.
The perpetual challenge with the iPod touch is to give it enough technology to maintain platform compatibility, but not so much that it negatively affects the cost. (Look at an off-contract iPhone 6 or iPad Air 2 to see what the latest screens and chipsets do to the price points of iOS devices.)
The A7 (or higher) would get the iPod touch onto Apple's 64-bit platform, open it up to all the same technologies the other A7 (and above) devices enjoy, and yet keep it affordable and entry-level.
That's it for this week! Thanks to everyone who contributed! To get your questions in for next week, email them to askrene@imore.com or tweet them to @reneritchie with #askrene.
Get the best of iMore in in your inbox, every day!
Rene Ritchie is one of the most respected Apple analysts in the business, reaching a combined audience of over 40 million readers a month. His YouTube channel, Vector, has over 90 thousand subscribers and 14 million views and his podcasts, including Debug, have been downloaded over 20 million times. He also regularly co-hosts MacBreak Weekly for the TWiT network and co-hosted CES Live! and Talk Mobile. Based in Montreal, Rene is a former director of product marketing, web developer, and graphic designer. He's authored several books and appeared on numerous television and radio segments to discuss Apple and the technology industry. When not working, he likes to cook, grapple, and spend time with his friends and family.
Regarding Alan Dye and Richard Howarth, if Jony Ive no longer wanted direct reports (or Apple didn't want him having any) is it a bit odd that they didn't get moved under Craig Federighi and Dan Riccio? They don't report to Tim Cook they don't show up on Apple's website and we're not having this conversation. Unless this is Apple's way of saying Design will never report to anyone but the CEO?

The head of chipsets at Apple reports to Tim Cook, not Dan Riccio, so it's not that odd :)

Well I find that odd too. :-)

Lol, the touch is anything but affordable or entry level.

It's not "cheap" either in manufacturing or price, but it's less expensive than a device containing more recent technologies.

The hell it isn't. Apple's profit margins are sky high. Now I'm not saying it isn't a good device. It is. I just fried one in the swimming pool and am still pissed about it. But, I won't be replacing it with another touch. Not when I can get a lumia 535 for $50, slap an SD card in it and be good to go. What does Apple sell for $50? A 2 GB iPod shuffle.

You'll be accessing the iOS AppStore with that $50 lumina? Sent from the iMore App

Even then the Lumia is not the greatest especially that model and its Windows Phone who truth be told applications are lackluster. At least with iPod you get great hardware with a great entry level ios device to sway the kids to the ecosystem with a huge selection of excellent applications. And the A7 chips blows away the Snapdragons in the 535 or what not plus more space! Posted via the iMore App on my iPad Air or iPod Touch 5

But what if he uses his Lumia for *gasp* music? Sloths fight leopards. You can't open a bag of chips. Clearly humans are the weaker species.

They don't understand that some people buy portable media players to... play media and not to stroll the app store. THey are convinced that people buy them because they just can't afford a full iPhone.

Re Skylake: Does iMore typically share the news when Intel introduces new chipsets? Sent from the iMore App

Personally I hope Ive is out. His smug attitude about design and his own importance rub me the wrong way.

According to Steve Jobs, Ive is practically an island unto himself and is un-fireable.

Last time I checked, Steve Jobs is quite dead.

Last time I checked Tim Cook seems to regard Ive as highly as Jobs did.

Just read Walter Isaacson's biography.

Regarding my question about bulk delete in email, I was referring to a way that I could trash many messages at once at the push of a button. Mail allows you to either flag or mark all messages as read, but NOT trash them. You have to tap on each message one by one in order to send them to the trash. So. I guess I'm looking for something bulkier.

What do you think about making the ipod touch in 3 sizes: 4", 4.7" and 5.5" to match the iphones they sell. They would be neat media consumption devices, awesome for gaming and a great device for kids. They might eat into ipad mini/iphone sales, but Apple doesn't seem to worry about this.

iPod is a music player. There is no reason to make a 5.5 inch iPod.

I completely disagree. iPod touch is a great entry level device for a child. They are not overly expensive when compared to an iPad or iPad mini and much easy for smaller hands. Kids can and do consume more than just music on them. Don't necessarily see the screens getting bigger. Posted via the iMore App for Android

A 5.5" iPod Touch would likely be priced the same as an entry iPad Mini, no? Sent from the iMore App

I think 4.5-4.7 would be ideal. 4 inch even on a multimedia device is getting tiny regarding the screen Posted via the iMore App on my iPad Air or iPod Touch 5

It ALWAYS pays to wait to buy a computer. You will ALWAYS get more for your money the longer you wait. The only question is 'just how long can you afford to wait?'

Yes, the next MacBook will be the best Mac Apple has ever made. And the next iPhone will very likely be better than the current iPhone, etc... Sent from the iMore App

My theory on buying a new MacBook... Wait as long as possible and then buy refurbished from Apple. Especially if the latest model in the refurbished store just arrived to the store and seems to have a new feature set. You're then as close to new generation as possible but also much cheaper. For instance I would like to wait, if possible, to see force touch MacBook Pros hit the refurbished store. Sent from the iMore App

Thank you for doing this Ask RENE Questions piece - Happy to finally see it and love it.

Rene I am enjoying this new format not just overall but especially this new Questions to you and Peter's column on giving advice to NEW especially users or owners of Mac Books and even people who have had them. Me - I am a newbie and love the tips. On your answer to the gentleman asking about what he should do in buying a new Mac now or wait? As usual I think your answer is right on point since you have so much experience with what has to be the latest for your personally since you are doing this and have the need to be able to know what works and what is worth it for the sake of iMore! I am happy with what I bought which is the same as what the fella inquired about in the MBPr 13" which suited by budget and need now. I don't anticipate looking into the future and find the need for anything else so hence my reason for what I decided on and the $$s of course. Thank you again for these new layouts and your hard work to give us what we ask you about in a format that we now know where to go and the simplicity of use.
Thank you for signing up to iMore. You will receive a verification email shortly.
There was a problem. Please refresh the page and try again.