Astral Chain: The ultimate guide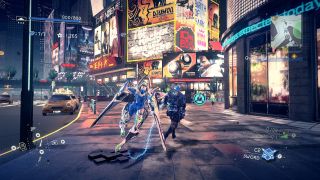 (Image credit: iMore)
PlatinumGames is the Japanese video game developer best known for creating the Bayonetta series. But in 2019, the developer released a brand new IP for the Nintendo Switch: Astral Chain. It's very different from Bayonetta in that players play as one of two twins who can control a Legion, or creature from another dimension, in order to fight back an invading force of aliens. The fighting style is unique and the story is brand new. There's also plenty of quirky elements that are sure to amuse you.
Without further ado, here's your ultimate guide Astral Chain.
Save the Ark
Stop the alien invasion

Play as a pair of twin cops out to save a futuristic city from an alien invasion in the latest adventure from PlatinumGames and Nier:Automata's lead designer.
What is Astral Chain?
Astral Chain is an action game developed by PlatinumGames, the same studio that developed Bayonetta, Star Fox Zero, and Nier: Automata. If you liked those titles you'll be happy to learn that Bayonetta creator, Hideki Kamiya, supervised the development of Astral Chain while Nier: Automata's lead game designer, Takahisa Taura, directed it.
With the help of some technology, you're able to control special Legion (invading enemies from another dimension) and fight to protect your city. Things get crazy as the plot develops, more astral invaders appear, and you are able to control more and more Legion. At the start of the game, you'll be able to choose between playing as either a male or a female twin with somewhat similar appearances. However, as the story progresses, you'll gain different clothing, hairstyles, hair colors, and accessories to truly customize your character. While this is a fun action game, there are several quirky and bizarre elements to it to keep you entertained.
What is the story of Astral Chain?
After choosing one of the two playable characters, the one you do not choose will join you in the story as your twin and partner. You're own character will become a silent protagonist, but your twin will do a lot of talking to progress the plot. You're a rookie officer of a police special task force in an enormous, futuristic, multi-cultural city called the Ark at a time when the city is being attacked by strange alien invaders. You're not alone in your fight against the creatures, though. Your twin will fight alongside you at times but things get pretty crazy when your fellow police officers suddenly lose their ability to control their Legion, leaving you and your Legion the only ones who can protect the city.
There's a sinister plot at play that you'll unravel as the story continues. On top of that, you're own origins are murky even though your father is also a member of the special police task force. As the game progresses, you'll learn more about who you are and what your special role is in the Ark.
How do you play?
Astral Chain is an action title where you control your chosen protagonist and a special weapon, called Legion. Legion is not a single weapon, but rather a number of them that you can swap between for different styles of combat. The main loop of combat in the game consists of you controlling yourself with one joystick and your Legion with the other. Legion can be offensive, defensive, or supportive, and can be used to do the work for you while you back it up or strategically to take down enemies in a set pattern. However, Legion can only be in this world for a short amount of time, so you'll need to switch them out occaisionally and fight on your own.
Legion isn't just a combat weapon, but it also assists in your police investigations. Its abilities can be used to find clues, snoop on suspects, and solve environmental puzzles as you work to uncover the source of the strange aliens, solve crimes, and reveal an alternate dimension called the Astral Plane.
You can also simply wander about the Ark, where you'll encounter a cast of characters that aid and hinder your investigations as well as provide the story of Astral Chain. There are a number of citizens, suspects, fellow police, and your sibling available to converse with.
Toilets, cats, and Lappy
Source: iMore
I mentioned before that this is a quirky game and now I'll prove it. Every area in the game has a hidden toilet, which if found, will earn you some rewards. There's also a "toilet fairy" in the police department bathroom who will be very happy to receive toilet paper from you. Be sure to pass your findings into the stall in order to get rewards from them. If you give the fairy all 12 pieces of toilet paper, something really good happens.
Additionally, cats are extremely prevalent in the game, and you can track them all down across the Ark for fun. One of your fellow police officers has a soft spot for felines and has provided a rundown building for their home. Upon collecting cats, you'll be able to visit them in this dilapidated location whenever you like.
Finally, Lappy is the police departments mascot, in the form of a yellow dog with a sash and a police hat. Lappy makes various appearances throughout the game and will even help you train. At some point, you can play a Lappy video game, find Lappy merchandise, or even don the costume yourself. But keep an eye out for this guy, he rides a line between hilarious and creepy and can make random appearances in the overworld if you pay attention.
Save the Ark
Stop the alien invasion

Play as a pair of twin cops out to save a futuristic city from an alien invasion in the latest adventure from PlatinumGames and Nier:Automata's lead designer.
Updated March 2020: Changed article to an ultimate guide.
Master your iPhone in minutes
iMore offers spot-on advice and guidance from our team of experts, with decades of Apple device experience to lean on. Learn more with iMore!