Autism awareness, iPad, and changing lives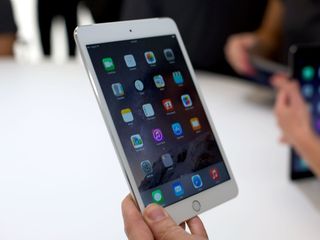 At that time, the state of technology for these types of uses was woefully behind where it is today. Granted, we're talking about 1999-2005, but stay with me. The technology that non-verbal students used to communicate, for instance, was a huge, heavy piece of metal and plastic that had barely programmable capabilities for certain words and phrases that would be spoken upon selection through a garish sound system rivaled only by 1980s clock radio speakers. This equipment was exorbitantly priced, and very inflexible. The one thing it did well (arguably) was stand up to some abuse. They were like small tanks. But the kids would have to wear them around their necks and shoulders, which could be extremely uncomfortable. If they didn't have it with them, communication with others became difficult.
Enter the iPad, a device that to this day, some tech people don't see a market for, or a place in their delicately-constructed workflows. Hence the question always comes up: "who exactly is the iPad for?", and much hand-wringing and market analysis ensues.
I'll keep this concise: the iPad is for people you're not even considering, using it for things that would have never crossed your mind.
With an iPad, which is a few hundred dollars, students have the ability to use a host of new and updated software — iMore covered some of the best earlier this month. You can find something for every type of child, every type of learner. Text to speech built into the device, as basic as it seems to us, is positively revolutionary to children and parents. Guided access helps ensure success and mitigates frustration. The possibilities are endless, and always growing.
This month marks both the 5th anniversary of the iPad and Autism Awareness Month. There's so much more I could say about both, but I'll leave it at this — I love my iPad, and I know lots of people who do as well. For anyone who doesn't, hey, no worries. No one's forcing you to use one. But don't write it off entirely because a Venn diagram of the people you follow on Twitter agrees with you for the most part. It's a truly transformative device for many people who had laughable options before. And without hyperbole, I can say it's changing lives.
Get the best of iMore in your inbox, every day!
Seth fights for the users. The CIO of Nickelfish, he helps build apps like Stringer by day and co-hosts the Iterate podcast by night. He's also a lover of classic video games, surfer for life.
My brother has Autism and he absolutely loves his iPad Mini it goes with him everywhere and we communicate through imessage all the time. He is very funny about it though, it HAS to be plugged in at all time, if the power goes under 90% he plugs it in haha. iPads are toys to many kids but for some they are an amazing learning and communicating device. Great article!

I too have a brother with autism, but it's almost impossible to get him to take his smartphone with him. That awesome gadget just sits around sometimes, lol.

Agreed- the things special needs people can do with an iPad are awesome. Plus it's not as obvious as the older gear, so they are not self conscious about carrying it around.

I think technology can be used to change lives of people who cannot help themselves or are challenged. Rather than creating time wasting chat apps and non sense maps, tech compos should focus more on helping the people out more aggressively. They might feel it is less rewarding than lucrative paid apps, but that is what the devices are really meant to be. I hope they continue to do the great work.

Thank you for your post. Our daughter is 22 and was born with Down syndrome that has caused some serious speech issues for her. We spent about 14 years with a couple of the communication devices that were as big as a tank, cost a fortune, and were nearly impossible to program. Four years ago we bought her an iPad and Touch Chat and we have never looked back. We have since switched to the iPad Mini which is even more portable. She can use Touch Chat to speak for her and she can use it to compose and send e-mails and iMessages. Not only is it infinitely more usable than her old devices, but I can buy 10 iPads and the Touch Chat app for the cost of her other speech device.