Battle Chasers: Nightwar: Everything you need to know!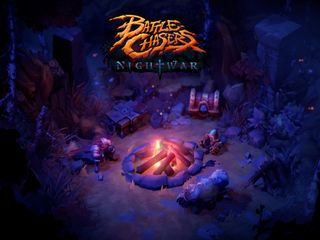 Years ago, when I worked at a comic book store, one of the popular titles was called Battle Chasers. It came out at a painfully slow rate, but it was one of the titles that made publisher WildStorm as successful as it was at the time. Written and Drawn by Joe Madureira, it featured gorgeous and lush art that drew comic readers back every issue, despite how late they came out.
Recently, the property made the jump to the world of video games and will soon be landing on the Nintendo Switch.
Here's a quick rundown of everything you need to know about Battle Chasers: Nightwar
Who made it?
The game has been developed by a relatively new publisher by the name of Airship Syndicate. This studio is the brainchild of Battle Chasers creator Joe Madureira himself. If you're worried that this is an untested comic book guy stepping into the world of video games, then you can stop worrying. Joe cut his game development teeth as the creative direction behind Darksiders one and two. The game was originally released on Steam and other consoles in the fall of 2017.
What is it about?
Battle Chasers: Nightwar is an isometric RPG set in a fantasy world dipped in steampunk elements. Characters include a young girl with some pretty awesome magical gauntlets, an old smart-mouthed wizard, and uncharacteristically sweet war golem, and a classic brooding sword swinger. This rogue's gallery gets stranded on a mysterious island and it's up to you to help them escape.
Why should you play it?
First of all, this game is really good-looking. Fans of the comic book will find that the comic has ostensibly come to life in this game. Those who love a good RPG or JRPG will find that everything you love about those genres is present here, along with a few updates that give the game a solid amount of depth and playability.
When can you have it?
If you're planning on giving Battle Chasers: Nightwar a spin, the great news is that you don't have to wait long, or at all. The release date is May 15! You can head over to Amazon right now and pick up a copy for $40.
See at Amazon (opens in new tab)
Are you going to play it?
Sound off in the comments below!
Get the best of iMore in in your inbox, every day!
Thank you for signing up to iMore. You will receive a verification email shortly.
There was a problem. Please refresh the page and try again.